Stanley Tucci is the Best-Dressed Man of 2023
Style secrets to steal from the actor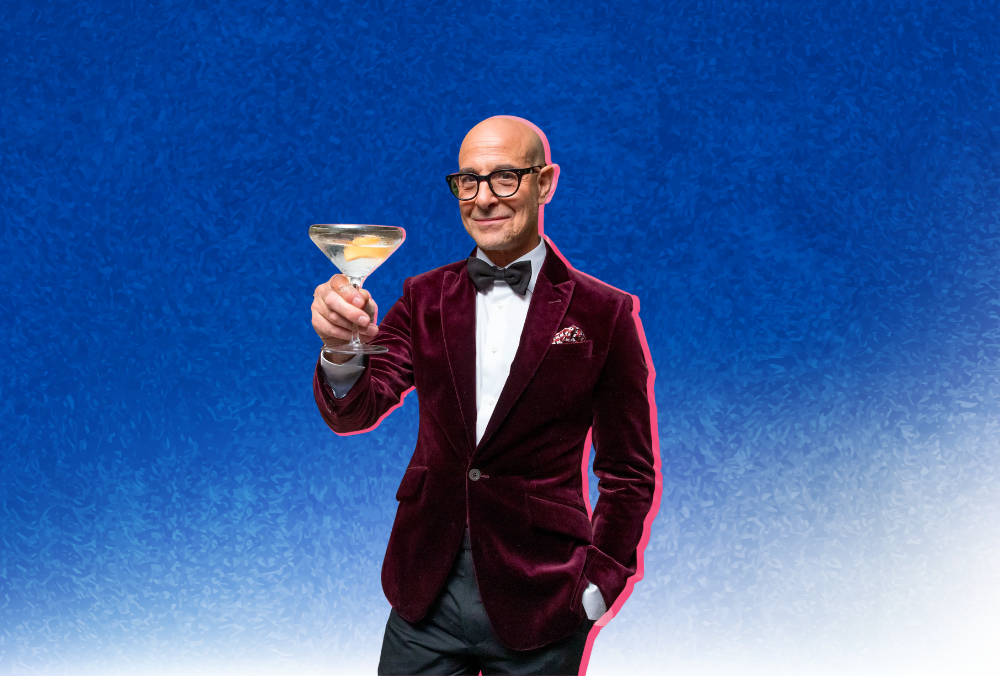 How to achieve Stanley Tucci style status? Start by investing in well-fitting basics, experimenting with color and texture, and tailoring your clothes.
Gather round and grab a drink, because we're here to talk about the man you voted best-dressed of 2023: Stanley Tucci.
That's right, the 62-year-old actor and filmmaker who's made mixing martinis in your kitchen and searching for truffles in Italy look equally—and effortlessly—cool.
If there's one thing we've learned from Tucci, it's that good style is timeless.
The New York-born actor has been serving up impeccable fashion looks for years.
And clearly you've been taking notes.
Whether he's hitting a red carpet or hosting his two million Instagram followers for an intimate cooking tutorial in his kitchen, you know that Tucci always manages to look put-together and stylish.
If you're looking to steal some Stanley Tucci style secrets, here are some tips to get you started:
1. Invest in well-fitting basics
It can be hard to know what year a photo of Tucci is from, because the Searching For Italy host's outfits always include classic pieces that would look good in any era.
To achieve a similarly timeless style, invest in well-fitting basic pieces for your wardrobe.
You don't need to spend all your money on expensive designer brands or fashion-forward trends to look good.
Instead, focus on finding a few high-quality items that fit your body well.
Look for slim-fit t-shirts, tailored button-downs, and dark rinse jeans that make you feel comfortable and confident.
RELATED: The Mature Man's Wardrobe Essentials
Bonus? These items are also super-versatile! You'll be able to dress these simple pieces up or down depending on the occasion.
shop wear-forever items
2. Play with texture and color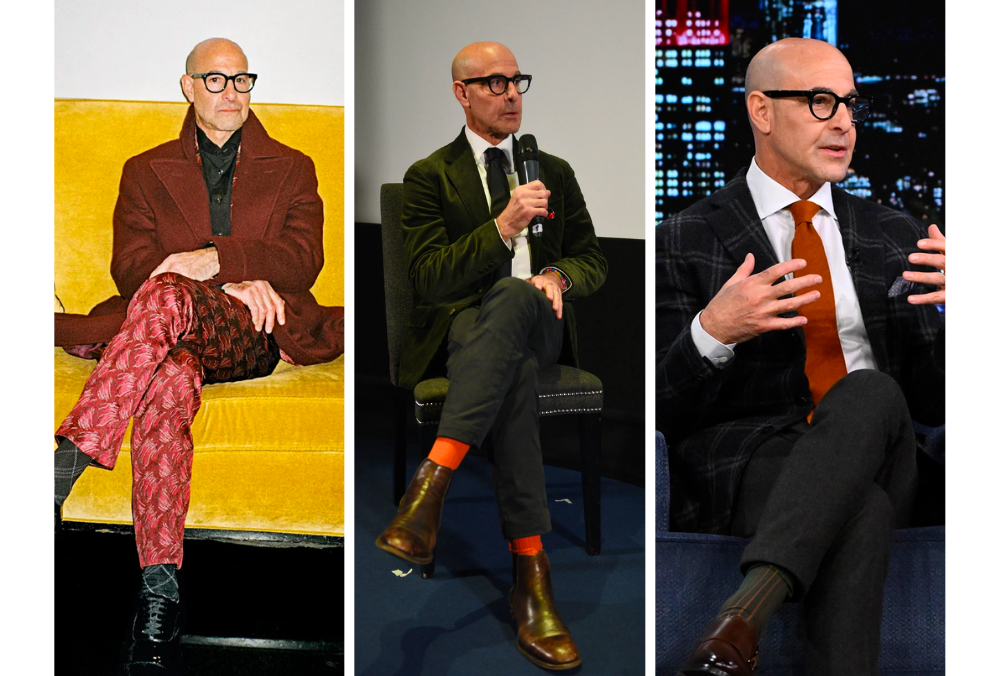 While Tucci's wardrobe is mostly monochromatic, he's not afraid to play with texture and mix in some color to his outfits.
Adding texture to your outfit can elevate a look from boring to best-dressed. A tweed blazer or a cashmere sweater are great ways to add some visual interest to an outfit without going over the top.
And while classic neutrals like black, white, and gray will always be stylish, don't be afraid to experiment with color like Tucci.
You can incorporate bright hues into your outfit in small ways, like the Citadel star's orange socks above.
3. Accessorize intentionally
Tucci understands the power of accessories in style.
He often finishes off his outfits with a statement watch or a perfectly-placed pocket square.
And sure, his favorite Moscot eyeglasses serve a function (we're guessing), but damn they always make The Devil Wears Prada scene-stealer look cool, too.
Moscot "Vilda" eyeglasses, $340
When choosing your accessories, think about the statement you want to make.
A single bold piece can elevate an otherwise simple outfit, while subtle accessories can add a touch of elegance to even the most understated look.
4. Mix formal with casual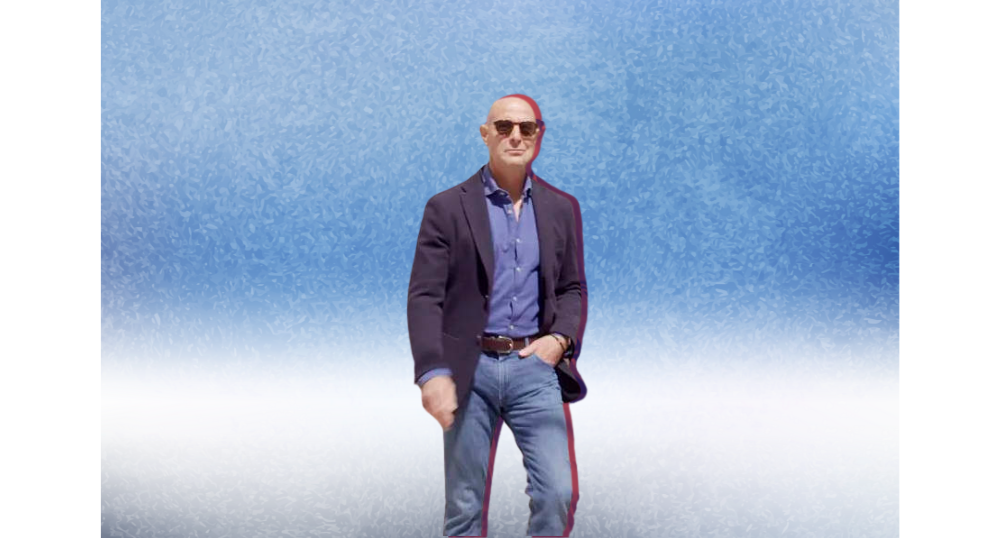 Tucci is a master at mixing formal and casual pieces, creating a stylish and approachable look.
A navy blazer paired with jeans, or a casual shirt with dress pants, are perfect examples of how to mix formal and casual pieces.
Staying on the conservative side of business casual has the added bonus of ensuring you'll look appropriate for whatever situation you find yourself in.
5. Tailor your clothes!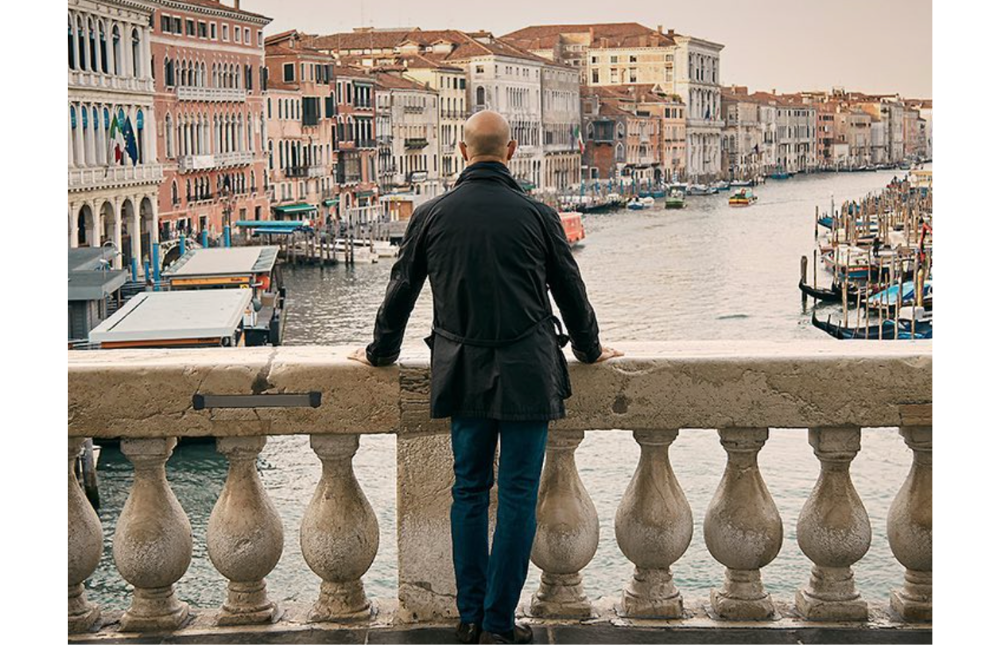 And finally, one of the most important aspects of Tucci's style (if not the most) is his impeccable fit.
The sneaky truth? When you look at a celebrity like Tucci and think Man, why does he look so good? It's often because the clothes fit perfectly.
It's a big reason why celebs always looks so put-together, and the good news is it's totally achievable for every guy.
While you may not have a team of stylists and tailors saved to your phone's favorites, you can still achieve a similar effect by taking more of the clothes in your closet to a tailor.
An item you've owned forever tweaked just so can make all the difference in how you look and feel wearing it.
***
Congratulations to Stanley Tucci, who joins the vaunted ranks of style stars like Ryan Reynolds, Barack Obama, and Harry Styles with his SG Madness 2023 win.
And thanks to all of you who voted and shared your favorites on Instagram!