The Guys' Guide to Home Lighting
Step into the light with these easy guidelines
From time to time, we tackle points of personal style aside from the clothes on your back here on SG. Because while style is about clothes, it's also about putting more intention into every thing you do and living well across the board – from your workout to what you're putting on the table for dinner. Today, some tips on living your most stylish life at home.
Too many of us – guys and girls alike – go home, switch on a sad overhead light, and sit in the gloom until the sun comes up, or turn on a floor lamp boasting a harsh halogen light reminiscent of your favorite horror movie set in a hospital. I'm here to tell you: A good lighting scheme can entirely change up the feel of your home, from institutional and gloomy to welcoming and friendly—you know, like someone actually lives there.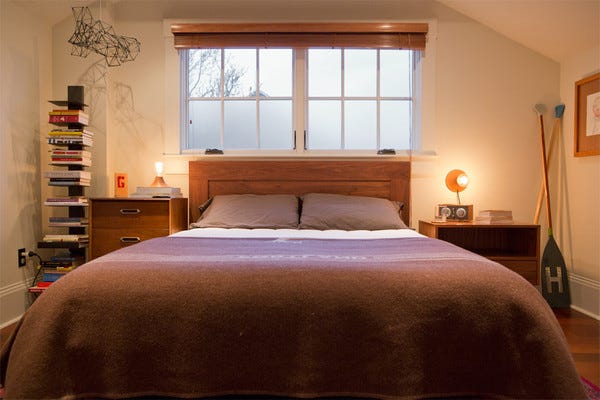 Above: Lighting fixtures by The Good Flock
What You Need to Know
Don't think you have to bring in an (expensive) electrician. "Light is such a critical element of developing a space into an inspired place for working or living," says Marco Murillo of The Good Flock, a Portland lighting design company. "The good news is that light can be added onto walls and floors without needing to redo your home's entire electrical and lighting plan."
So: Think small—literally. People tend to believe that a new light either needs to fill the entire room with its glow/glare (as with those classic dorm room halogens) or that it's not worth bothering unless you're making a statement with something pricey hanging from the ceiling. Not true. "Light fixtures are one of the best ways to update a space," says Jennifer Brown of Hangout Lighting. "It's so easy to change and can make a huge difference." So don't be scared off by expensive chandeliers—there are plenty of affordable options out there.
Where to Start
It might sound obvious, but consider starting with the first part of your home you encounter as soon as you walk through the door. Brown suggests a foyer if you have one, and then moving on to dining table lights or a kitchen pendant light. Oh, and that pendant light? While they do hang from a cord which are often wired through the ceiling, Brad Michael of Lucent Lampworks points out, that's not totally necessary: "You can always get a fun pendant light and swag the cord across the ceiling" and down a side wall. Easy peasy.
Another tactic is to start with the smallest room in your home or apartment. "Design your home in small bites," says Michaels. "I see the biggest obstacle in making a change in lighting is looking at the 'whole home.' It's easier if you start with the smallest space first and make it over it exactly as you want it—then you can tackle the next room and so on."
Walk Towards the (Natural-Looking) Light
The Good Flock's Marco Murillo recommends a survey of your living space: What gets natural light? What stays dark and gloomy? Chances are, you're spending way more time in the former than the latter—which is a great opportunity to add some (actual) living space to your home. "There are plenty of wall or tabletop lighting solutions that you can use to bring light and people to that particular space," says Murillo. "People tent to gravitate to spaces that are cozy and lit."
Consider the Space
Each room will have different lighting needs. "The light in your closet isn't the same as the light you would want in your bathroom or kitchen," Murillo continues. "Perhaps in your living space you want a relaxed mood, somewhere you can unwind and relax. In that kind of space you will want diffused or soft lights."
Watch out for…
Renters throwing in the towel. Remember guys? We've talked about this! "Don't just settle with what you have," Michael says. "This goes for renting as much as owning."
Tacking on your lighting budget late in the design game. "Try to make [lighting] part of the ongoing design decision and not an afterthought or the final $100 of your budget," Michael says. When I redid my home office, my designer pushed hard for a great overhead light from Restoration Hardware, the pricetag of which initially made me gag, but I eventually got on board…and now it's one of the first things I point out to visitors when I make them admire my new work area.
Not paying attention to a room's needs. "A new laundry space might not need a statement piece of lighting ," Michael says. "But a cute reading nook may be a perfect spot for a well-thought-out statement lighting piece."
Hewing too closely to your existing decor. Just like a contrasting pocket square might be just the thing to make an outfit really pop, sometimes you have to think differently when it comes to lighting. "A trap many people fall into—myself included—is actually trying to blend the lighting too much with the room decor," Michael says. "An example may be choosing to match all the finishes in your kitchen—the cabinet hardware, lighting hardware, plumbing hardware and door or window hardware. This may look great, but it will not make any one item stand out. Allow yourself the freedom of differing finishes with lighting."
Tell me:
When was the last time you updated your lighting (and yes, changing a bulb counts!)?
Looking for more SG at home? Check them out here, here, and here.