How to Dress for a Work Presentation
For all your office dress codes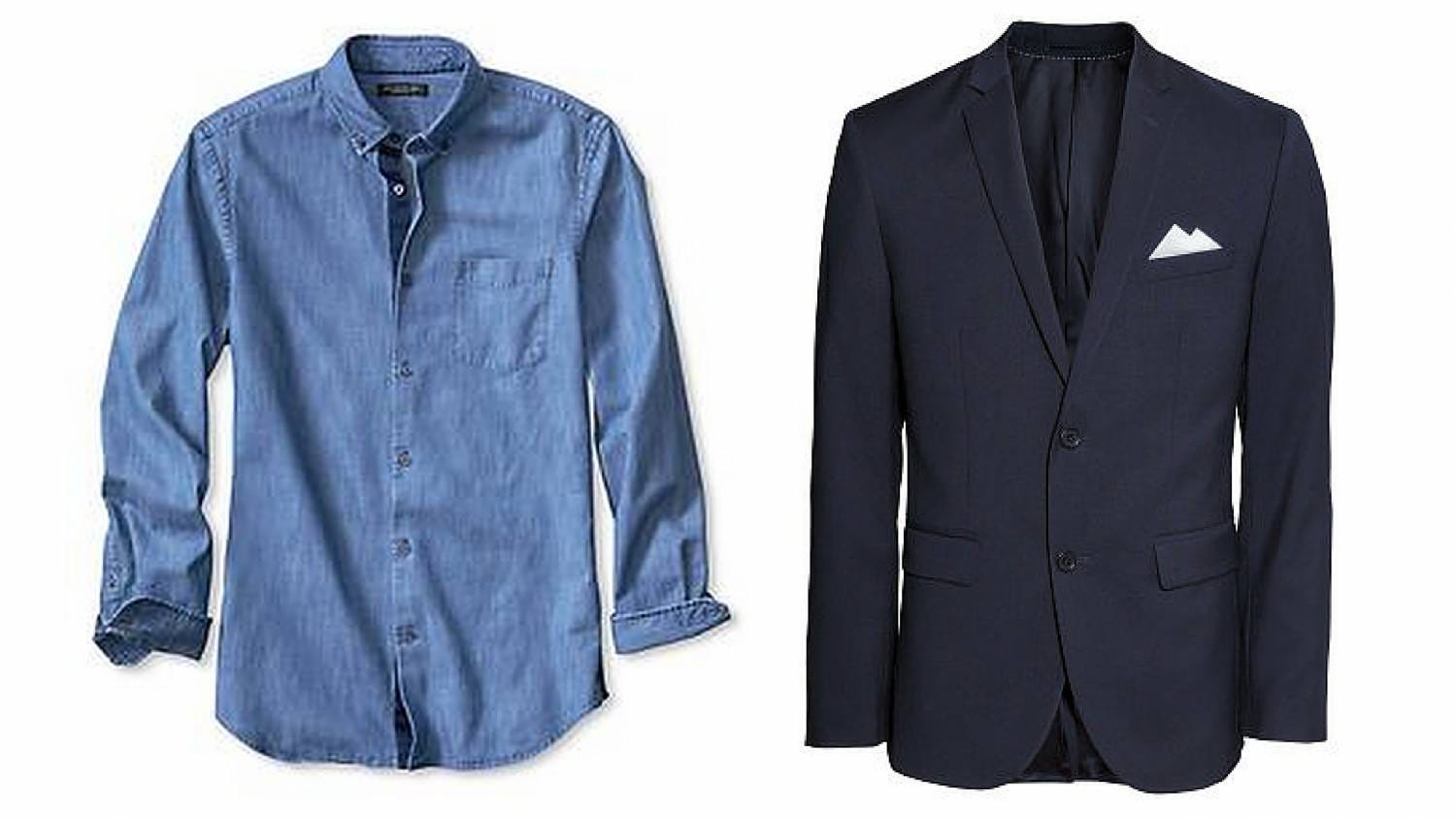 Figuring out how to dress for a work presentation can be tough. You want a look that's unfussy enough for you to feel calm, cool, and collected while you breeze through your Keynote slides. You also want to put together an outfit that's appropriate for your workplace with just a pinch of extra effort. 
By now we know that when you look your best, you feel your most confident. But looking your best at work means different things depending on the office. That's why we've put together "gotta nail this meeting" outfits for casual, creative, and formal work environments. So you can get back to practicing your talking points.
Below, six outfit ideas for how to dress for a work presentation:
// What to wear in a casual work environment //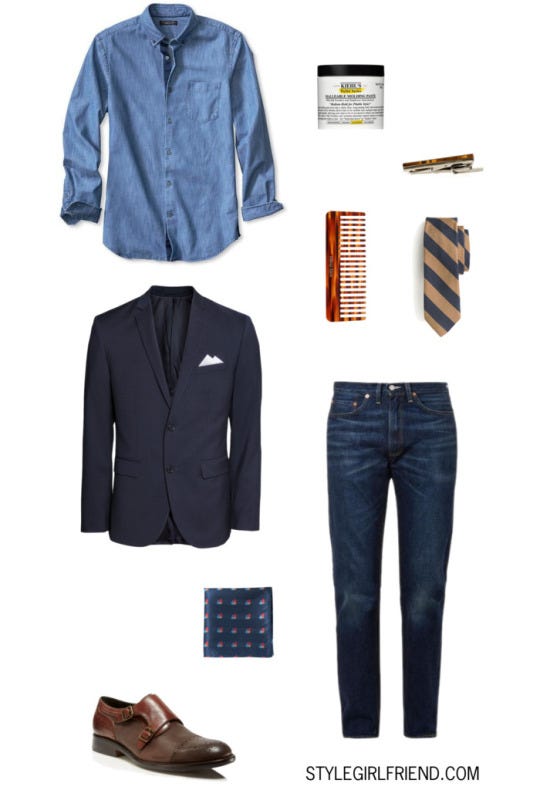 Outfit # 1 Blazer and Jeans
SG Says: Although you may be used to donning chambray in lieu of a casual shirt, don't be afraid to dress up your chambray shirt with a silk-cotton tie in Ivy League stripes. You want your audience to be focused on you – not your wild patterned shirt and tie – so keep the rest of the look simple with crisp tailoring and hard working accessories.
When building your look around a classic blue blazer, it's easy to reach for your khakis and oxford shirt then call it a day – but, we can turn it up a notch. Seize the opportunity to show your ability to look professional and casual by pairing dark denim with a chambray shirt and your favorite double monks.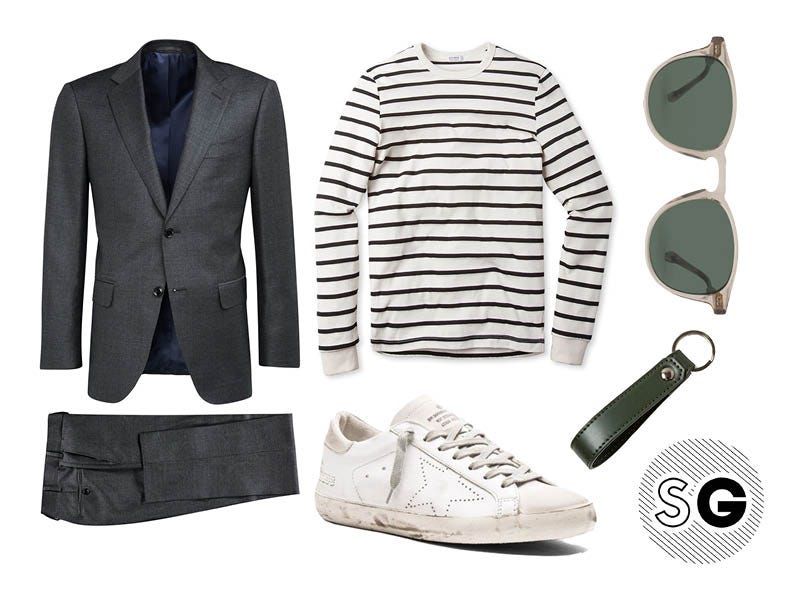 Outfit # 2 a Dressed-down Suit
SG Says: This is another way to do dressed up when no one dresses up at work. Go with a full suit, then dress it down with a knit tee and white sneakers. More on our love of stripes (they're so versatile! and so chic!) right this way.
// What to wear in a creative work environment //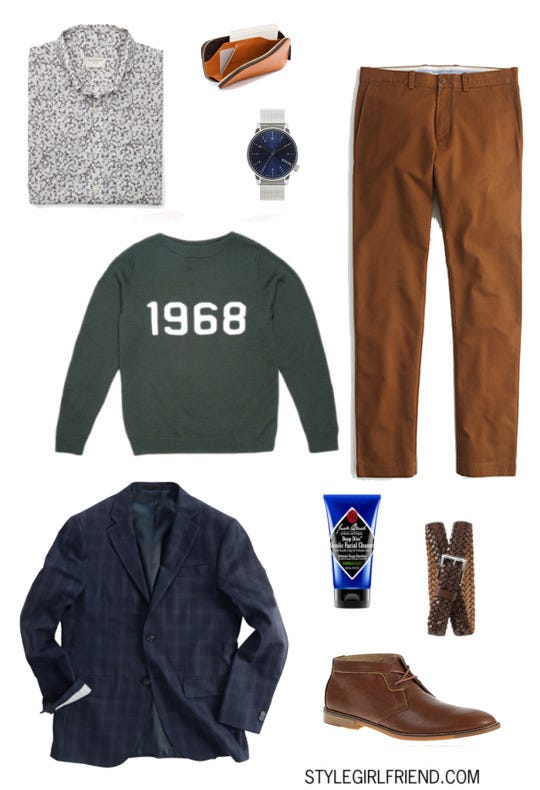 Outfit # 3 Fancy up a Sweatshirt
SG Says: If you work at someplace like an advertising or marketing agency, work presentations to clients might take on a different tone. They want to see you and your team as the cool, hip folks who can take their product or service from zero to hero. An outfit like this will give them confidence that you're cool but still a grownup. The sweatshirt and floral shirt lets them know you're not corporate, man, while the chinos and sport coat assure them you still know what you're doing and definitely won't f#$k up the big account.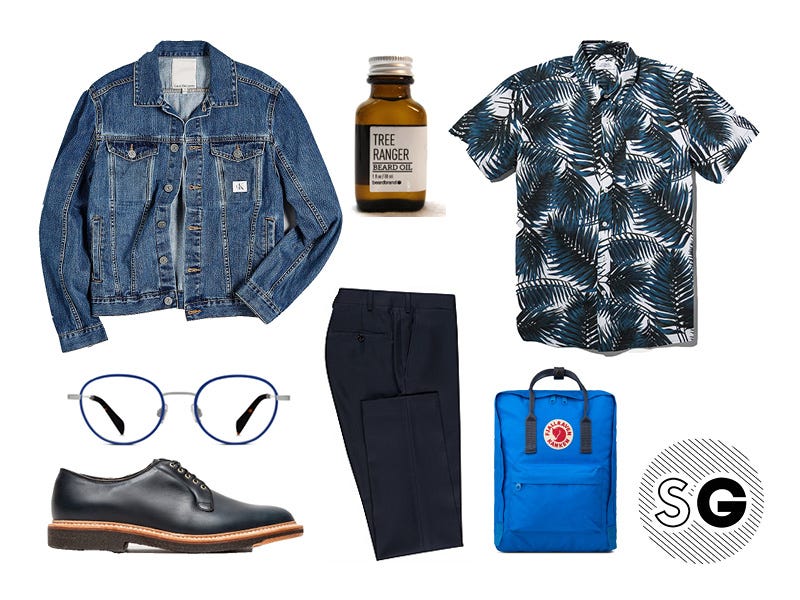 Outfit # 4 Sport Coat Swap
SG Says: Another way to do "big meeting" without wearing a suit. Swap out the sport coat for a structured denim jacket and a clomp-y (not a real word, but you know what we mean) dress shoe and a button-front shirt that doesn't hold back 0n pattern.
// What to wear in a corporate work environment //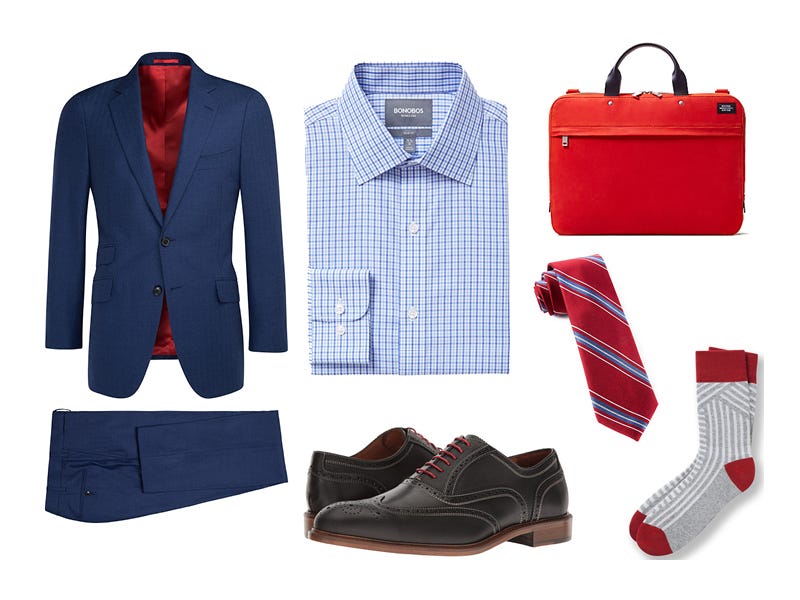 Outfit # 5 A Suit With Some Color
SG Says: Nothing wrong with keeping things conservative for a big meeting. A two-button, notch lapel suit with wingtips will always be appropriate in a formal work environment. The bright accessories and the suit that's not quite navy is how you still feel like you, even all dressed up.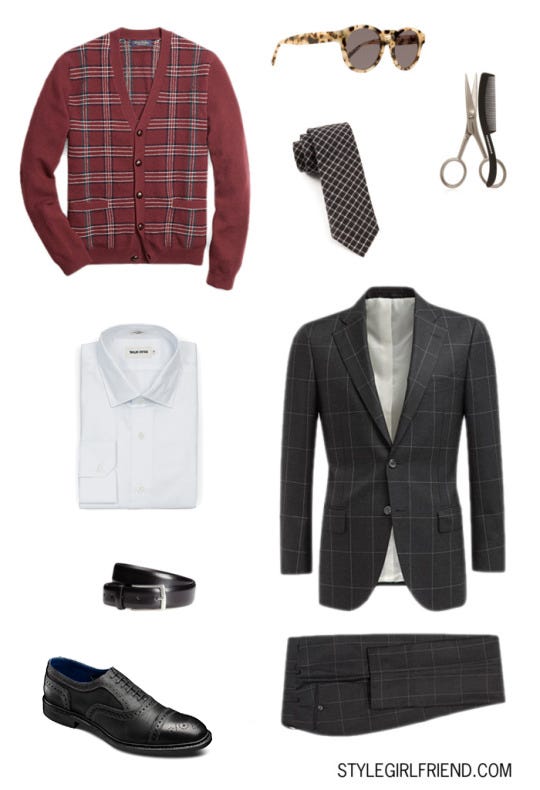 Outfit # 1 Suited Up with Style
SG Says: While there's less wiggle room in an office with a formal dress code (i.e., you're gonna be in a suit), it doesn't mean you can't still let your personality shine through. A windowpane suit like the one above, with a cardigan sweater for both winter warmth and some color, will set you about from the corporate drones surrounding you.
***

If you're ready for some new work clothes but dread the idea of shopping for them, why not let Team SG shop for you?
Let us rescue you from shopping fatigue and sartorial apathy.

With our online personal shopping service, we can promise the kind of dedicated attention that will make you feel like the best, most stylish version of the awesome guy you already are! We'll also help you figure out how to wear your new clothes with the things you already own.
If you're ready for a shopping plan that'll save you time, energy, and your sanity, give us a shout.
***

Like a phoenix rising from the ashes, Gabi Meyers went from Team SG's first-ever intern to a trusted fashion editor and stylist. She currently lives in Chicago with a very cute dog.