5 Days 5 Ways
5 Days, 5 Ways: How to Wear a Popover Shirt
scrumptious summer shirting
By Gabi Meyers
The popover is the shirt for sluggish summer mornings. Y'know, like Monday mornings after an especially lit World Cup. Not that I'm hungover. Who's asking?
Born in the 1960's, the popover quickly became an Ivy League wardrobe mainstay, and with good reason. It has all the tailored benefits of your favorite button down, but with 60% less button-fumbling. Plus, while casual in nature, the popover is nevertheless versatile enough to work its way out of your weekend wardrobe to go here there, and everywhere.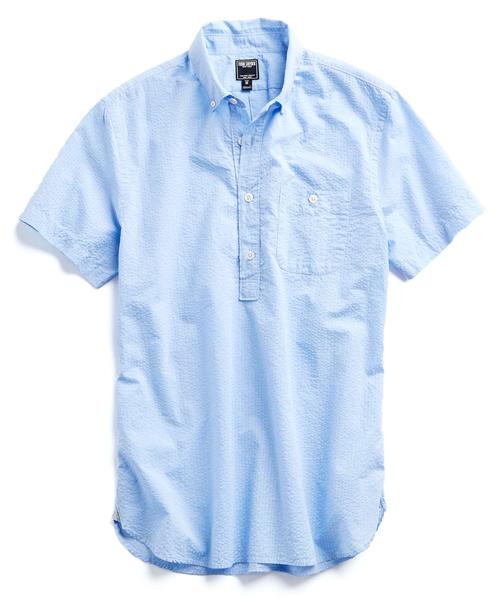 Wear your popover the same way you would a favorite OCBD or polo…dressed up, or dressed down.
MONDAY
jacket: Banana Republic, $228 | pants: Bonobos, $168 | sneakers: Zanzara, $210 
watch: Timex, $119 | belt: Torino, $80 | bracelet: Salvatore Ferragam0, $250
SG Says: Break up your workwear with a shirt that will take you from coffee with your co-workers to drinks with a client.
TUESDAY
shorts: Topman, $40| jacket: Schott NYC, $148 | shoes: Clarks, $160
belt: Torino, $85 | watch: Nixon, $150 | shave cream: Harry's, $5
SG Says: Pink shorts were made for summer nights when mixed with dark brown and navy shades.
 WEDNESDAY
chinos: H&M, $20 | denim jacket: H&M, $50 | boots: To Boot New York, $375
sunglasses: Le Specs, $59 | fragrance: D.S. & Durga, $175 |  socks: Anonymouslsm, $20
SG Says: Jean jacket? Good. Chinos? Good. Chukkas? Good. What else is there to say?
THURSDAY
 joggers: Topman, $55 | slip-ons: Cole Haan, $130 | sunglasses: Warby Parker, $95
fragrance: Commodity, $105 | backpack: Ted Baker, $124
SG Says: Pair your popover with joggers to give them a more causal feel.
FRIDAY
swim trunks: Vintage Summer, $49 | hoodie: Wings + Horns, $165
sunglasses: Ray-Ban, $163 | boat shoes: Sperry, $60  | towel: Dusen Dusen, $80 | sunscreen: Kiehl's, $38 | cooler: Bare Bones, $100
SG Says: A popover is the perfect thing to pair with your swim trunks for a day at the pool or beach when you want to make sure you look pulled together when it's time to hit the boardwalk.
TELL ME:
WHAT'S YOUR SUMMER WARDROBE WORKHORSE?

Want to see more ways to wear your favorite pieces? See 5 ways to wear a crewneck sweatshirt, denim jacket and minimal sneaker.