"Going Out Tops" for Guys: These are the Best Men's Summer Shirts
The 2000's trend you didn't know you needed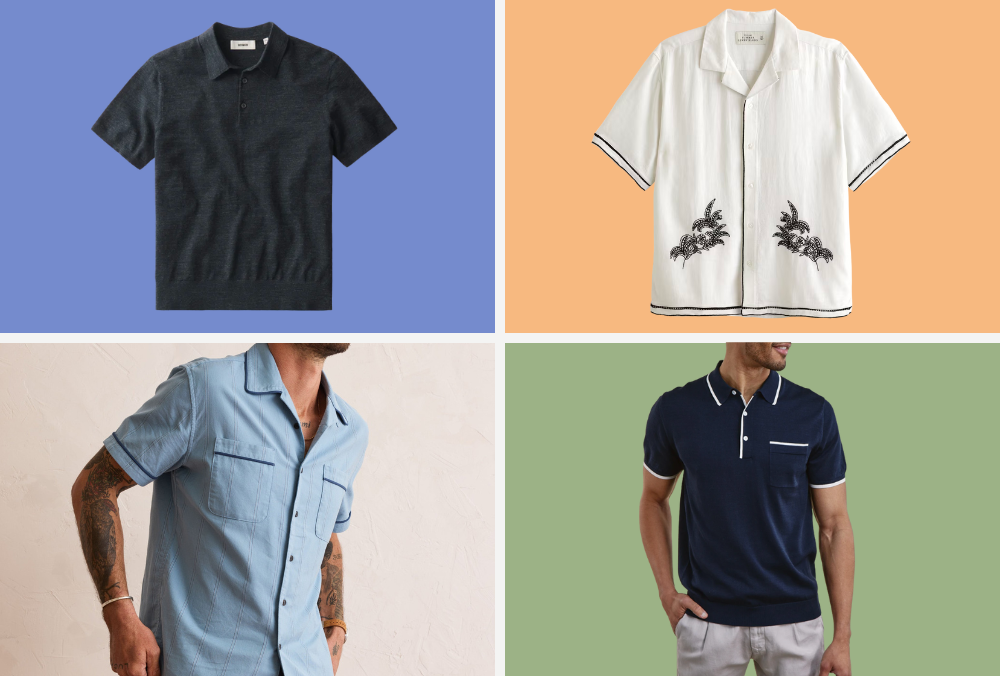 Ahh, the 2000s. A time of teen rom-com supremacy, TRL, and a truly questionable amount of Shrek-centric paraphernalia. While there's plenty that elder millennials should leave in the past where it belongs, I'm here to drag one relic into the present. I'm talking about the "going out top."
Originally a women's wardrobe staple that basically meant "a cute top you wouldn't wear to work," it's time for guys to embrace this sneaky style time saver.
So, say goodbye to fashion's gender boundaries as we embark on a journey exploring two essential "going out tops" that are perfect for men this summer: the camp shirt and the sweater polo.
Discover two of the best men's summer shirts to wear right now, below:
The Resurgence of the Camp Shirt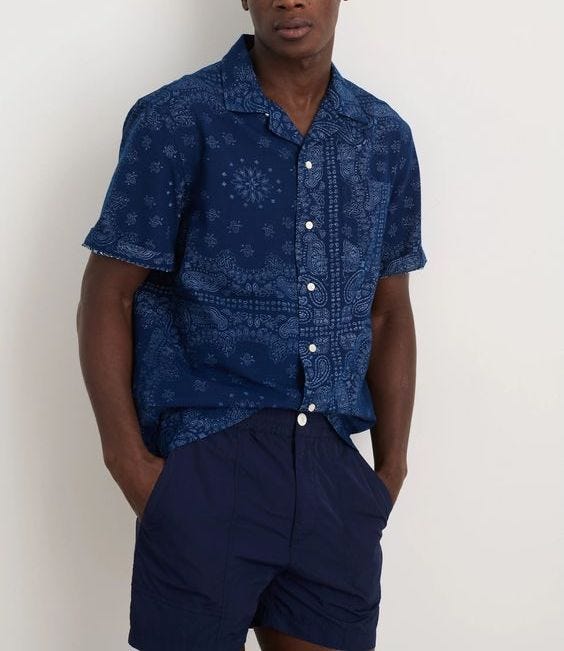 The "going out top" in its original iteration was the type of shirt a woman would wear exclusively to…you guessed it…go out in.
She wouldn't wear it to work (unless it was under a jacket, and even then, that probably means she spilled something on the top she originally meant to wear that day) and wouldn't wear it around the house.
Usually a sleeveless style, a going out top was reserved for hitting the club. Or a house party. Maybe a bar. Really, anywhere drinking with cute boys was happening. Febreze was heavily involved in its maintenance, as a going out top was generally a fancier, dry clean only style.
For men, there's few items that don't straddle the work to weekend fashion continuum, but a camp shirt may be one of them.
It's got just enough personality to feel like, "Maybe this isn't the right thing to wear to the office," which means it's perfect for a date night. Perfect for a party.
And they're so cool and fun right now! With origins deeply rooted in mid-century resort wear, camp shirts have exploded in popularity in recent years.
Meaning, a camp shirt is the perfect going out top, since it injects a breezy, modern style into any summer outfit.
And whether rendered in solid colors or adorned with tropical motifs, abstract patterns, or charming florals, camp shirts exude an air of effortless cool.
Consider this going out top a refreshing alternative to conventional button-downs or t-shirts.
How to wear a camp shirt: Pair your camp shirt with tailored trousers or chinos, and a non-sneaker shoe for everything from casual day affairs to romantic evening outings.
Shop camp shirts
Sweater Polos: Timeless Charm with a Modern Twist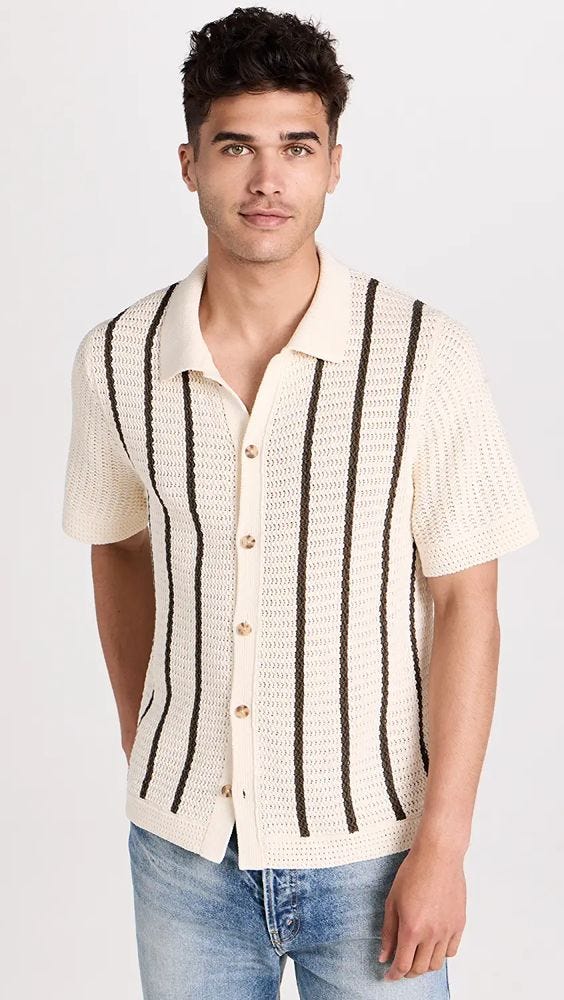 Sweater polos, also called knit polos, seamlessly blend James Bond-level sophistication with easy-breezy comfort. Sweater polos can have just a few buttons up top, or button all the way down the front of the shirt.
With their soft and breathable materials, these tops provide you with a relaxed yet refined look that looks at home in almost any "going out" setting.
Opt for a slim-fit design in a solid color for a sleek and contemporary appearance, or experiment with playful patterns and textured fabrics to showcase your individuality.
How to wear a sweater polo: Pair yours with tailored trousers or your favorite pair of slim or straight leg jeans and a weekend shoe like huarache sandals or a driving loafer.
Or, go more casual with a pair of drawstring shorts and sandals.
Shop men's knit polos
Looking for more ways to wear the best men's summer shirts? Check out the very best summer style guide for men.