The $500 Post-Grad Wardrobe of Affordable Men's Clothes
How to Look The Part For Less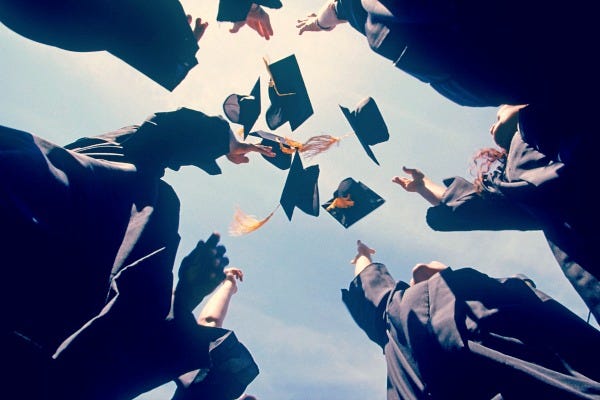 Leaving college behind this spring? SG's got you covered. Look the part by transitioning your clothes from college co-ed to working professional with a respectable post-grad wardrobe. We're showing you just how far a $500 investment in your personal style can go.
When you're sitting in front of a stack of "Congrats, Grad!" cards, be sure to set aside a few of those well wishers' checks for a wardrobe upgrade.
It's the freshest fresh start there is—the beginning of a whole new lifestyle—adulthood. Whether you've already got a job lined up (nicely done!) or you're gearing up for interviews (oof, we feel you), a huge part of that change comes via your closet. You've gotta look the part, guys!
That's why we're here! As part of Commitments Month, SG wants to help make committing to a grown man's wardrobe a breeze.
Your shift from student to working professional, or y'know, working professional-hopeful, is hard enough. Figuring out what to wear for your new life shouldn't be.
Believe it or not, everything you need for a post-grad wardrobe can be obtained for under $500. Paired with a few key accessories and extras we bet you already own (you do have socks and underwear, right?), these thirteen pieces are all you need to transition to off-campus life in style.
Below, the 13-piece, $500 post-grad wardrobe for men: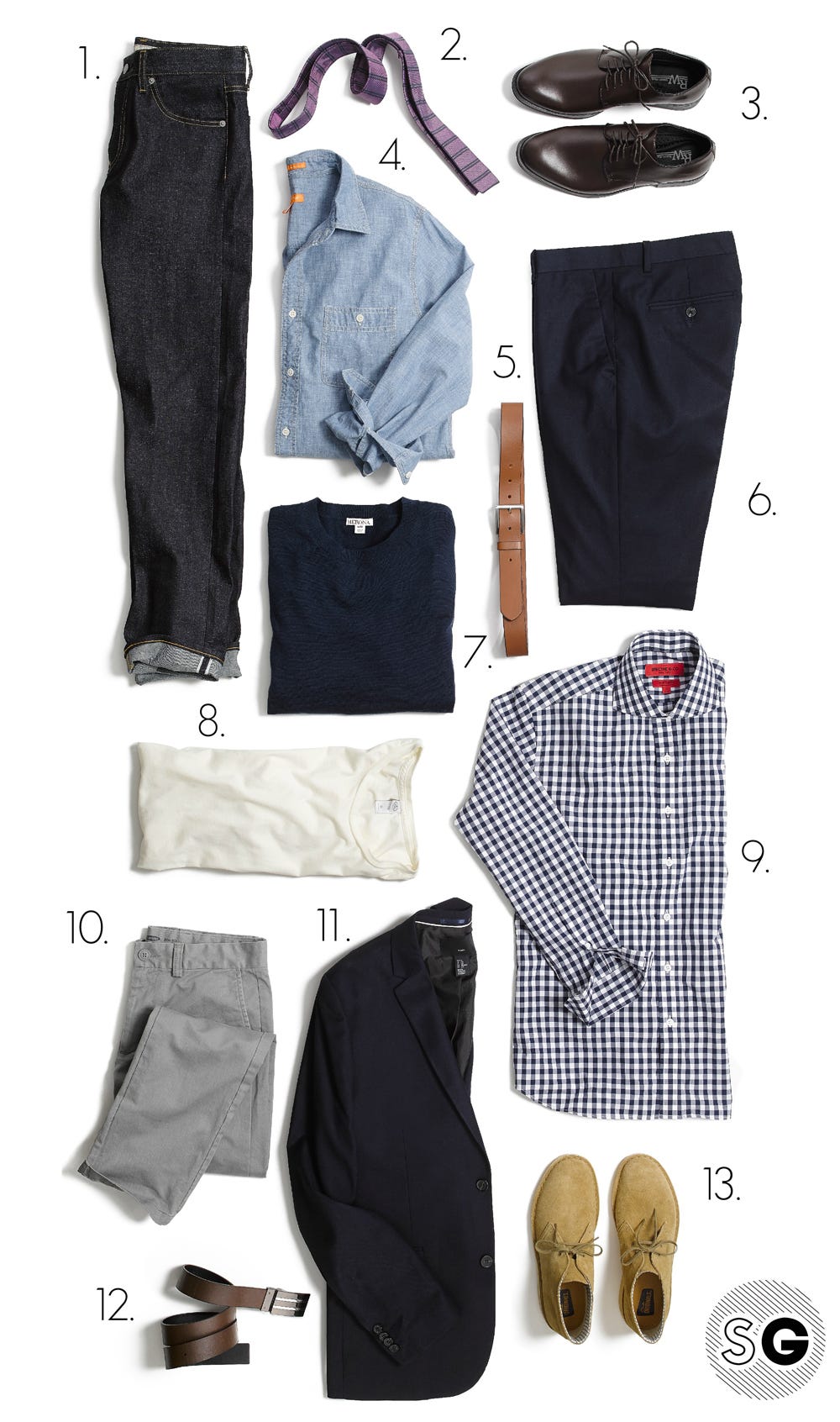 1. dark denim jeans | 2. striped tie | 3. brown dress shoes | 4. chambray shirt | 5. casual brown belt | 6. trousers | 7. crewneck sweater | 8. t-shirt| 9. dress shirt | 10. chinos | 11. sport coat | 12. brown dress belt | 13. desert boots
Post-grad footwear
The foundation of your post-grad wardrobe can literally be built from the ground up. Meaning? Start with the shoes.
A quality pair of dress shoes that work for the office and outside of it doesn't have to blow your whole wardrobe budget. At least, not anymore. New DTC (direct-to-consumer) brands like Paul Evans and New Republic from Mark McNairy cut out the middleman and pass the savings onto style-loving yet price-conscious consumers like you.
Just remember: when it comes to shoes, if you take care of them, they'll take care of you. Especially when it comes to leather and suede, the upkeep matters.
For your off-duty days and nights, desert boots will be your best friend. In a neutral shade of brown or sand, these boots will look good with every pair of pants you own, can be dressed up or down and can be worn year-round—giving them major versatility points in contrast to your favorite sneakers.
You can also head to stores like DSW and Nordstrom Rack looking for deals. We found the Clarks pair above at DSW for just $55.
New grad necessity: A slim-fit suit
Next on your priorities list should be a timeless, slim-cut navy or charcoal suit. Don't sleep on the accessible price point and modern cut of the suiting options from H&M. Both your jacket and pants will look better (and more expensive) the better they fit—so pay a little more to have them tailored before that interview or your first day on the job.
Same goes for a patterned dress shirt like the one above we found from Spectre & Co for just $45—it's more memorable than your stand-by white button-up and guaranteed to set you apart from the rest of the post-college guy pack.
Updating wardrobe post college with off-duty essentials
From there, it's just a matter of filling in versatile basics that will serve you well for a ton of different occasions. For example, a chambray shirt that looks as great untucked with dark denim jeans or chinos for weekend outings as it does paired with your navy suit and a patterned tie for your 9-to-5 grind. We found ours at Joe Fresh for just $24!

So you've got the post-grad wardrobe. Now let's talk about how to wear your new clothes.
We've remixed the above thirteen pieces into four distinct looks, serving four distinct purposes. From weekdays pounding the professional pavement to weekend dinner with your folks (hopefully they're paying?), and the all-important date ensemble, we've got your post-grad looks covered.
Post-Grad Wardrobe Outfit #1 Interview Look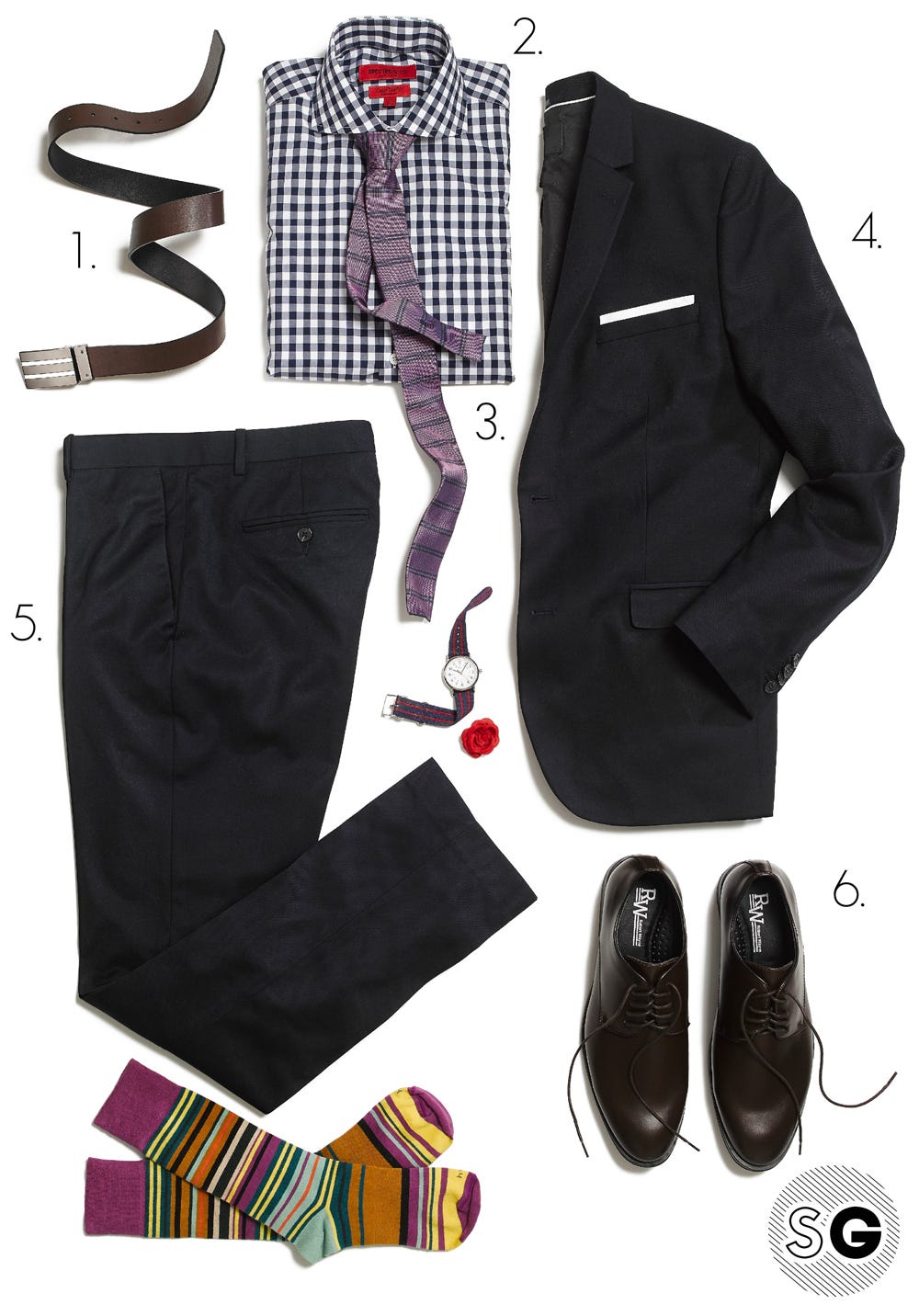 SG Says: It's always better to be overdressed for interviews. While there's a good chance your workplace dress code won't call for a suit everyday, you'll ultimately feel more comfortable more dressed up as you try to convince potential employers you haven't spent the last four years wearing the same sweatpants every day.
Not to mention you'll need that suit for the fun adult stuff, too. Like weddings, holiday parties and dates that involve more than just meeting up for fro-yo at the student union.
These foundation pieces don't have to be expensive to be on-point, but you'll want to treat them right to make them last. Get your suit tailored and keep your shoes shined. It's a good idea to store them with shoe trees to preserve their shape and keep 'em from getting stinky when you're not wearing them.
Remember: A college graduate wardrobe starts with work pieces!
A navy suit and dark brown dress shoes are like a blank canvas—don't be afraid to have a little fun with everything else, like your shirt and tie.
Chances are you already own a classic white dress shirt, so add a patterned option to your rotation for some personality. A shirt in blue gingham provides a cool but low-key contrast to the navy suit.
For finishing touches, keep an eye out for sales at stores like Express—we found the two leather belts above for under $60 total there. The dressier belt is even reversible, giving you both a dark brown and black option.
You'll probably flip for the brown most often, but black is essential to have for more formal attire (and it looks great with grey).
We're also huge fans of The Tie Bar for guys' accessories. They're a terrific (and ultra-specific) source for affordable and interesting neckwear options—you can find just about any color, pattern and fabrication imaginable for under $25. As your budget grows, your collection of ties can too, giving every shirt you own even more wearability.
This easy, sophisticated combination is a look that won't let you down whether you're dressing up for a best buddy's wedding or suiting up for work.
***
Post-Grad Wardrobe Outfit #2 Weekend Warrior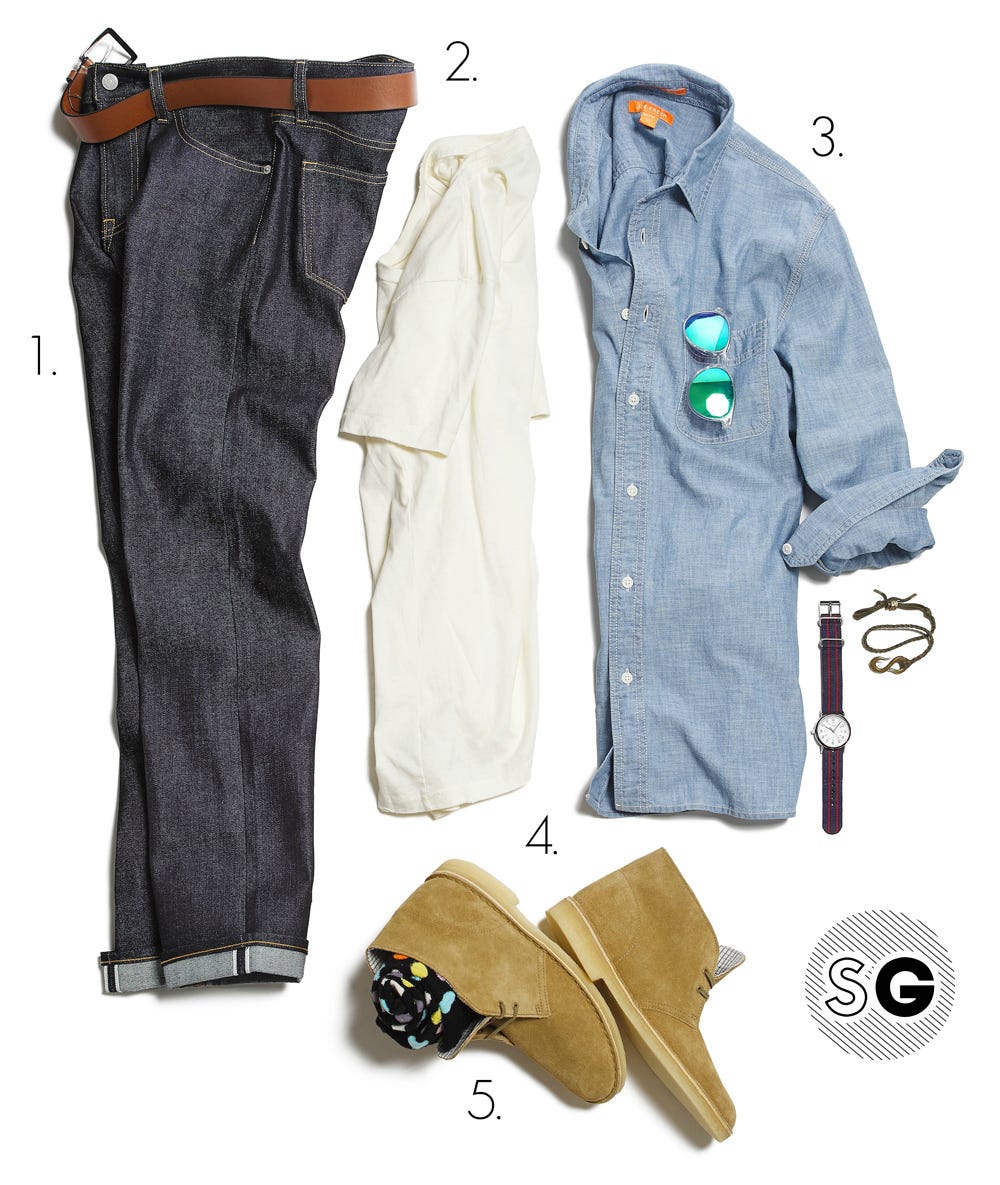 SG Says: No more dorm room. No more meals in a cafeteria, eaten off a tray. No more afternoon tailgate parties in a t-shirt with the sleeves cut off. Even if you're still transitioning into The Real World and living with a friend or in your parent's basement or something—weekends are different now. There's this thing called brunch, and it's awesome.
So okay sure, maybe sitting around with your buddies scarfing down waffles and throwing back Bloody Mary's isn't how you'll spend every Saturday afternoon, but it's safe to say that those baggy basketball shorts and college logo hoodie won't cut it for leaving the house anymore, for any reason.
Fear not though—you can still be incredibly comfortable while dressing like a grown man.
Remember: An affordable post-grad wardrobe shouldn't look cheap!
That same soft chambray shirt you wore on a date last night? Throw it on over a super-soft plain t-shirt (this one from Alternative Apparel starts at just $16) with a pair of dark, slim-cut selvedge denim and your trusty desert boots.
Cuff your jeans, grab your favorite shades and a casually stylish watch and you're suddenly ready for anything a #SundayFunday might bring your way.
Just, you know, don't call it that.
***
Post-Grad Wardrobe Outfit #3 Date Night
SG Says: Nobody ever said leaving campus life behind would be easy, but there are definitely certain advantages that almost any post-grad will agree on. Dating when you actually have an income? That's one of 'em.
Now that your romantic landscape has graduated beyond house parties and lunch at the student union, it's time for your dating attire to evolve, too.
We don't need to remind you how observant women can be, so show her you put some care and thought into what you wore by tucking in your shirt, layering on a sweater and adding a belt to your chinos as a finishing touch. (Never mind that this is also probably a look you could get away with at work, making the weeknight date thing way easier—let her think it's all for her.)
Remember: College graduate work clothes can do double-duty!
The chambray shirt dresses down the look so you won't feel too formal or stuffy, while the dress shoes add just the right amount of polish. Together they say "I thought about what I'm wearing, for you" without saying "This is a fancy occasion."
Having this kind of "capsule wardrobe" also frees up some funds for treating your love interest/latest Bumble match to something more than a couple of draft beers during happy hour. So go ahead, splurge on the Old Fashioned and a basket of truffle fries to share—she's (hopefully) worth it.
***
Post-Grad Wardrobe Outfit #4 Dressed-up Dinner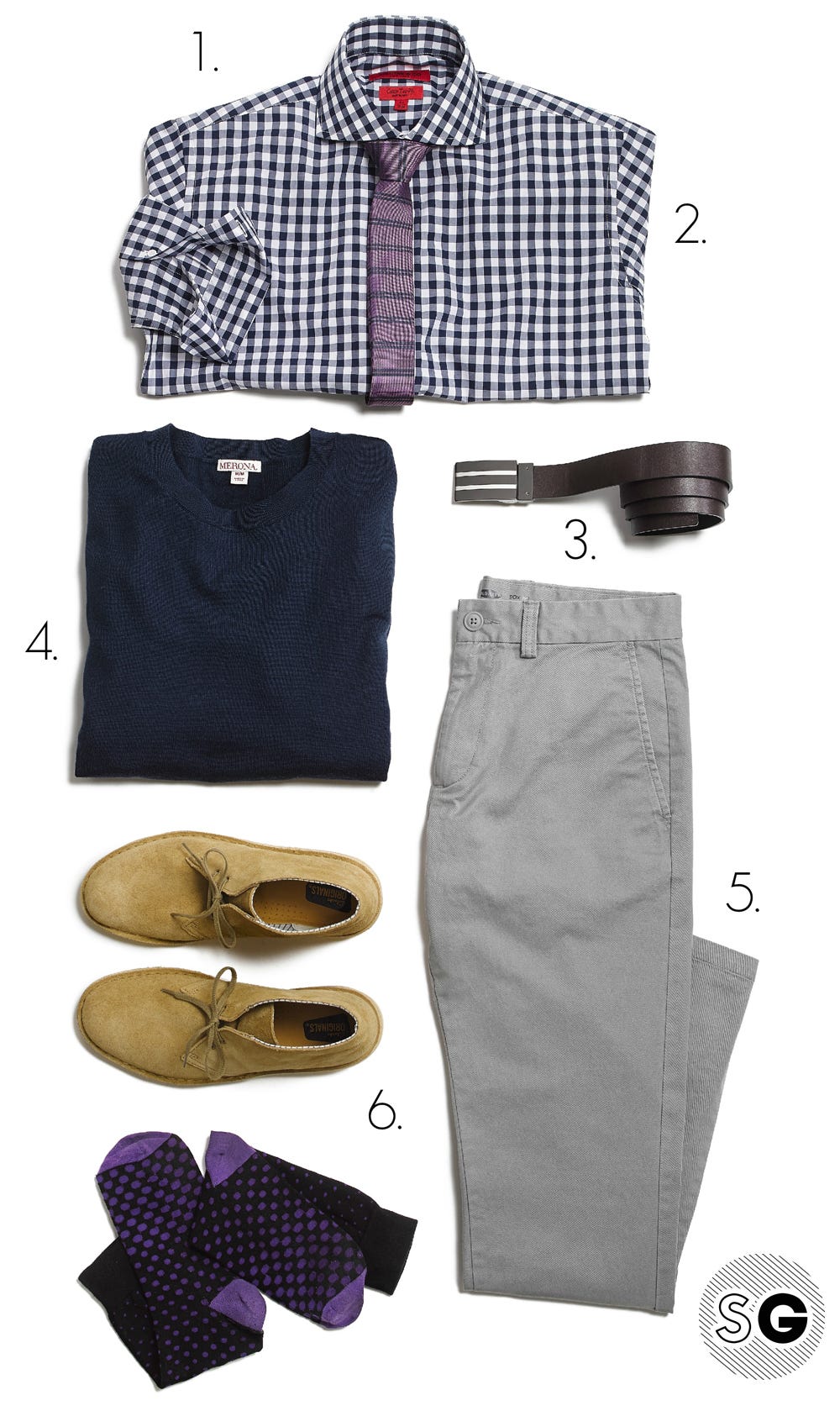 SG Says: You did it. You're living your own adult life, away from campus and away from home. You've got a job or an internship—maybe you even have a bed frame and some art on the walls in actual frames.
Everyone is proud of you, no one more so than your adoring parents. And now they want to come to town and take you out to dinner so they can hear all about it from their precious baby boy.
While you can probably avoid letting them see your pad (if it's not quite up-to-snuff yet), you've gotta plan to knock it out of the park with your "Look how adult I am" outfit for dinner.
Sure, what you wear may vary slightly depending on the season and the type of restaurant you go to, but if you're with your parents, just know: it's alway safe to err on the side of dressed up. Your slim-cut chinos, patterned dress shirt and casual boots are a great place to start—not too nice, not too casual.
Bonus points for rocking a tie (Dad will be impressed, Mom will swoon). Pull the whole thing together with a belt and you'll be looking sharper than the corner of that framed map of your hometown hanging in your living room.
This mix of dressy and casual elements is the perfect combination for just about any kind of evening outing—from entertaining clients to escorting a beautiful woman about town. (It's good to have more than one date night look, after all.)
But you knew that already, didn't you? Forget dressing, you're even thinking like an adult now.
***
Ready to graduate your style?

If you're ready to embrace adulthood, but you dread the thought of shopping for it…why not let Team SG shop for you?
Let us rescue you from shopping fatigue and sartorial apathy.
With our online personal shopping service, we can promise the kind of dedicated attention that will make you feel like the best, most stylish version of the awesome guy you already are! We'll also help you figure out how to wear your new clothes with the things you already own.
If you're ready for a shopping plan that'll save you time, energy, and your sanity, give us a shout.
***
Taylor Davies splits her time between NYC and Sun Valley. She loves writing about menswear, overpriced martinis in dimly lit hotel bars, and cross-country skiing. Not necessarily in that order.