How to Dress on a Winter Date
Cold weather romance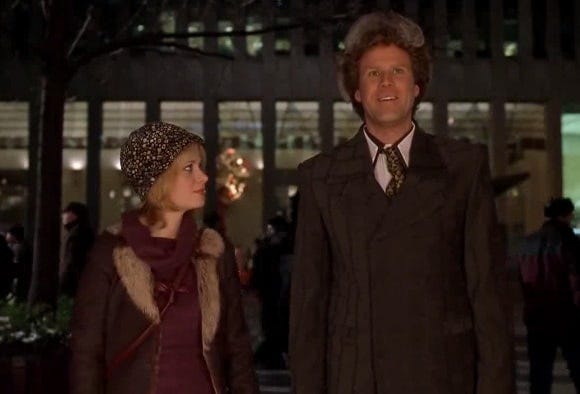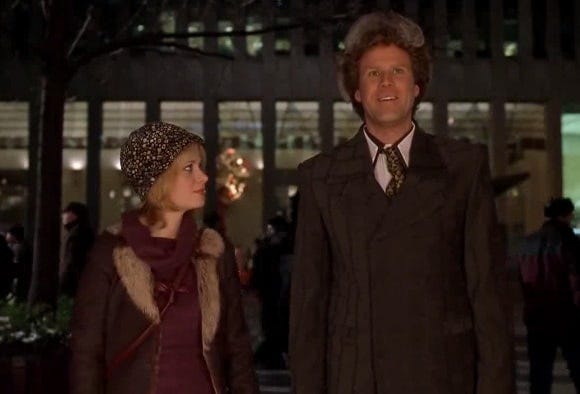 We'll give it you straight: Rolling up to a post-work date in a disheveled suit or a less-than-fresh lunch stain on your sweater isn't the best look. This is why we love the idea of carving out time to swap outfits and leave your work mindset at home before a big date.    
As for the outfit to slide into? Well, that depends. 
Date night outfits for men for winter dates
Date night outfits for guys is like, kind of our are of expertise so here are some tips. Consider what you're doing. Is it day date winter outfits you need? Are you figuring out what to wear on a first date? A casual night out at the movies, or a stroll through the park? Nights out at an ugly holiday sweater party?
From there, think about what you feel like a million bucks wearing.
Winter dates can be a tricky business, for those on both sides of the table. I've gleaned plenty of pre-date advice from my favorite chick magazines.
Things like, Maintain eye contact, but don't stare. Initiate physical contact (hand on an elbow, or if you're feeling daring, a knee) to indicate interest. All guidance that's served me well in my brief-yet-illustrious dating career.
Now, I don't know where you fellas get your behavioral intel on these sorts of things, but I do know it's hard enough trying to act like a normal human being 'til the check comes without also worrying about what you're wearing.
So! To keep you from reaching blindly into your closet for a first date outfit, I've taken the sartorial suggestions we ladies are supposed to follow, and butched 'em up, just for you.
Here's what you'll find below:
Our tips to how to look your best on a date
Want to go right to adding to cart? Scroll down for our top shopping picks for date night
1. Un-fuss it up
Women are often reminded that we're dressing to impress a guy, not our girlfriends. For us, that means: skip the uber-trendy pieces in favor of a simple look.
For guys, this is about keeping your foundation simple – lighten up on the cologne or after shave. And leave the bling at home. You should not look more sparkly than your date.
2. Show a little skin

Cosmo instructs its readers to show some skin, but not too much. Pair a low-cut shirt with jeans, for instance, or a short skirt with knee-high boots. Give a glimpse of what you're working with, but not the whole show.
For you fellas, this means – no suits. Yes, a first date can sometimes feel like a business interview, but that doesn't mean you should dress for one!
Try a button-down with the sleeves rolled up, or a sweater that feels soft to your date's touch. Jeans or khakis are perfectly acceptable. Heck, if it's warm weather, go for shorts. After all, us ladies like to know what you're working with too.
3. Make an (accurate) impression

Of course you want to look your best on a first date, but you should still look like you. For me, I never wear too high of heels (or heels at all) on a first date. I don't want to set expectations that I'm always going to show up looking so fancy. Because let's be honest, I'm not.
For guys, the same axiom applies. If you're a granola-chomping hippie but wear a three-piece suit and wingtips trying to impress your new lady friend, it'll be hard showing up to date #2 in a hemp hoodie and hiking boots.
4. Fancy up your footwear

When I do show up in flats for a date, you can bet it's not a pair of sneakers.
Even if you're rocking a date night outfit with jeans, make the effort to step up from your sneaks. A pair of lace-up boots or loafers will elevate your look from the everyday.
5. Be the best version of you

This rule reads the same for guys and girls alike. You're going on a date, so please; no holes, tears, rips or (shudder) stains.
Also, skip any clothing that trumpets the designer's name or logo. Your outfit is like a billboard; it sends a message. You don't want it to be someone else's.
Of course, all this advice is for naught if you don't win over your lady love with your charming personality.
Be witty, inquisitive and polite. Set a limit for your booze intake (even if it helps your nerves!), and – this should go without saying, but I'll say it anyway – remember to look in her eyes and not her, well..you know.
Now, go get 'em.
…I mean, her.
Below, 8 winter date night outfits for guys:

Winter Date Night Outfit #1
A Cozy Sweater and Textured Dress Pants

SG Says: You'll be sure to impress in a pair of tailored textured trousers coupled with – drumroll please – even more texture. A cozy sweater and a suede bomber is a surefire way to take any simple button down to the next, non-corporate feeling level. This is also a great day to night date night outfit because you can leave on your trousers or dress shirt from work and add a few details and you're good to go.
Winter Date Night Outfit #2
A Shirt Jacket Under a Leather Jacket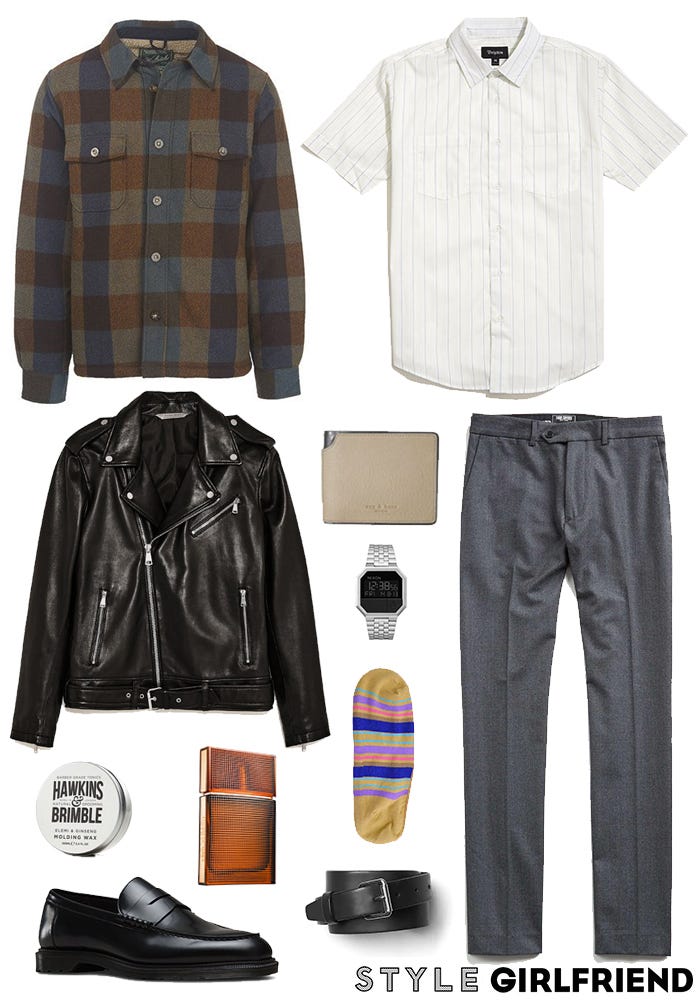 SG Says: Don't sleep on a shirt jacket (or "shacket") as a go-to layer in cold weather. It gives off a cozy, burly vibe that definitely lends itself to in-booth cuddling on your next winter date.
Winter Date Night Outfit #3
A Colorful Puffer and White Jeans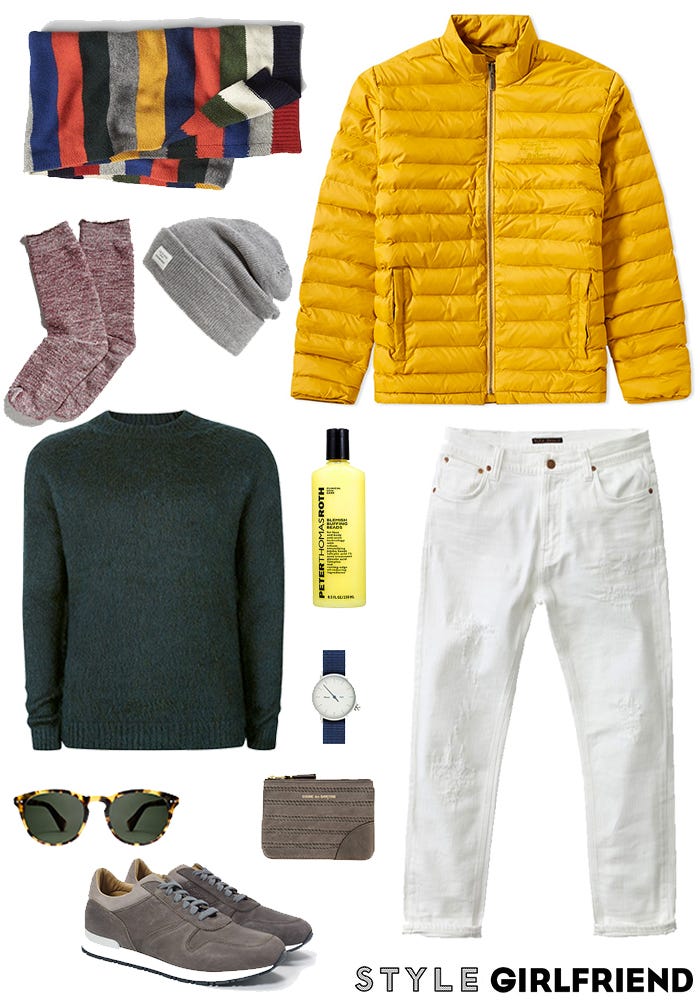 SG Says: Yes, you can wear a functional puffer coat on a date when it's really freaking cold outside; just make sure it's as snazzy as this Big Bird-yellow one. This is perfect for a casual date night outfit in the winter.

Winter Date Night Outfit #4
Dressy Boots and Textures Galore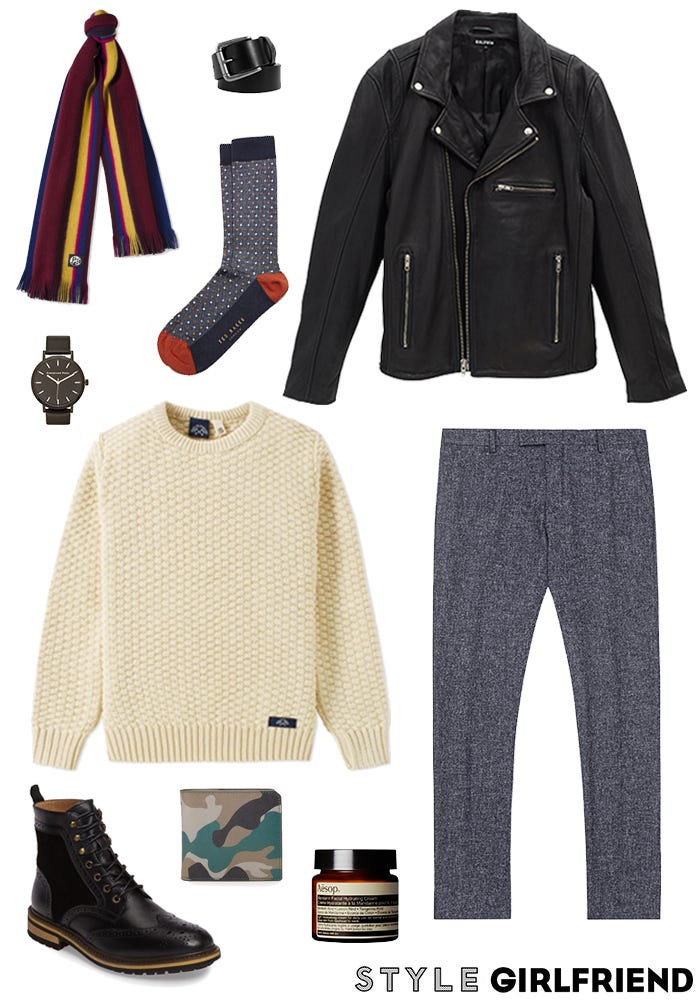 SG Says: If it feels weird wearing a trouser to a date, this is the perfect way to dress it down while still looking extra-sharp. A sturdy sweater in winter white, and a dressy lace-up boot.
And oh yeah, can't forget that badass leather jacket to top it all off.
Winter Date Night Outfit #5
Grey Jeans and cool sneaks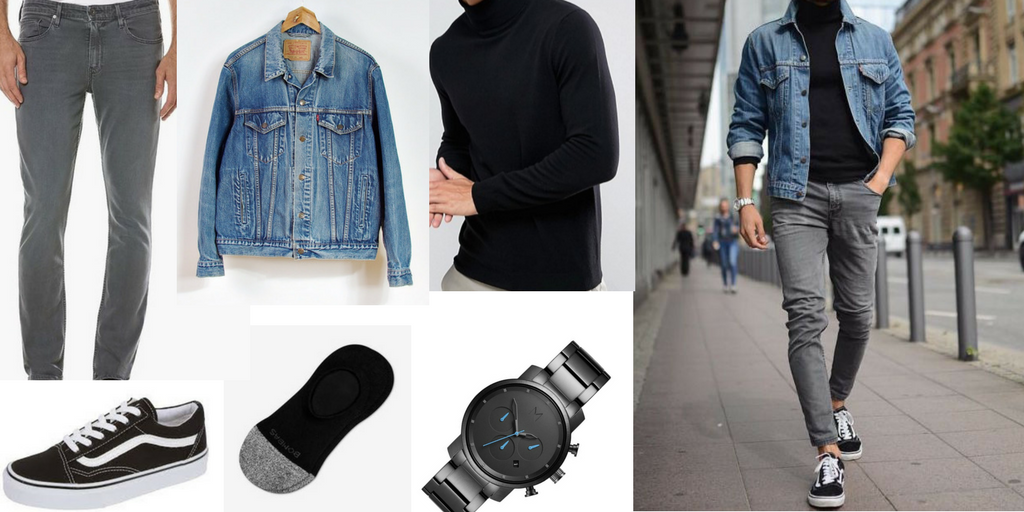 SG Says: Grey jeans are great for guys. If you don't wear much grey, denim is a great way to get into this neutral hue. It pairs well with any color and looks just as good unwashed as it does distressed (and let's be honest, most of the jeans in our closet are unwashed and bordering on distressed).
While you can wear grey denim anytime, we like incorporating it in cooler weather when there's so many great autumnal shades (ugh, did I just write that?) that look amazing topping it off – orange (like this sweater!), forest green, navy, burgundy, and yes, black and white too.
Honestly, you'll be hard pressed to find an outfit grey jeans don't work with. So get out there and get grey.
Winter Date Night Outfit #6
A Brown Suit Over a Jewel-Toned Cardigan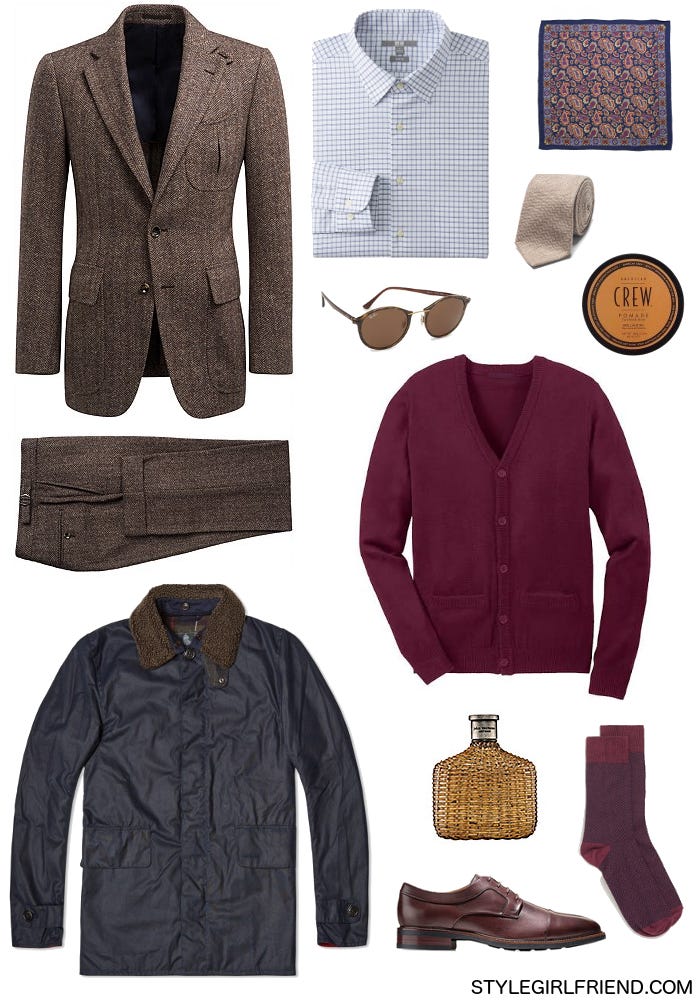 Winter Date Night Outfit #7
Dub monks and a velvet sport coat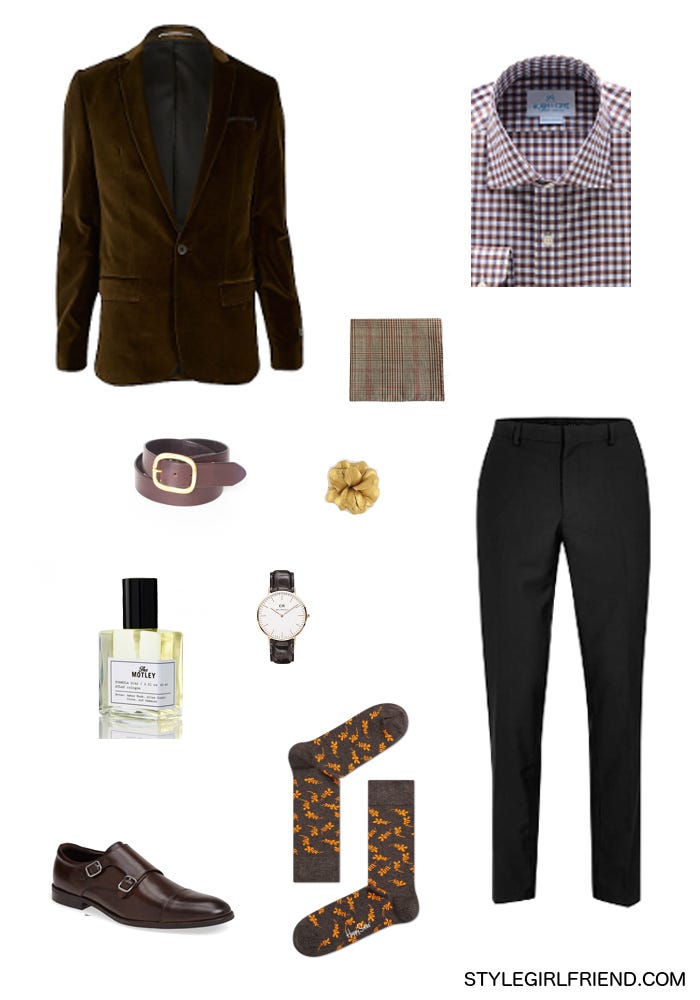 SG Says: A velvet sport coat in chocolate brown? You bet.
Winter Date Night Outfit #8
Pair a T-Shirt with a Blazer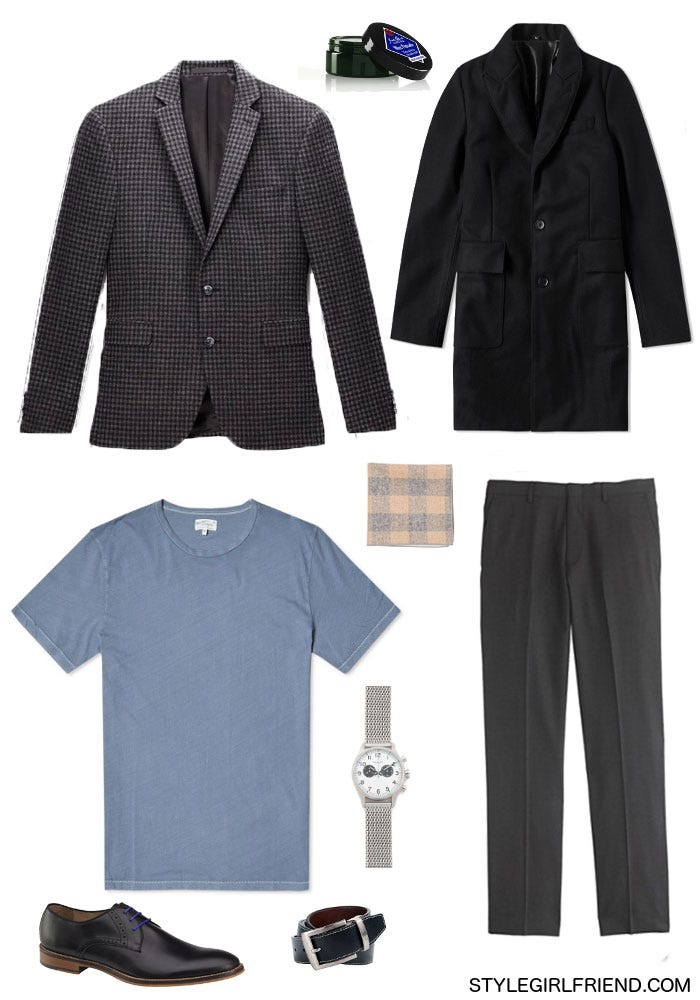 A few more tips on date night style
Wear a plain or pocket tee for a more streamlined look, or a graphic tee as a more unique focal point of the outfit.
A patterned sport coat is awesome, but don't shy away from a full suit that you dress down! Women love a little effort.
Layer up – wear a cardigan or a hoodie to add texture between your tee and jacket.
To make this look more office-friendly, add a cardigan and swap the plain toes for a wing-tip oxford.
This is an easy way to show off your personal style or showcase one of your favorite t-shirts from college, a concert, or a trip abroad – just make sure the tee is still in good condition.
Why women love when guys make an effort on their date night style:
"Y'know how girls talk all the time about wanting a guy to make more of an "effort?" Four words for you: Trousers. On. Date. Night. (You're welcome.)"

Want more style support for winter date night outfits? Team SG can create a customized shopping plan with outfit ideas just for you! Learn more here >