6 Men's Spring Date Outfits to Wear On Your Next Outing
Catch spring (style) fever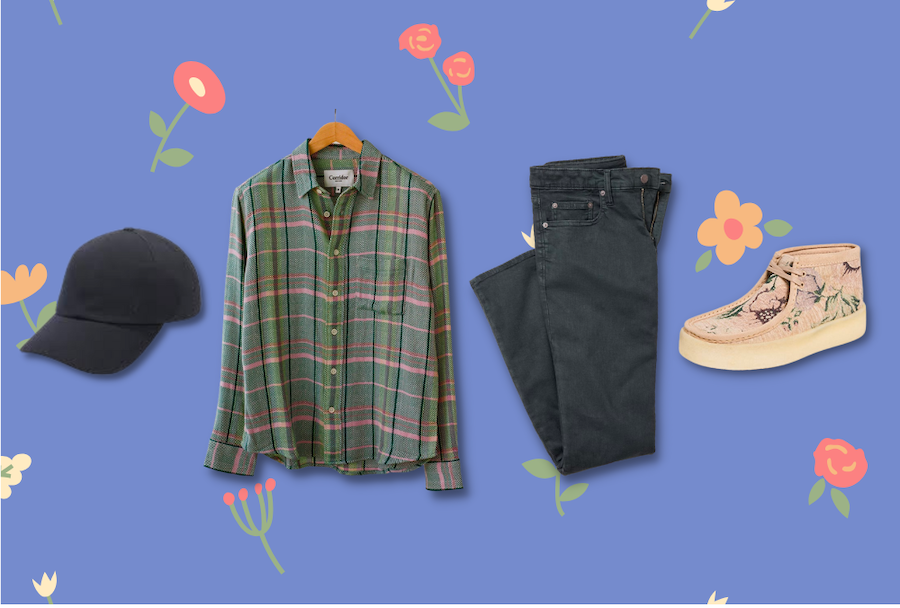 There are many perks to a spring date. The season brings with it a general "Love is in the air" vibe, which bodes well for romance. And the in-between transitional outfits mean you can layer up or down as needed.
Personally, I love an active date in the spring, something like a trip to the zoo or aquarium.
After all, it's virtually impossible to not have fun watching animals do their thing. It's also virtually impossible to run out of things to talk about at a zoo or aquarium.
I get it. First date topics, second date topics, hell, even tenth date topics can feel tricky sometimes!
How do you keep your date engaged without sounding like you're conducting a job interview? Literally not a problem when it's elephant feeding time at the zoo.
Below, check out stylish date outfits for men to wear in the spring:
A first date outfit for spring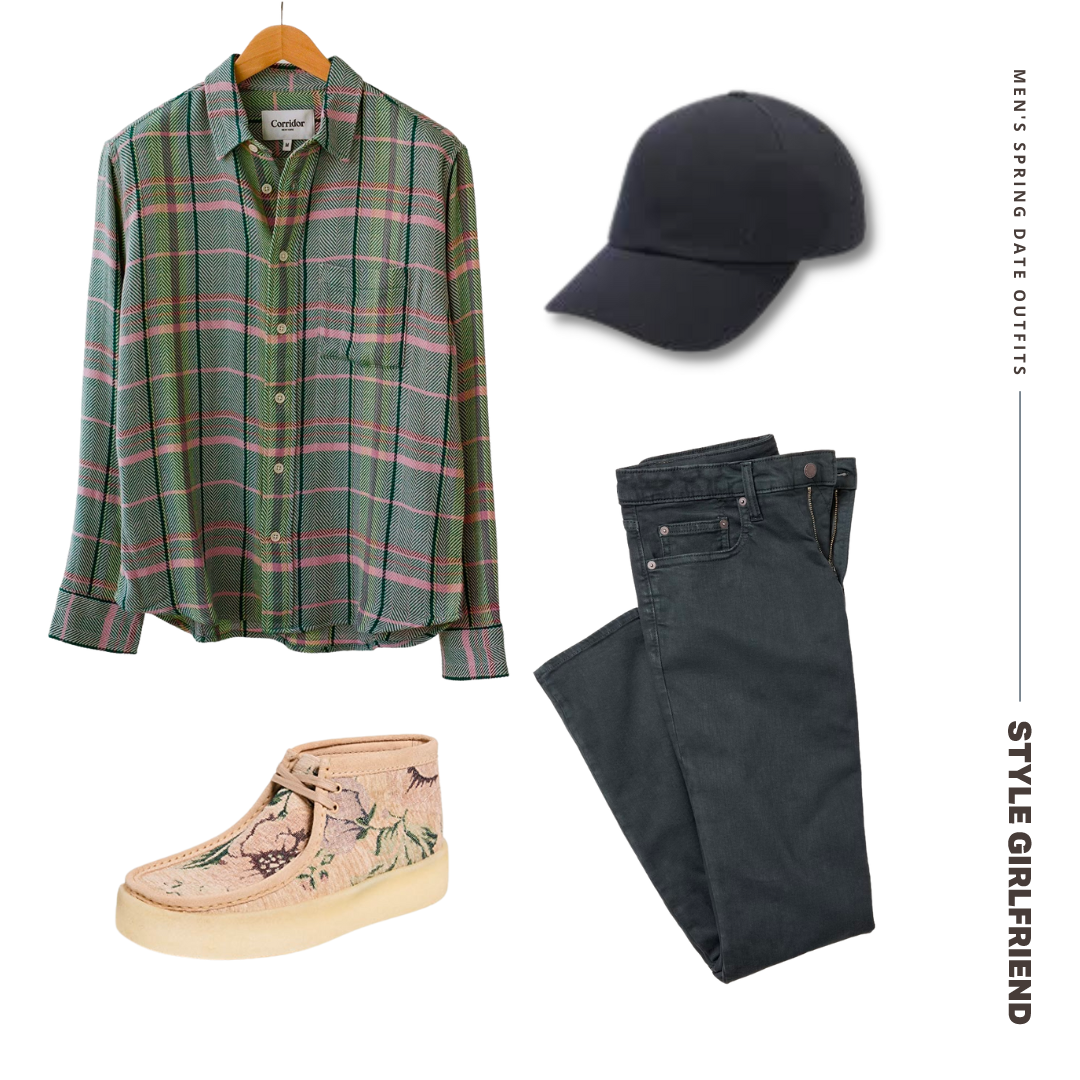 The Look: A lightweight plaid shirt, easy-breezy jeans, and statement footwear
SG Says: This outfit is deceptively stylish.
It's so simple, but the coordinating colors in the shirt and boots takes the whole thing up a notch.
Shop the outfit:
"Meeting up for day drinks" spring date outfit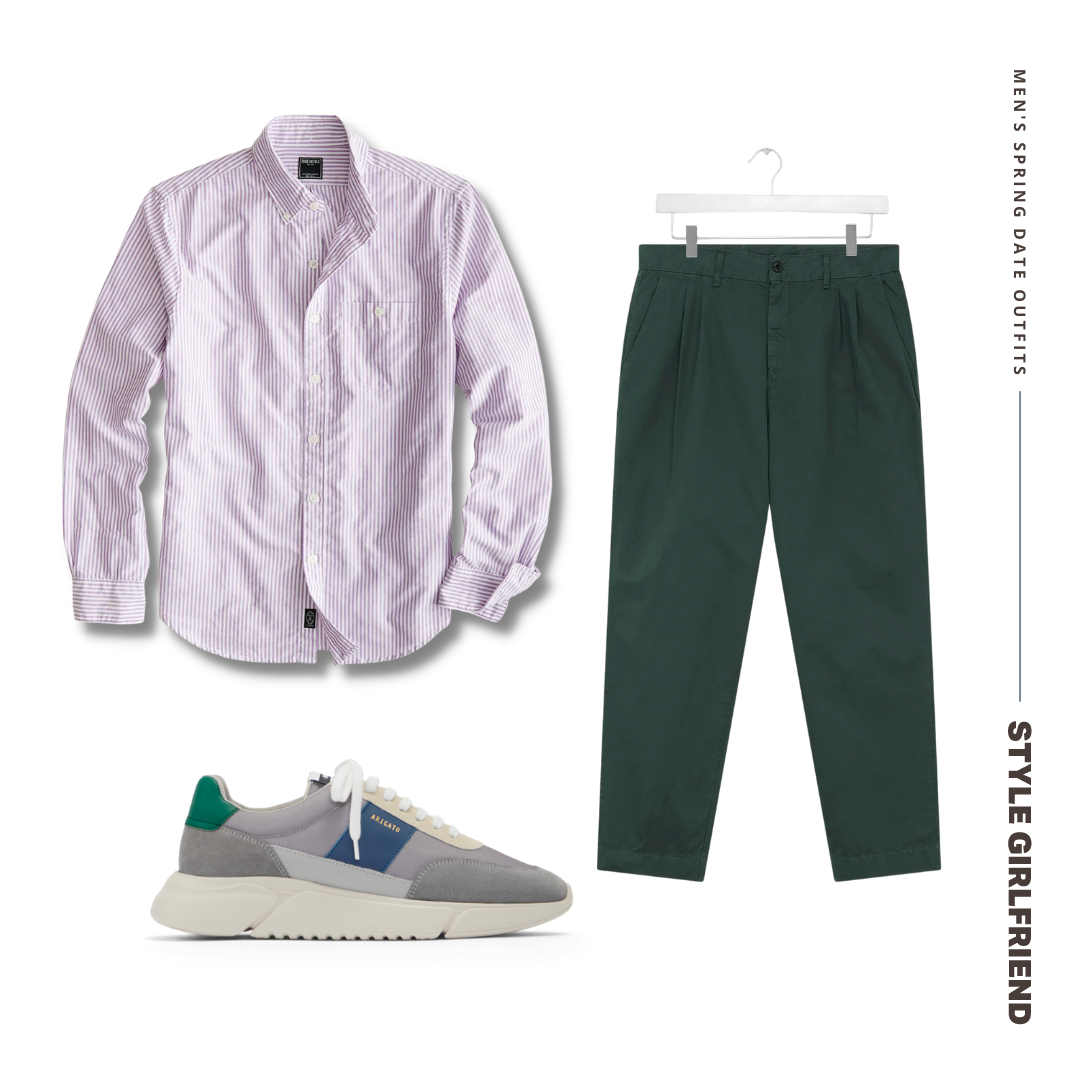 The Look: Spring colors!
SG Says: I love how the colors in the shirt and pants are picked up subtly in the sneakers.
You'll look put together without feeling overly formal.
If it's warm-ish out, skip the socks and cuff the pants to flash some ankle.
Shop the outfit:
"A stroll around the park" spring date outfit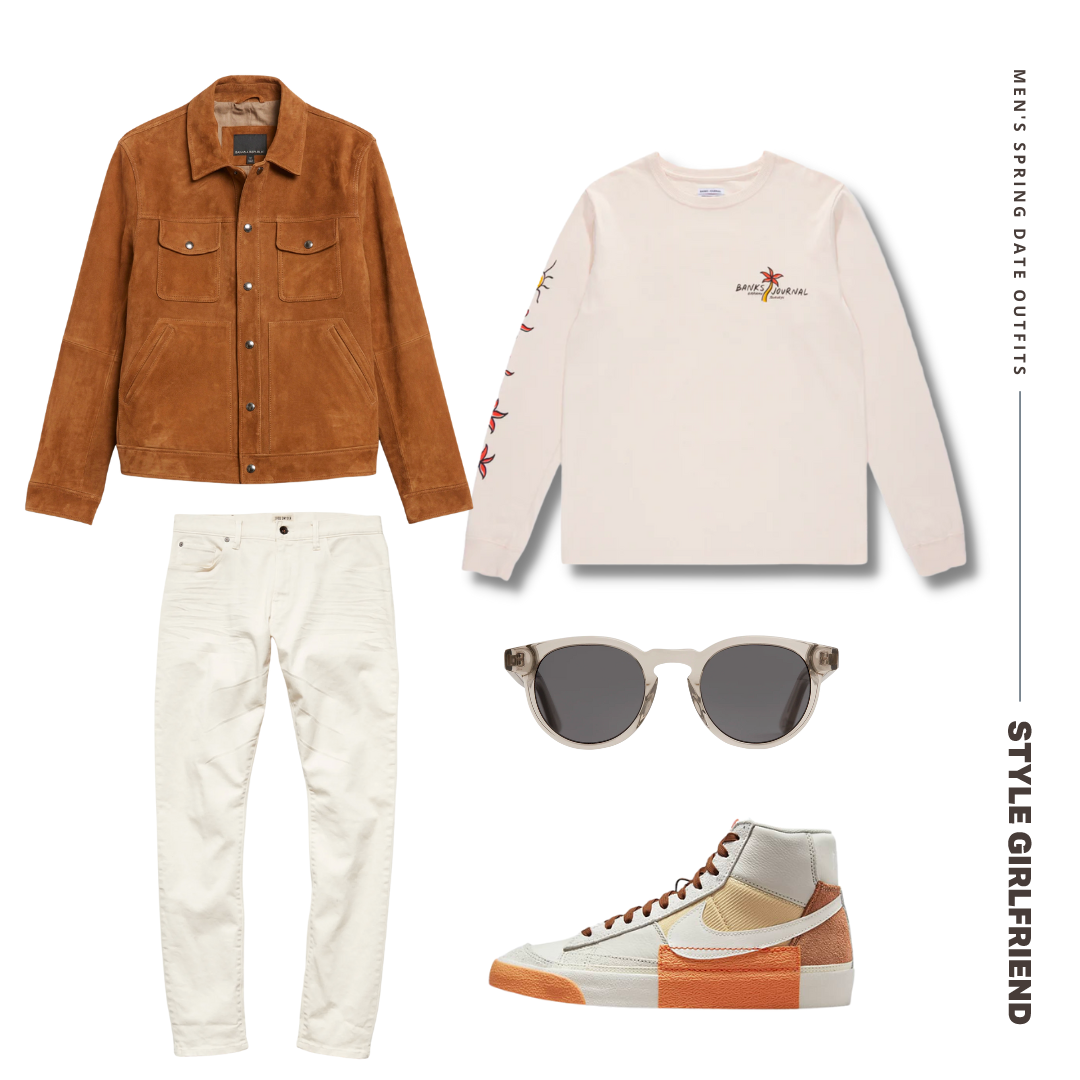 The Look: Monochromatic vibes
SG Says: You'll be sure to impress your date in this outfit. One, wearing white and off-white shows you're a grown-up who's not afraid he'll spill on himself at any moment.
And the suede jacket reads smooth without looking smarmy.
Shop the outfit:
A day-to-night men's spring date outfit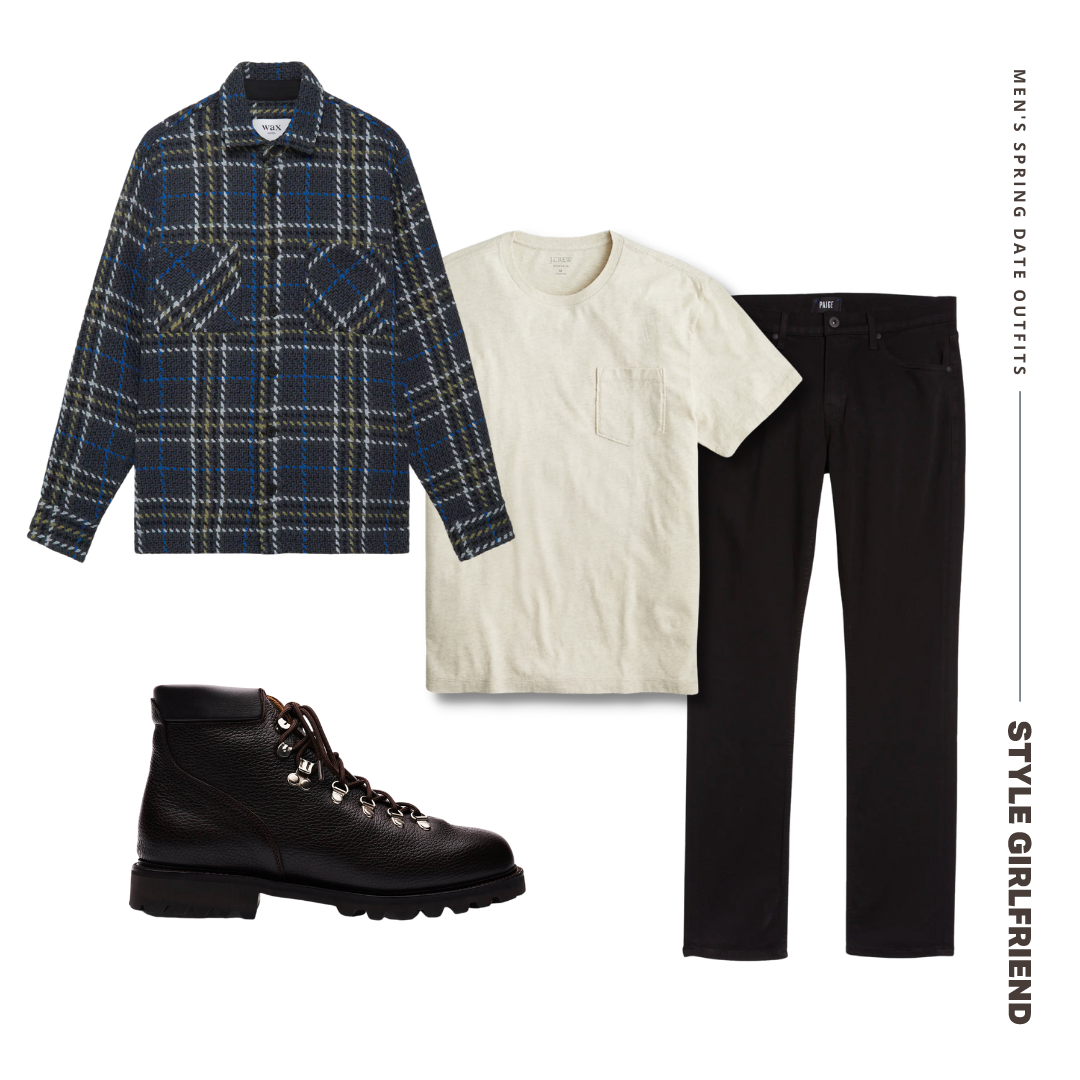 The Look: Serious style
SG Says: Maybe you're headed to a movie, and it will be dark outside by the time it's over.
Whether you head to a bar for drinks or out to dinner, a date outfit with dark tones will ensure you're dressed up enough for wherever the evening takes you.
Shop the outfit:
A casual men's spring date outfit
The Look: A casual pop of color
SG Says: Not every date look has to be overly thought out. You'll feel totally comfortable in this outfit, and still look cute.
Win win!
Shop the outfit:
Strolling through a museum spring date outfit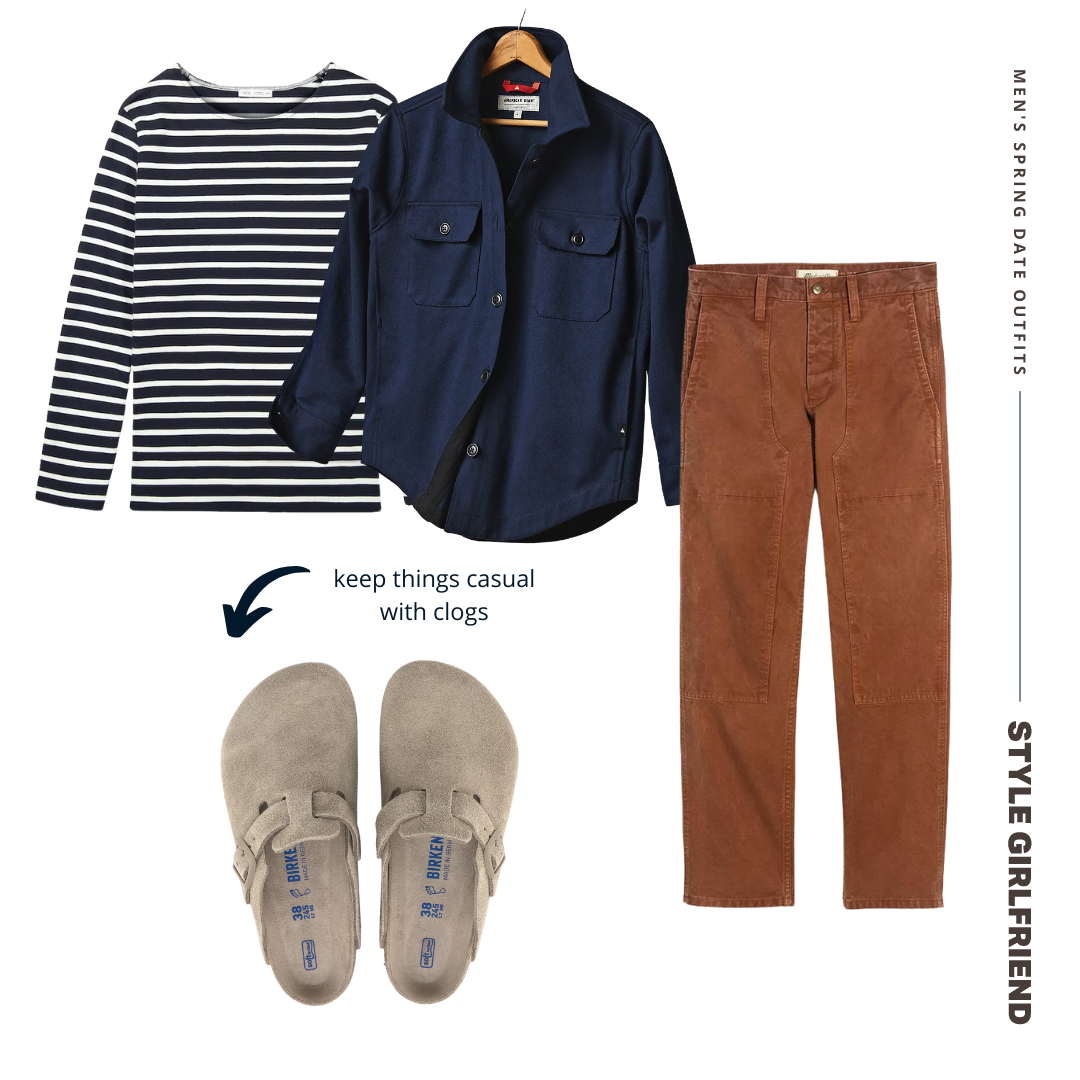 The Look: Parisian chic meets farmercore
SG Says: When the weather's not cooperating, head indoors! This outfit is perfect for strolling through a museum and giving your best art critic takes.
Not into Birkenstocks? Swap the clogs for a pair of boots or penny loafers.
Shop the outfit: