A Week of Casual Outfits for 50-Something Men
Real guy style in Florida heat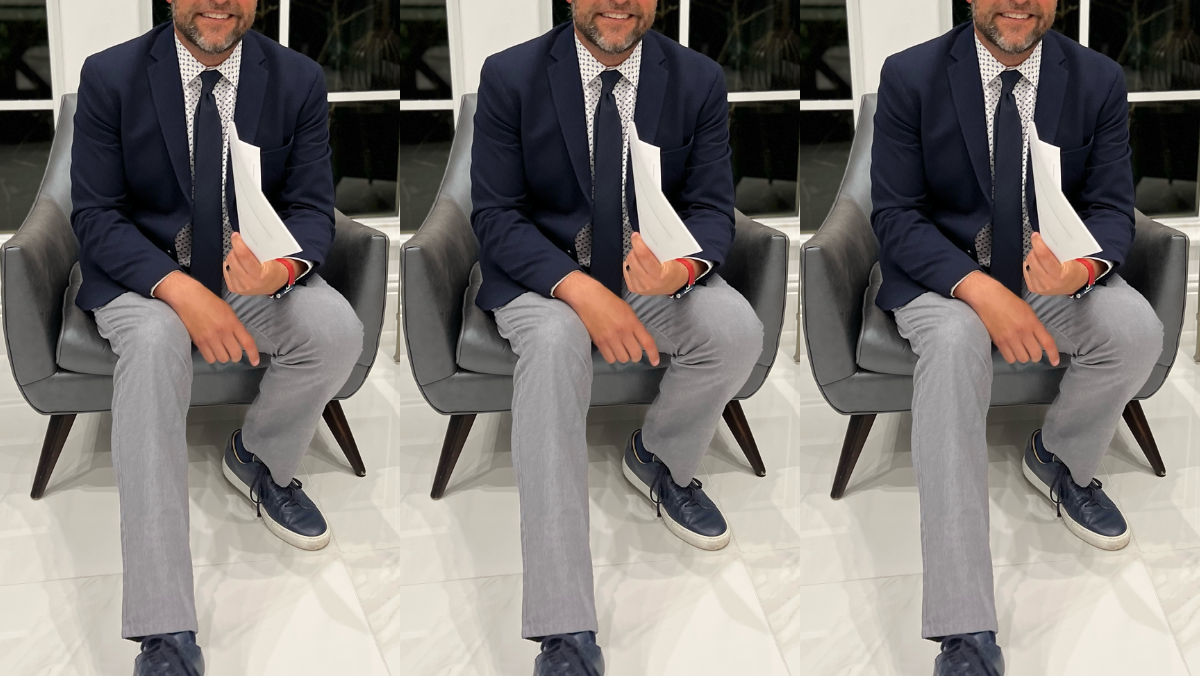 Greg Shugar has worked in men's fashion for most of his adult life. While toiling away as a lawyer by day, the Midwest native founded The Tie Bar from his garage (like Steve Jobs but for neckwear!), growing it into a $20 million business before selling it.
Just for fun, he then bought a struggling Vermont-based bow tie company to see if he could turn it around. Spoiler: he could!
Unsurprisingly, someone who spends his days thinking about what men want to wear knows what he likes to wear. The serial entrepreneur has found a day-to-day, 50-something casual style that suits him perfectly.
Shugar captured a week in his wardrobe from sunny Florida. The outfits that follow offer a masterclass in how to dress in your 50s.
Below, check out stylish casual outfits for 50-something guys:
Monday
Why I Wore It:
Today, it's 84 degrees and humid.
The weather has yet to really break here in South Florida, so opting for a jacket and pants would be self-inflicted harm.
Plus, it's Monday so I felt a little lazy to get into the full dress-up mode, especially since I have nothing going on except office work.
I'm unapologetically wearing an Untuckit linen shirt.
Say what you want about the brand, but I really do love a lot of their apparel. I met one of the co-founders a few years ago at a conference and told him that their biggest miss in marketing is communicating how well their clothes fit the average-sized guy, like me.
It's one of the big reasons I wear their shirts as often as I do.
My chino shorts are from Bonobos, another great brand for a 50-year old guy like me. I think I own every color of shorts they've ever made.
The white sneakers are from Greats, a Brooklyn shoe brand I love but which has lost a little of its style since its sale to Steve Madden.
Socks are Bombas because, well, doesn't everyone wear Bombas now?
And the sunglasses are from Kopajos in Mykonos, Greece, which might just be the best sunglasses store, ever.
Shop the outfit:
Tuesday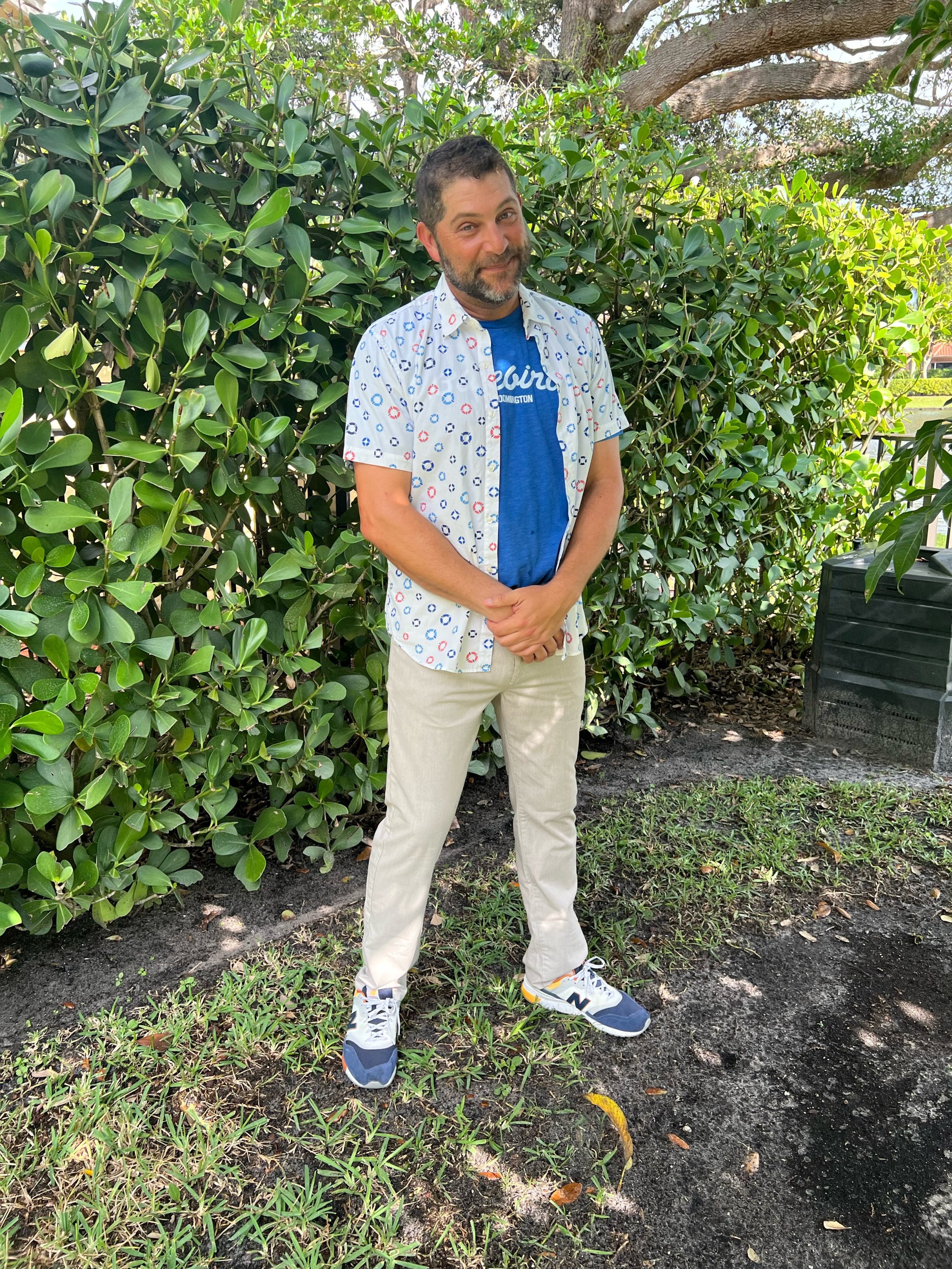 Why I Wore It:
Today I have a meeting at Starbucks on Atlantic Avenue—Palm Beach County's version of South Beach—with someone I almost once invested with. Apparently, his shirt company has gotten some great traction recently, so he wanted to check in again.
Wearing a t-shirt from my favorite bar EVER from when I attended Indiana University, with a Bonobos Riviera shirt over it.
You can see in this photo how much I hate having pictures taken of myself.
Why did I agree to this?
Shop the outfit:
Wednesday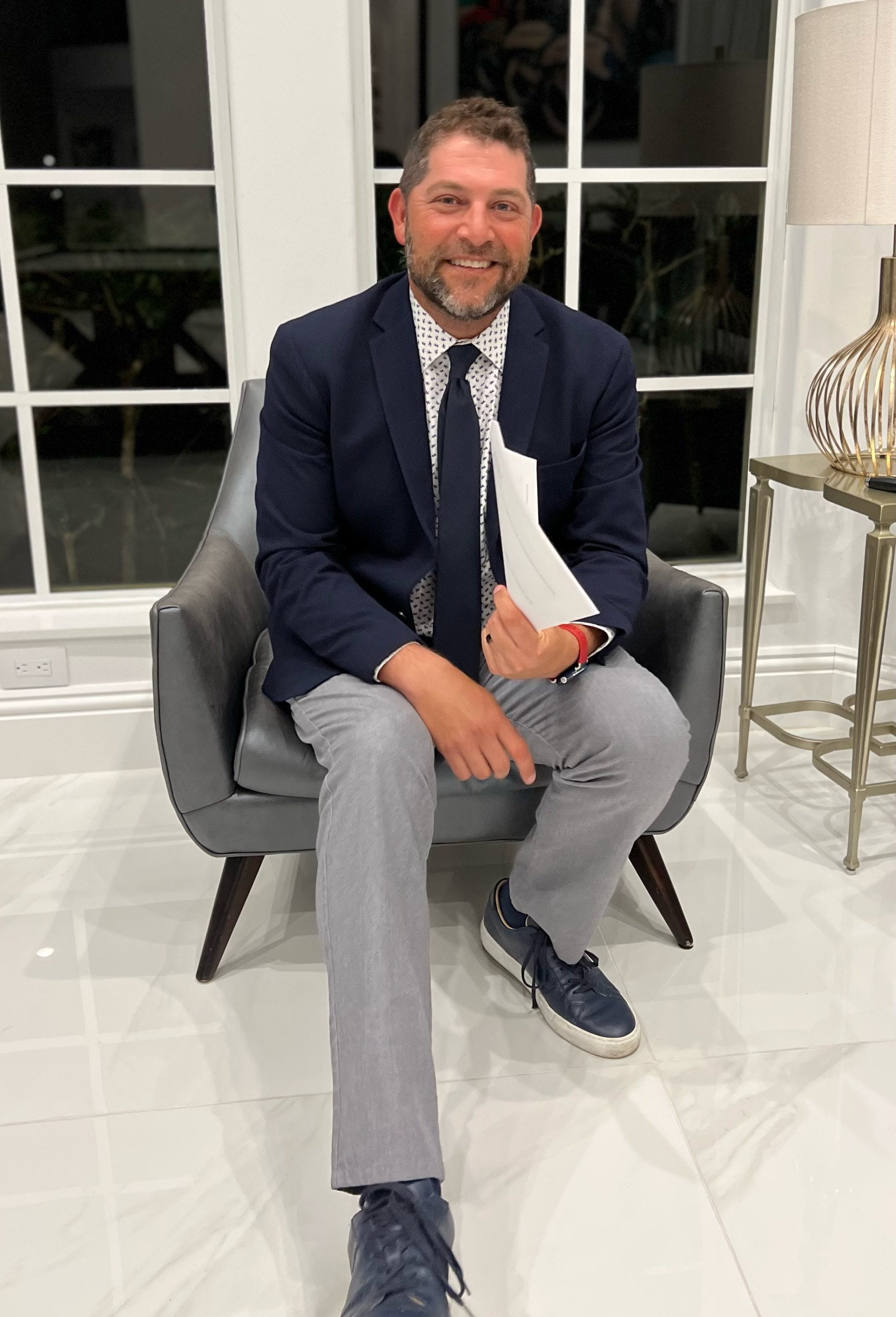 Why I Wore It:
Tonight, I'm giving my final exam to the Entrepreneurship course I teach at the Florida Atlantic University (FAU) College of Business.
I've been teaching there for a few years, although this is only my second semester teaching undergrads. I like to get dressed up for the final to give a little 'big game' feel to the exam.
I'm wearing a textured jacket from Kenneth Cole Reaction that I found on the sale rack at Macy's and fit me perfectly.
For $59, how could I not?
Shop the outfit:
Thursday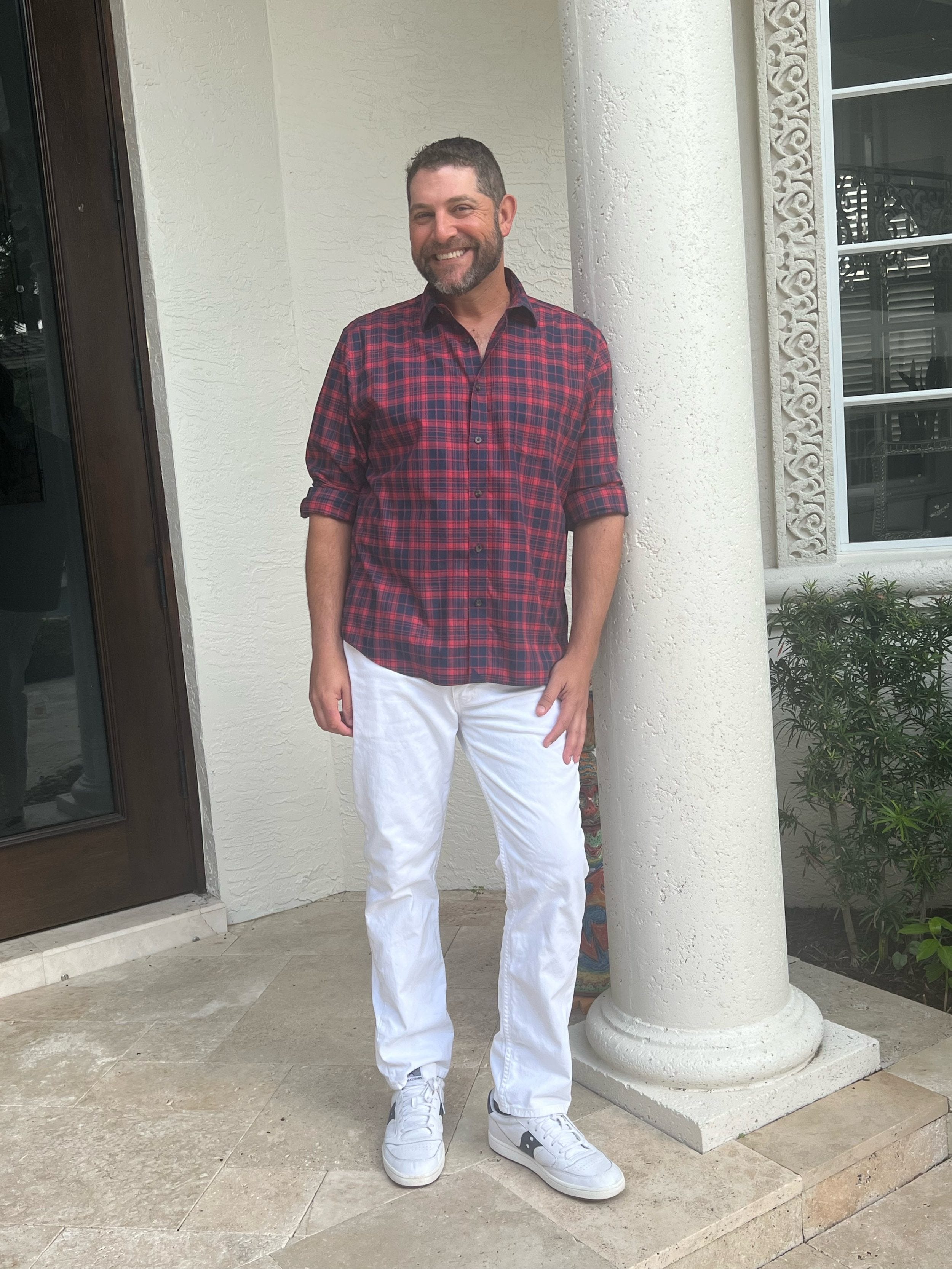 Why I Wore It:
Had a meeting with a colleague today at FAU.
Lots of meetings in South Florida don't require a jacket, especially when it's still hot and humid.
I'll still do it sometimes anyway, but my pickleball game went long and I had little time to get ready.
Back to Untuckit in something they call flannel but really is just broadcloth cotton in plaid.
Sorry about the denim, I know it's No Jeans January! But it felt like a white pants kinda day.
Shop the outfit:
Friday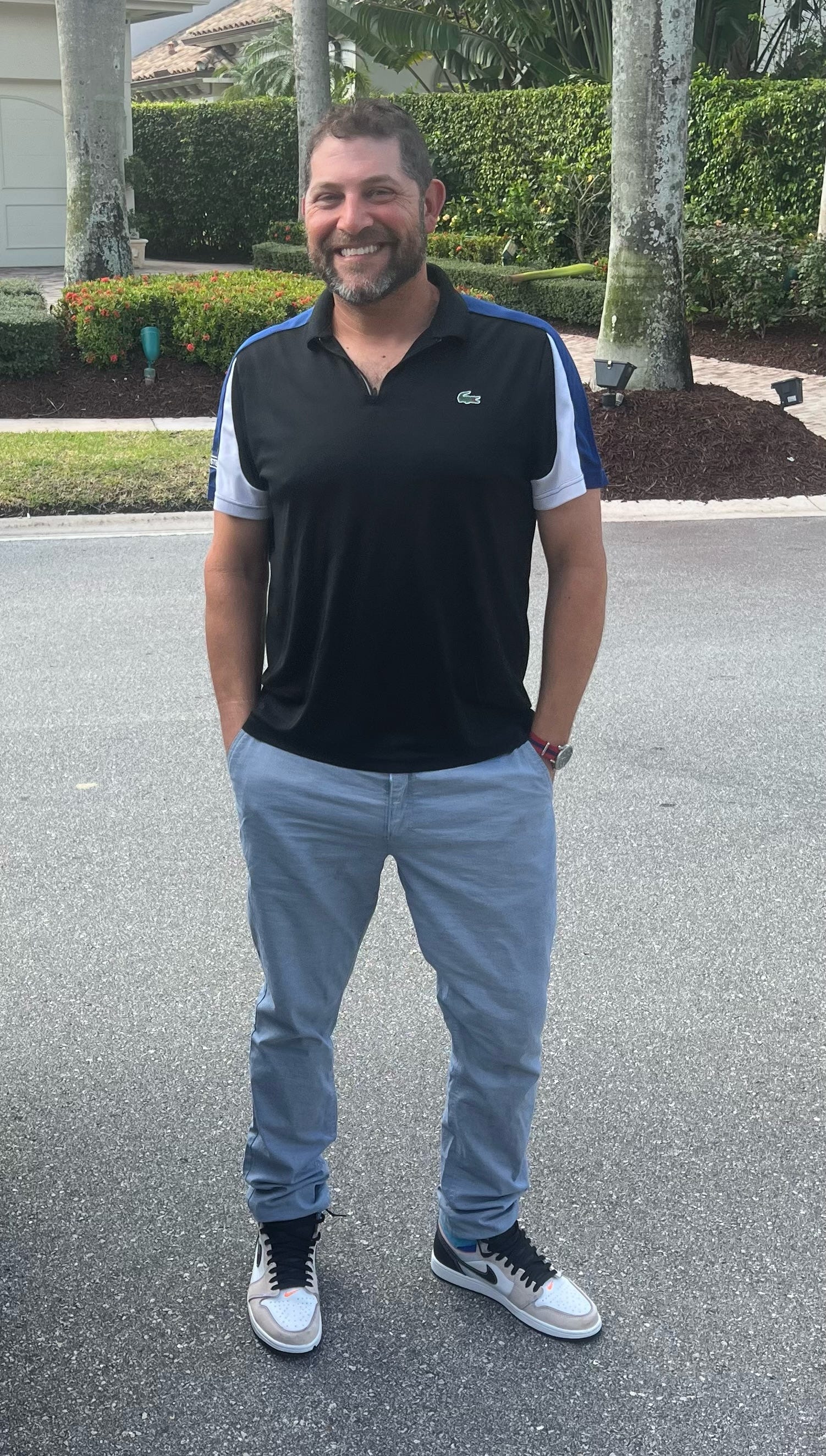 Why I Wore It:
The only real meeting I had scheduled was to interview someone to join our marketing team. So, I only sorta got dressed up with a polo and lightweight chinos.
RELATED: The SG Guide to Chinos
I wore my favorite tie-dye socks with Air Jordan 1 Retro High OG Prototypes, which are so far outside my comfort zone, but I took the plunge and bought them anyway.
Shop the outfit:
***
Looking to discover how to dress in your 50s?
Check out these great men's brands. You're sure to find something you like when shopping for outfits for 50-something men:
Todd Snyder
Mr. P by Mr Porter
rag & bone
Banana Republic
More great grooming and outfits for 50-something men
• How to Dress Over 60
• The 50+ Grooming Guide for Men
• Style Tips from Stanley Tucci
• Men's Wardrobe Essentials When You're Over 50
• What This CRO Wears in a Week
• Not a subscriber? Join SG and get a free men's skincare guide