How to Wear Pale Orange: The Guy's Guide to Color
Skip the spoon and scoop this shade directly into your closet
Prime your closet for more color with this series of guides for bold shades. SG HQ is breaking down how to wear stylish hues (like pale orange!) with easy color combinations and outfit ideas for guys.
---
Catch up on bluebird blue, amber orange, lavender, army green, salmon, slate, blood orange, sharkskin, gold, teal, khaki, merlot, red, evergreen, white, cobalt, yellow and navy.
---
What is pale orange and why should you wear it?
We like to think of this hue as "orange sorbet." Less saturated than peach, and a touch more vibrant.
Fun fact: Folklore holds that Nero (you know, the insane Roman Emperor) invented sorbet during the first century by mixing honey and wine. Sorry, but when do you ever get to share useless bits of trivia you've learned along the way?!
A light orange shade is one of life's perfect pastels…though we do love a little mint in our lives, too. That's why every guy ought to consider adding some pale orange to his wardrobe. You can pair it with other pastel shades, wear it mixed into prints and patterns, or all on its own with both your everyday basics and your dressier outfits. Read on to get the details about how to make this shade work in your wardrobe, no matter where you're headed.
What colors to wear with pale orange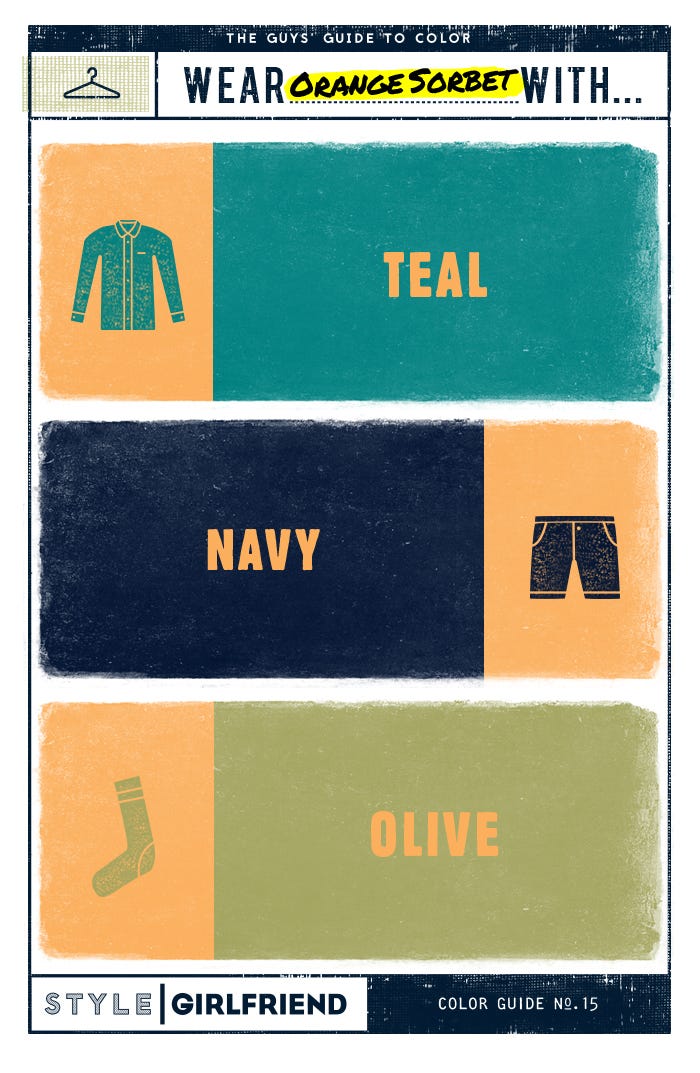 What colors go with pale orange
What color goes with pale orange? Well, you've got a few options, actually! We really love pale orange with teal, with navy, and also a pale olive green. That means, you can wear pale orange as the only bright color in an outfit otherwise anchored by neutrals. Or you can hit 'em with a one-two punch of orange and bright blue-green if you're looking to take things up a notch.
Orange also looks great against a drab (which always sounds like an insult, but in this case it's not) olive green. Think: a pale army green twill jacket, or chinos in a washed-out green hue.
How to wear pale orange
You can work pale orange into your wardrobe with some key basics. We recommend picking up a short sleeve light cotton shirt in a fun print featuring this shade—pair it with a bright cobalt shorts and you're set for summer.
You can also try this hue at the office with an oxford shirt or a polo paired with chinos or denim.
What to wear with pale orange
// How to wear pale orange at the office //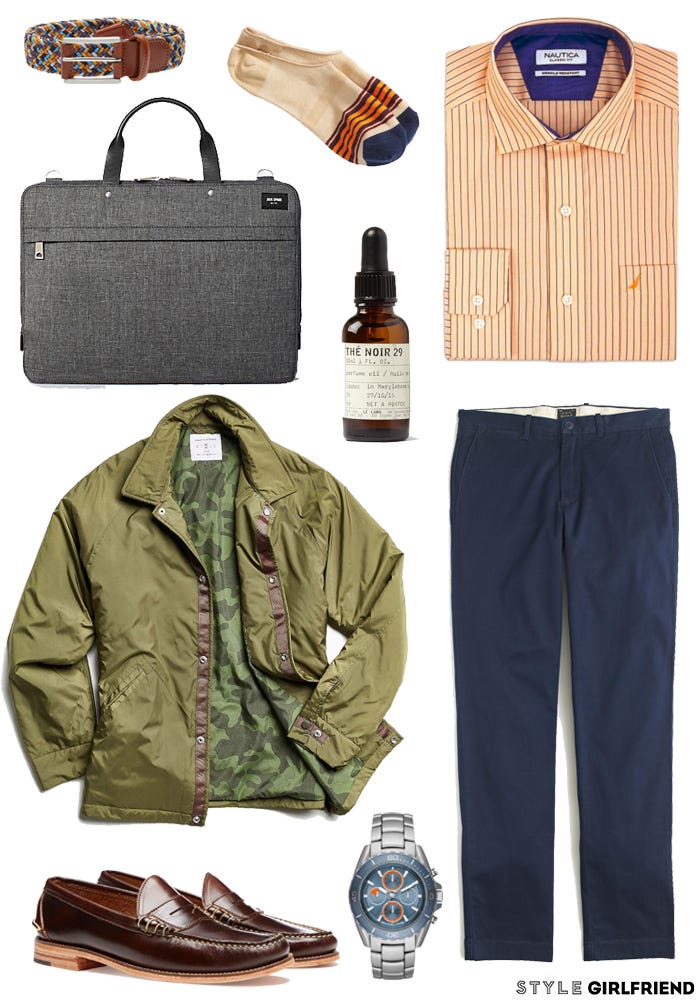 SG Says: A pale orange dress shirt with navy pinstripes will go well with teal, navy, olive or even grey chinos.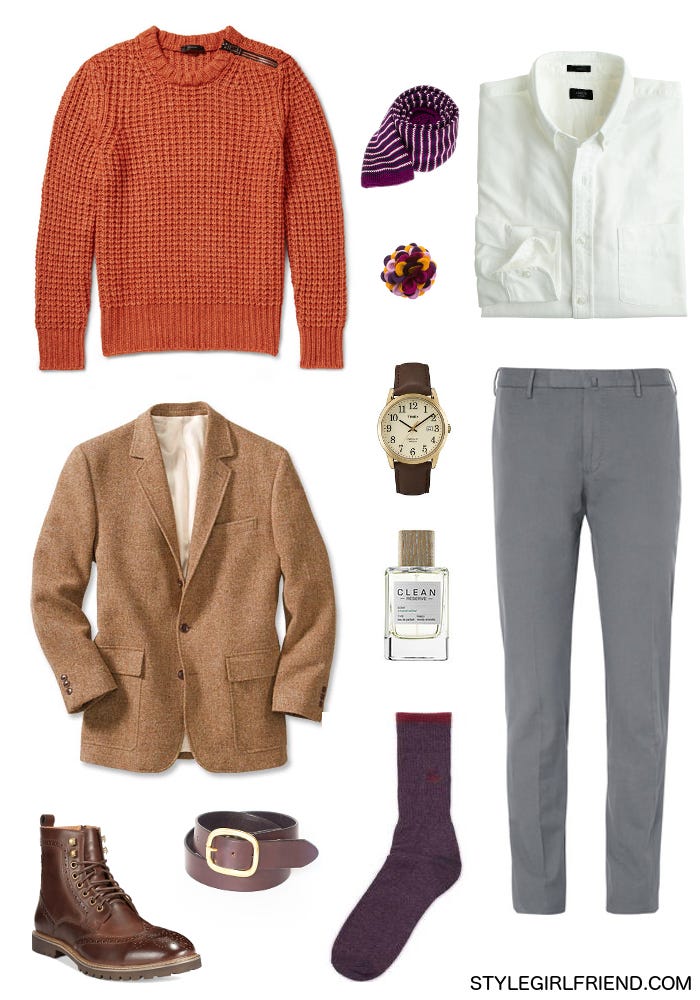 SG Says: Chunky knits ftw. With a pair of brown dress boots, this orange sweater could go to the office, and then just as easily to a date right after work.
// How to wear pale orange on the weekend //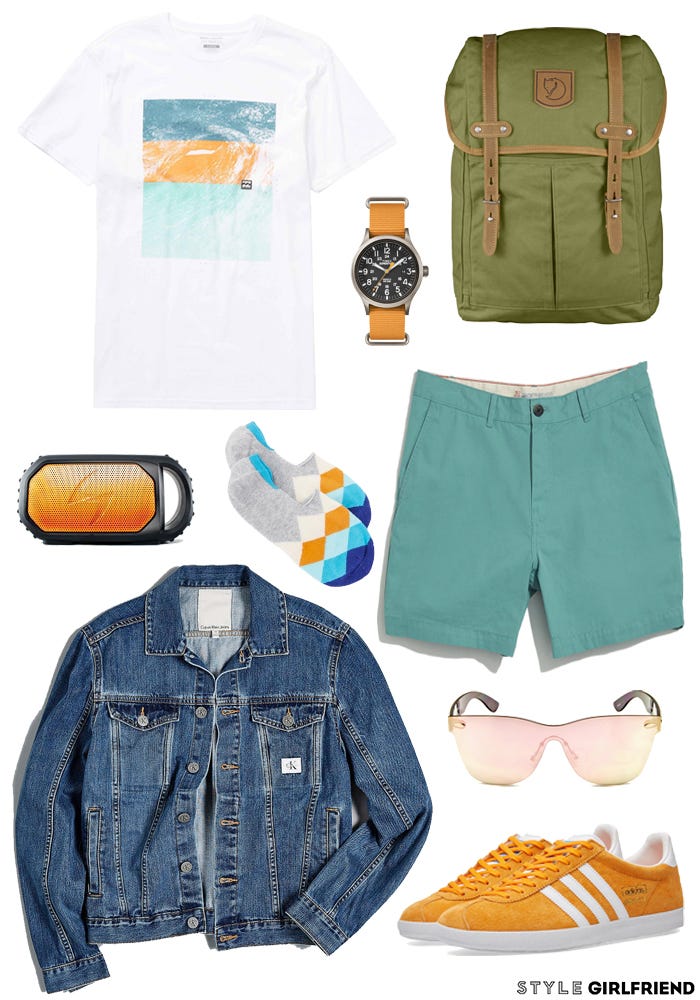 SG Says: denim jacketPale orange makes for a perfect pop when you wear it in your shoes. These old-school Sambas look great when paired with a t-shirt that picks up on the orange (albeit in a slightly lighter shade). Teal shorts and a classic round out the summer outfit.
***
Ready to add some color to your wardrobe rotation?

If we've convinced you it's time to level up your color game, but you dread the thought of shopping for new clothes…why not let Team SG shop for you?
Let us rescue you from shopping fatigue and sartorial apathy. With our online personal shopping service, we can promise the kind of dedicated attention that will make you feel like the best, most stylish version of the awesome guy you already are! We'll also help you figure out how to wear your new clothes with the things you already own.
If you're ready for a shopping plan that'll save you time, energy, and your sanity, give us a shout.