Steal His Look: Tom Hanks' Style in "You've Got Mail"
Find love on the Internet, wear the right outfit to meet her, and don't forget to bring your dog.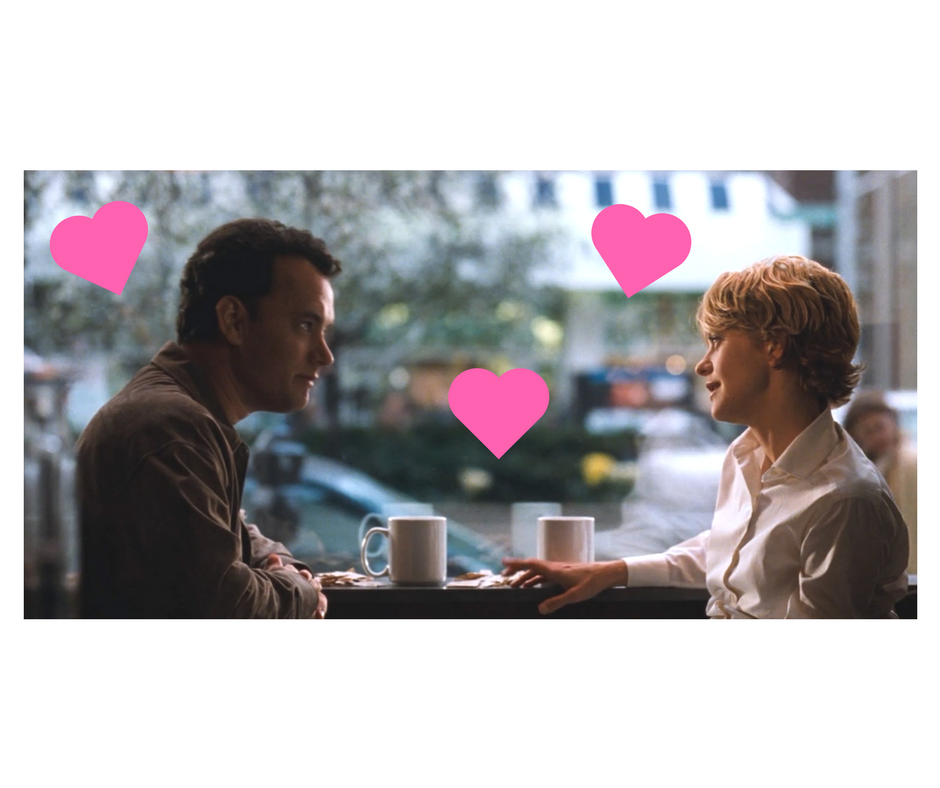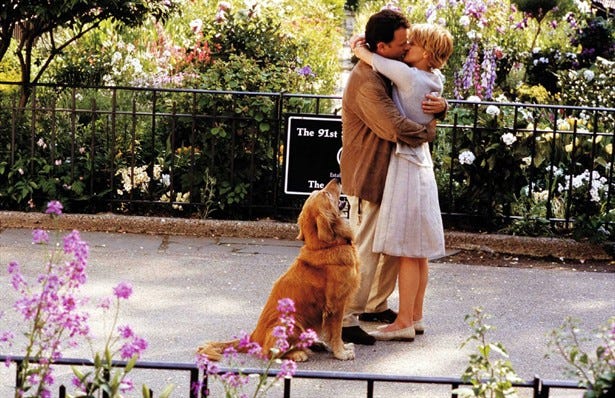 When modern technology kills the meet-cute, we find love online. In Nora Ephron's You've Got Mail (1998), we watch – awww'ing all the way – as two New Yorkers (Tom Hanks and Meg Ryan) meet in an AOL chatroom and fall in love via email.
A fashionable film
This rom-com may not be one of your favorites, but trust us when we tell you that every woman and girl who has seen You've Got Mail has seen it at least 100 times. And each time, she's fallen a little more in love with Tom Hanks.
F-O-X
Why do we love Joe Fox? He has a dog. Plus, his wardrobe is classic Upper East Side prep. He's the kind of guy who grew up in a fast-paced city, and then went to school at an Ivy League. Unfortunately, this kind of upbringing can come with a bad attitude, which at first, he seems to portray.
Despite his pretentious façade and family's corporate empire, Fox proves himself to be a loyal and caring man whose priority is his family rather than his family's business.
He wins us over when he breaks up with a long-time girlfriend for being a shallow socialite. We're not saying having an active social life is a bad thing, but it takes character to give up a lifestyle you've become accustomed to for something more meaningful.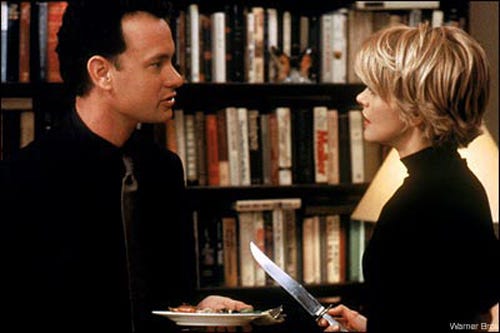 In true romantic comedy style, the two opposites (who turn out not to be so different after all!) start out in the dark about each other's identities, but we are very aware that business-heir/smartass Joe Fox (Tom Hanks) is the real-life nemesis of independent bookshop owner/total babe Kathleen Kelly (Meg Ryan).
In a nutshell, Meg Ryan is forced to let the Tom Hanks' dad buy her super-cute-but-totally-broke bookstore, and turn it into the equivalent of a Barnes & Noble. "The Man" is really bringing her down.
At the end of the film, they two online lovebirds decide to meet at the beautiful 91st Street Garden in Central Park. Essentially, it's a blind date, but with way more pressure, since at this point each has dumped his or her respective significant other for the off chance that their chatroom paramour is the real deal.
We love Tom Hanks' casual look in this scene, and we might love his dog even more. A man with a dog can't be a bad guy. That's just science.
What We Like about Tom Hanks' Style in You've Got Mail
While the tailoring needs to be updated (hel-l-lo 90s pleats!), the color palette remains on point. Guys, earth tones are easy. Start getting friendly.
That dog! Really, Brinkley is up there in top five movie dogs, easy (add your picks for this list in the comments, as it's now a running tally at SG HQ). Easiest way to pick up a girl is with a cute dog. Okay, back to Tom Hanks.
Hanks wears a casual, seafoam green polo shirt, which immediately makes us think of the beach. Tom Hanks' character probably breaks that thing out when he's at his Hamptons pad, or playing racquetball at the club (that's stuff rich guys do, right?)
Want to pull off Hanks-worthy style? Try these pieces:
// Shop the look //
Shortcut your shopping with Team SG!

Want help achieving big screen-worthy style? The team at Style Girlfriend is ready to build your personalized shopping plan.