Shop the Store: Paul Evans
Aspirational meets attainable with these Italian-made shoes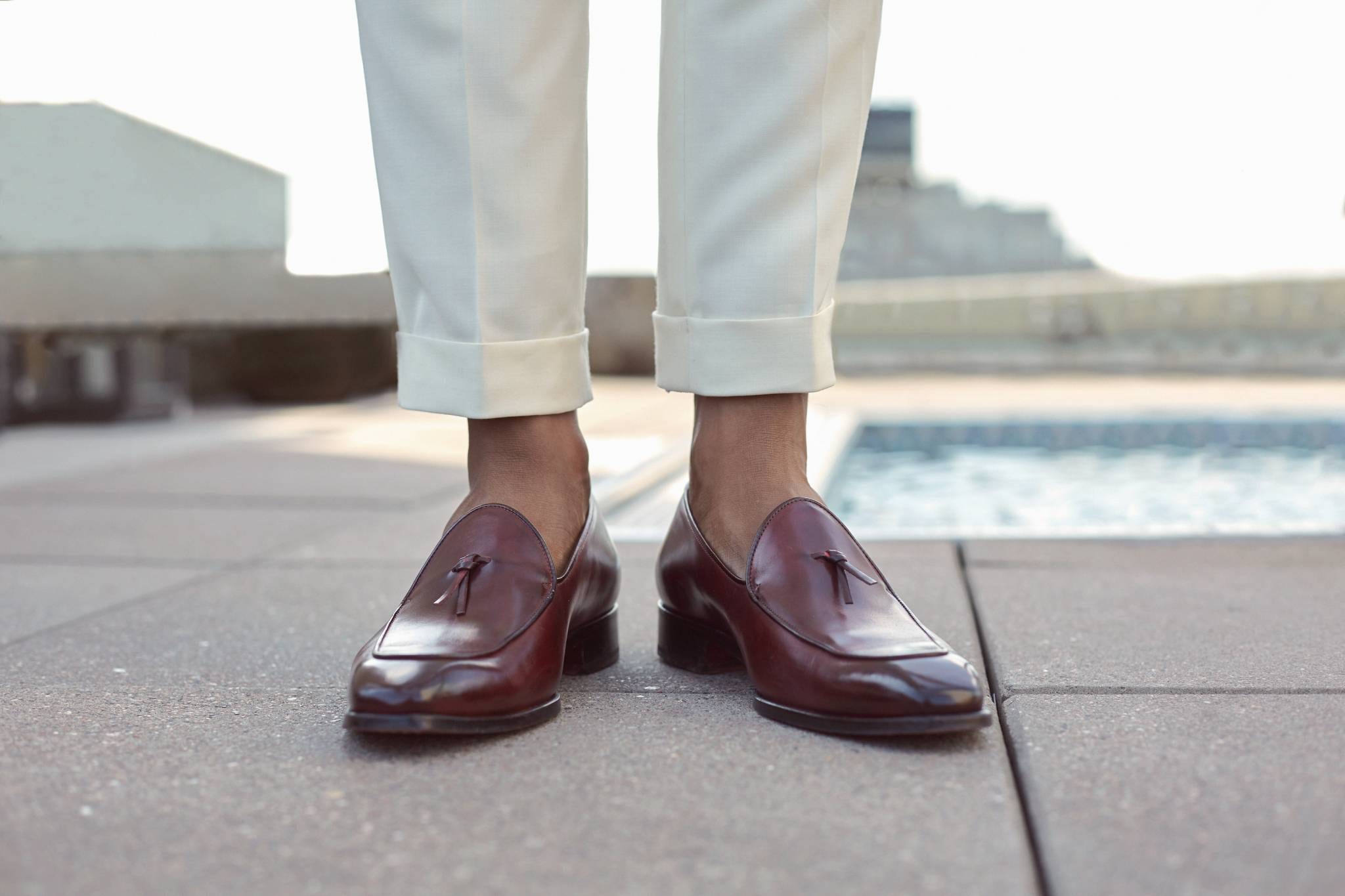 They say you never forget your first.
It's true. The first big-ticket item I spent (nearly) an entire paycheck on was a transformational experience. Ahh, I remember it like it was yesterday…
I was 26 and working in my first full-time editorial gig in New York at an online fashion publication that's not around anymore. As soon as I laid eyes on them—during a sad desk lunch shopping break—I knew they'd be mine. I'd felt ready for "the big one" for some time, but I didn't know until that moment what it would be.
Feeling slightly faint, I clicked "Add To Cart." Nervously, I entered my credit card details and then clicked, "Complete Purchase." It was both frightening and invigorating—I couldn't believe how quickly it was over. Just like that, I had dropped $538 on this one single item: A pair of (beautiful, sexy, almost too perfect) black leather ankle boots from Vince.
When they arrived at my office a few days later, I made a big show of unboxing them for my coworkers. I carefully removed the tissue and cardboard from around the boots and kicked off my Stan Smiths so I could try them on. I admired the glossy black upper and stacked 3-inch heel. They were just so beautiful. What if they didn't fit?! What if they didn't look like they cost $538?
I easily negotiated my left foot into the soft leather and felt the satisfying ffffppptt of it settling onto the high-heeled sole and my toes sliding into that perfect point. Next, the same with my right. I stood up—and transformed. Like Princess Adora becoming She-ra, I was suddenly, magically, a new woman. Mature. Elegant. Powerful.
At least, that's how it felt.
For anyone who appreciates style and craftsmanship (hello, that's us here at SG HQ), few things compare to the thrill of purchasing an incredible—and incredibly well-made—pair of shoes. And Evan Fript, the founder of Paul Evans, is banking on that thrill to hook you on his New York-based, Italian-made shoe brand.
I caught up with Fript to talk customer service, choice leather and how he's working to bring digital and physical shopping experiences together.
How Paul Evans Got Its Start
"From my first day of banking, I knew I wasn't going to do it forever."
Starting his own business was always in the cards for Fript, but it wasn't until the explosion of direct-to-consumer men's lifestyle brands that he saw the perfect opening: footwear.
"At the time, I was working in finance and wearing tailored clothing and getting suits and shirts made, but was having trouble finding high-end shoes at my price point," says Fript. "I was attracted to brands like Berluti and John Lobb, but didn't understand why they were $2,000 a pair. I saw Warby Parker and Bonobos raising capital and getting press, and thought the DTC model really made sense to me as a consumer. Basically, I wanted to find out how to sell high quality shoes to guys like me at a lower cost than I could find them at department stores, where you're getting a two-and-half times price markup."
Fript did just that in 2013, and Paul Evans (a combination of his middle and first names) delivers on his goal. Handcrafted in Naples, Italy, the shoes are constructed using the "Blake stitch" method, which makes them crazy-comfortable and allows for great flexibility in the sole (and easy resoling down the road) as well as that elegant, aesthetic appeal Italian footwear is so known for.
"We use the choicest leathers and every shoe is painted by hand," explains Fript. The result? A collection of oxfords, boots, loafers and brogues that would all normally retail around $1000, for only $425 a pair.
A lot more bang for your buck
"Back when I was a banker, I bought myself a pair of bordeaux, cap-toe oxfords from John Lobb," recalls Fript. "Those shoes and that brand are a big part of what inspired me to start this business, because I knew other guys wanted that quality and look, but not to spend quite that much."
"It's an aspirational price point for sure, but the quality is second to none," he continues. That's the beauty of buying from a direct-to-consumer brand: You're getting a lot more bang for your buck. So while $425 isn't cheap, it's also not that expensive. With bigger name brands and department stores, you're paying for a lot more than the labor and materials required for each pair of shoes, which is how shoes from Berluti, John Lobb and others skyrocket into that $1000-and-up price range.
From his office in New York, Fript is essentially a one-man show, handling the day-to-day of running the business as well as considering big picture plans and the future of Paul Evans. He readily admits that it's not easy, and the changing retail landscape presents challenges.
"The barrier to entry in retail has never been lower thanks to technology like Shopify," he says. "And we're trying to build a luxury brand, which is something that takes time. We want to figure out how the digital and physical shopping experiences can best be woven together in a way that makes sense for our customer."
These days (and especially in New York) the physical manifestation of a native digital brand usually comes to life in a pop-up store or temporary guide shop, which Fript is looking into now. Brands like Everlane and Bonobos have shown that even the most devoted online-only shoppers can be swayed by the opportunity to touch and try a product in person. And with a high price point and quality that's easier felt than explained, a storefront seems like a natural next step for Paul Evans.
Who They're For
Fript has found that, not surprisingly, his biggest customer base really is guys like him—millennial men working corporate jobs in big cities, who want to dress with confidence but don't yet need a "super refined" look.
"That's where we try to have fun with youthful nature of the brand and a younger group of guys," says Fript. "We're not so traditional, we're not Ferragamo or Gucci. Our guy is trying to better himself, to be successful in business and in life."
Perhaps you just got a raise, or you're gearing up for an important business trip and really want to impress your new clients. Or you're about to get married and want to be waiting at the end of the aisle in an epic pair of oxfords. The urge to "splurge" on a bossy shoes will likely come from filling a need in your closet or a desire to look your absolute best for a big occasion. The great news here is that pretty much the entire range offered by Paul Evans has that timeless "wear 'em again and again and again" appeal.
Don't Miss
Remember how I said that making my Vince books purchase made me feel a bit faint of heart? I'm here to tell you that while you, too, may feel your breath catch in your throat as you bid farewell to a not-insignificant amount of your hard-earned money—copping a pair of Paul Evans won't give you those same pangs of doubt I felt over whether the money was it was worth it and if they would look as expensive as they were.
Basically, this the opposite of that, right?
Because you're getting a ridiculously high-quality shoe that looks more expensive than it is, rather than an expensive shoe that's cost is inflated compared to the quality.
If I were in your shoes (honk honk, footwear humor) and ready to seriously step up my game, I'd first identify what was missing in my closet: Do I need brown dress shoes for that wedding next month? Have I noticed that a lot of my coworkers wear rad double monk strap shoes, so I should probably step up my footwear, too? Am I planning a badass road trip for which I definitely need designated driving shoes? Maybe!
Shop #SGapproved picks
Personally, I'm very drawn to the Dean Chelsea boot in black. They give me Harry Styles vibes in a really good way—slightly mod, youthful and a bit unexpected. I'd rock them with a sharply tailored suit and a whimsical pocket square and then do everything you can to get your hair to look like this.
I also love the 'Carter' mid-top sneaker, which reads to me as maybe the perfect date shoe?
The Maronne and Oxblood leather would look supremely dope with your favorite slim denim and a short-sleeve button down shirt or henley. (I am predictable, I know it, and I won't apologize!)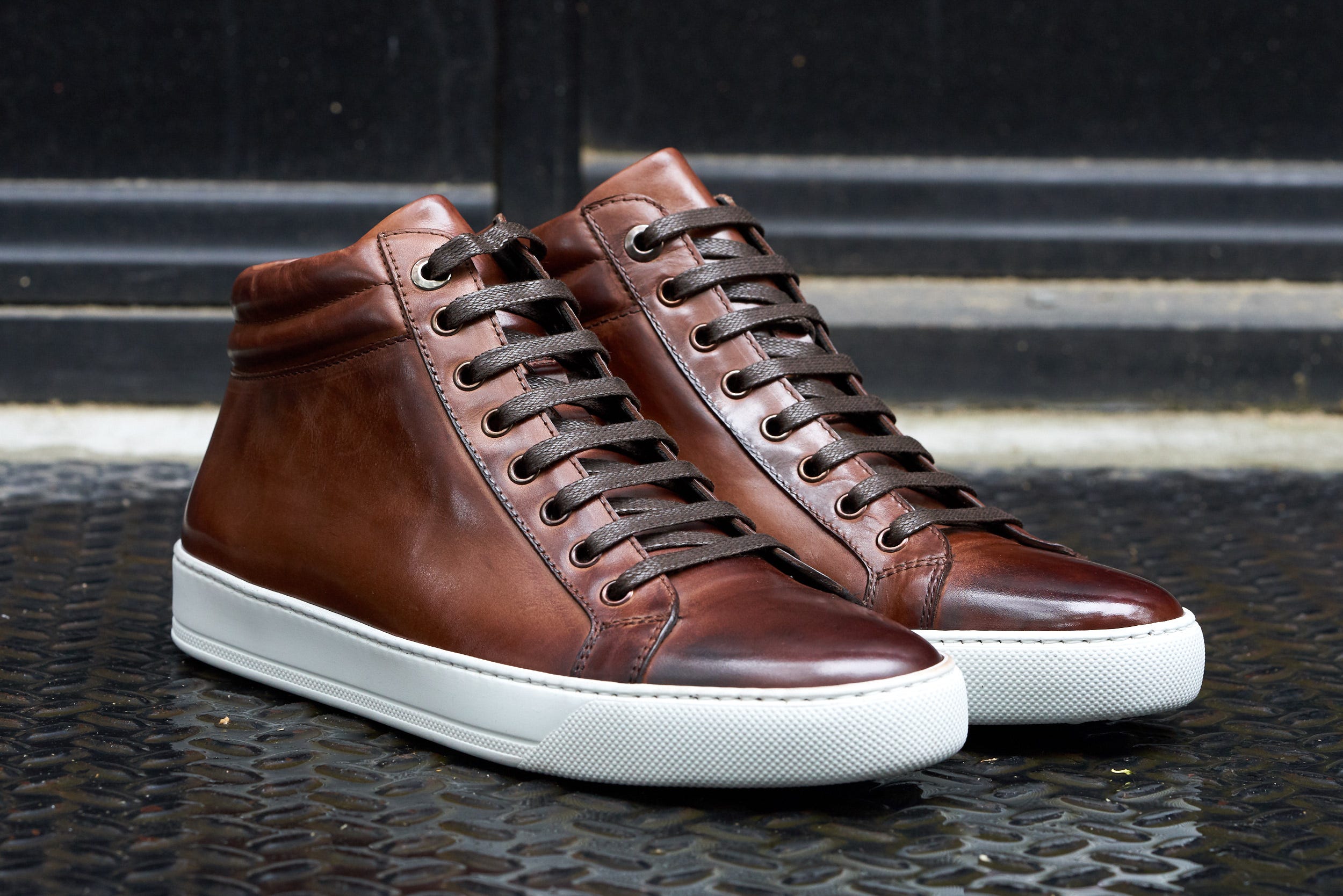 Finally, I'd steer you towards the McQueen driving loafer. (Get it? Get it?) These no-socks-required slip-ons just sort of…ooze luxury, no?
Wear them with your most worn-in chinos rolled once at the cuff and a super-soft OCBD (untucked, natch). Throw on your sunglasses and—wait sorry do you own a yacht or something? Are you off to Martha's Vineyard? Take me with you!
***
I'll cherish the memory of my Vince boots purchase forever. It marked a new, grown-up phase in my wardrobe, and I still feel get that same little superhero transformation high every time I wear them. Even if you're already well on your way with making literal investments in your personal style, my guess is that snagging a pair of Paul Evans will still give you a "Complete Purchase" button-punching thrill.
Meanwhile, anyone out there want to start a "shoe shrine" business? I feel like there's something there. Anyone? No? Bueller?
TELL ME:
WHAT WAS THE FIRST BIG-TICKET MENSWEAR PURCHASE YOU EVER MADE?
This feature was created in partnership with Paul Evans; all opinions are our own. Thanks for supporting the great brands that make Style Girlfriend possible!