Style Girlfriend in Gant Rugger for Women
The menswear favorite gets a girls' line to match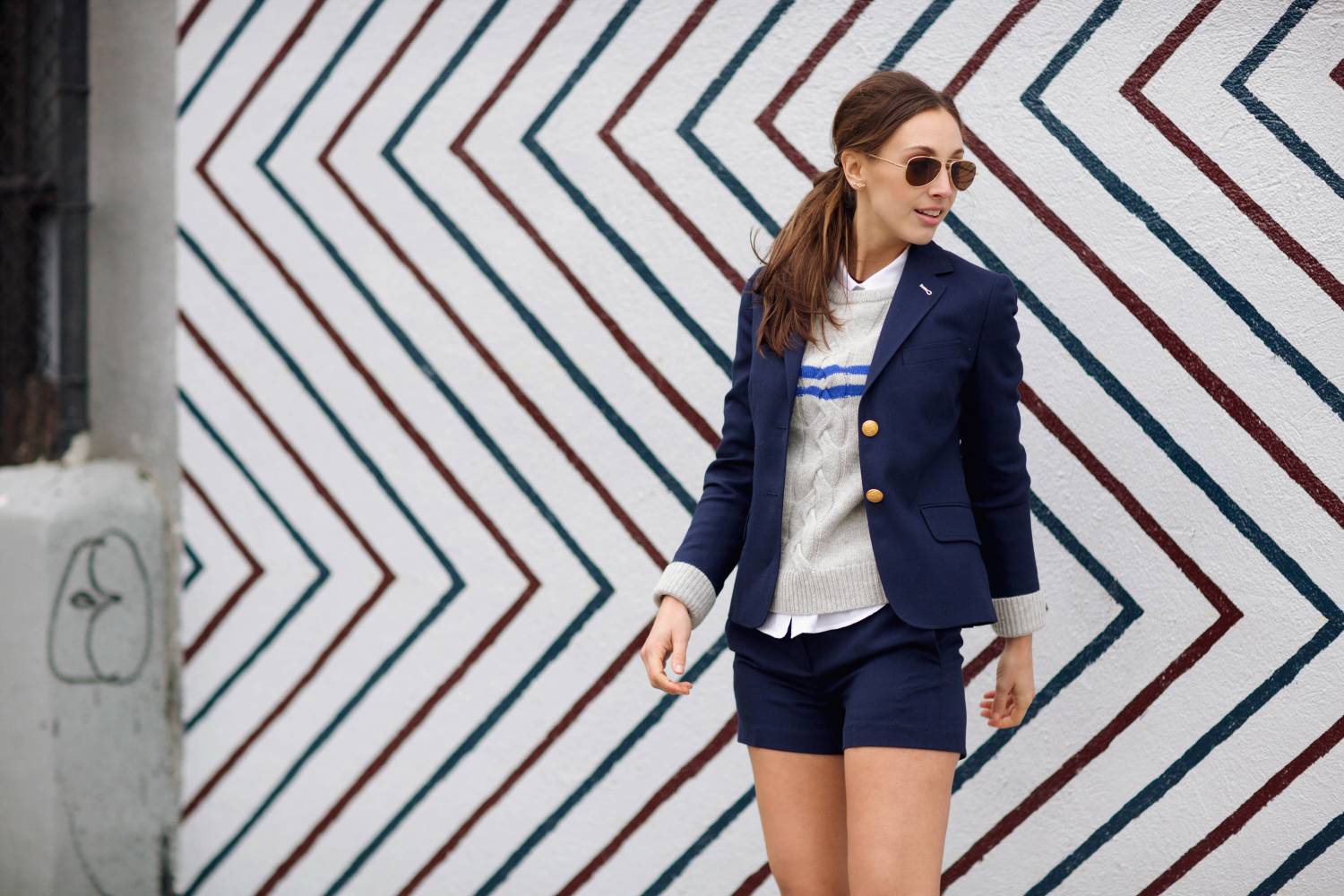 The new Gant Rugger for Women collection doesn't hit stores until August, but I got to play dress-up early.
Shooting the looks below last week, I got up close and personal with the brand's new offerings, and guys, it's really good. For any fans out their natty button-front shirts, super-soft sweaters, or well-tailored pants, you know why I'm psyched about the line going to the girls.
It's got that uptown/downtown, comfortable-but-still-put-together vibe I love for both sexes. Plus, because the fall capsule collection includes only 16 pieces (more are planned to roll out next season), everything works together in a way that makes getting dressed easy, but not at all matchy-matchy. You know, like Garanimals.
I had a chance to talk with Fifi Hallstensson, head of design at Gant, about the style rules that apply to both men's and women's wardrobes:
You should feel comfortable in what you're wearing.
If you feel good in it, you're going to be just as at home in jeans and sneakers, as in a suit. "It's about liking what you're wearing," says Hallstensson.
It's okay to look like you care about your style.
This is a lesson men can learn from women, the designer contends. "I like when you can tell a person cares about their style. It can still be casual, but I like when you can tell there's been an effort made. But at the same time, you know it's not the most important thing."
From polishing your shoes to using a little bit of product in your hair, it's not self-involved to be invested in your personal style. It says you respect yourself, and those around you, too.
Value function.
For instance, "It should be standard at this point for a jacket to have an inside pocket," says Hallstensson. Pick garments that don't just look good, but also have utility. You'll be happier wearing them.
It's about fit, not what's on the label.
Women have been shopping their boyfriends' and husbands' closets forever, but that willingness to cross the aisle doesn't necessarily go both ways.  "It's funny, but I have a hard time putting a label on a beanie, or a scarf. Because I know guys won't wear it if it says it's women's, but really, it would look good on anyone."
The lesson? Don't be afraid to shop on the other side of the store, or the junior's department, or the thrift store. If it fits well, you'll be more comfortable wearing it. And hey, that's what seam rippers are for, anyhow.
Tell me:
What other style rules do you think apply to both guys and girls?
Photographed by: Michael C. Dumler | On location: Harry's Corner Shop
Styling: Obi Anyanwu | Hair: Arrojo | Makeup: TEMPTU
This post was created in collaboration with Gant Rugger; all opinions on how great Garanimals are my own. Thanks for supporting the brands that make Style Girlfriend possible.