Style Girlfriend's Picks Of The Month: February 2014
What I'm Loving This Month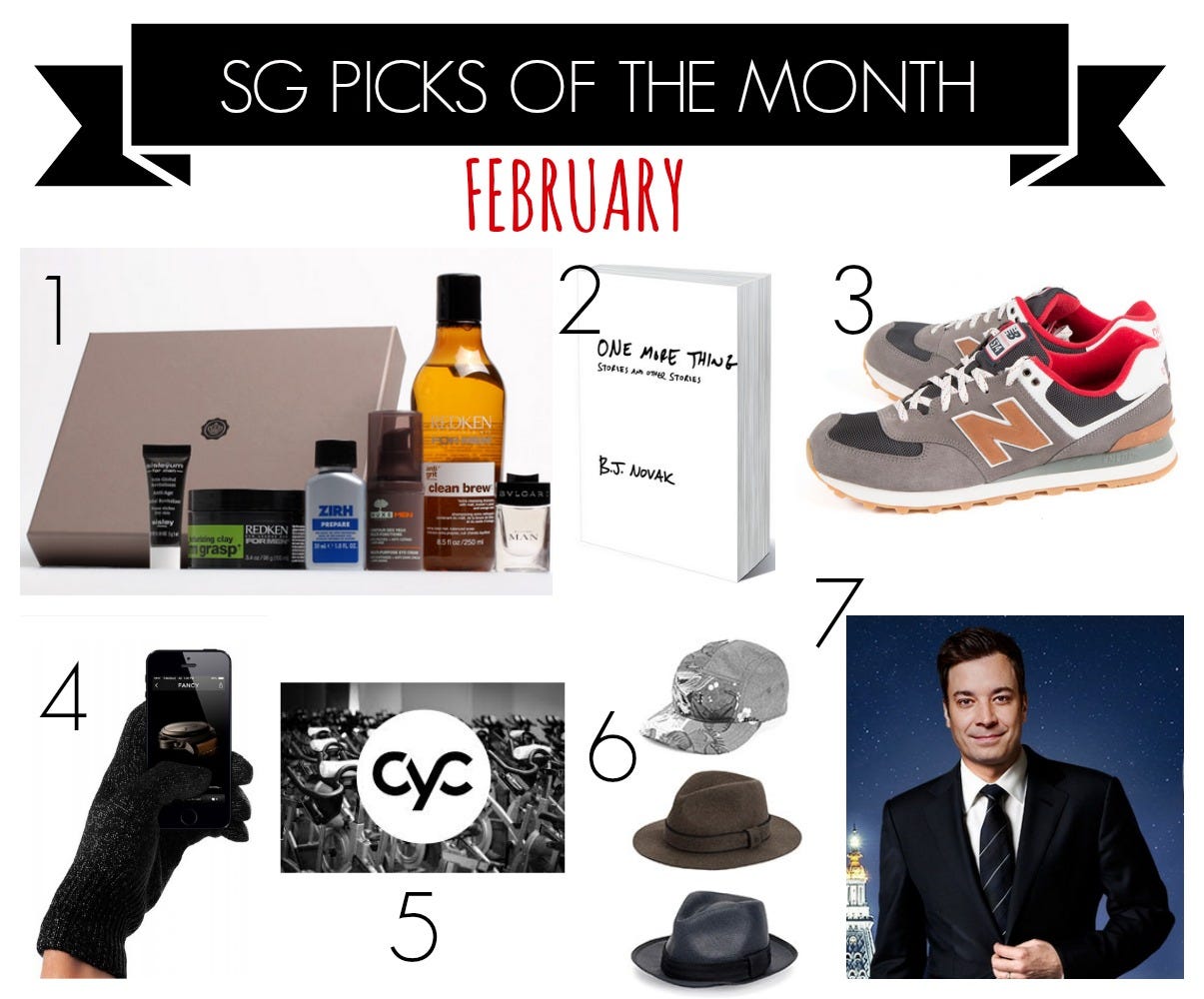 Delivering monthly packages filled with grooming products to its subscribers, this England-based Birchbox competitor has had a women's box for awhile, and just recently started a companion box for the fellas. For $40 a pop, you get six products – in mine, I got a full-size clarifying shampoo, as well as a few luxury-sized samples of hair, fragrance, and skincare goodies. It's of course fun to receive goodies in the mail (y'know, like the SG x Quarterly box!), and it somehow feels fancier being a UK import, and we're just getting them now. Like House of Cards, or Harry Styles.
2. B.J. Novak – "One More Thing"
A book with a faux-French movie trailer, written by The Office's B.J. Novak? I was so in from the get-go on so many levels. Novak's writing makes me want to write more, try stand-up, or at least work harder to craft clever things to quip more often.
3. New Balance 574 Canteen Sneaker
True story: a few weeks ago, I was walking down the street in Soho after a spin class (see below! can't get enough!) and found myself staring at the sneakers of this guy walking in my direction. Bright blue and grey Nike high tops. I looked up to give him that "Cool sneaks, bro" head nod and eyebrow-raise look (you know the one), and it was Jake Gyllenhaal. Surprisingly, he did not seem that elated by my non-verbal seal of approval.
My point is, I love a colorful sneaker for spring.
While the dregs of winter finish up, you still need to be able to use your phone, and keep your hands warm. Why not do it in style?
5. Cyc Fitness
I'm getting into spinning..I know, I know, that's such a "New York" thing to say (although if it is, I'm woefully behind the curve as it's been trendy here for at least a year or two already).
I first tried Cyc Fitness while visiting my fam in Madison, Wisconsin. Yep, that's right – right now the cycling studio has only three locations, and its newest is NYC. The other two: Madison, and Austin, Texas. I like that it feels a little less…cult-y than some of the other options out there.
6. Hats
Yes, just hats in general. After watching Dallas Buyers' Club (oh, as an aside: SO good. If you haven't seen it, watch it tonight then root for McConaughey to wear something awesome when he wins at the Oscars), I'm just like, really digging guys in hats. Cowboy hats, trilbys, whatever.
I've experienced my own journey to loving hats on myself, but what I've found is that it's not so much about confidence or the right head shape (it's a hat, not a suit, or a form-fitting LBD), it's about quality. I love Rag and Bone's hats for both men and women. They're pricey, but they're best viewed as an investment (I've been wearing mine that I got for Christmas everywhere this winter: exhibit a, b, and c). As we all know from our favorite baseball caps, the best hats are the ones that last forever.
7. Jimmy Fallon on The Tonight Show
I'm a big fan of Jimmy Fallon. I'd often watch clips from Late Night while eating lunch (the luxury of working from home!), and I plan to do the same now that he's hosting The Tonight Show. But it's not just his viral videos that I love, it's his wardrobe. He cuts a mean figure in very handsome suits, and I'm just happy such a funny guy is setting such a good style example. You can be the guy interviewing the movie stars – not the movie star – and be just as invested in your personal appearance.
Tell me:
What were you loving this month?
Like this post? Don't miss another one! Subscribe via my RSS feed.