21 Style Tips for Guys that Everyone Needs to Hear
Big and small changes that all add up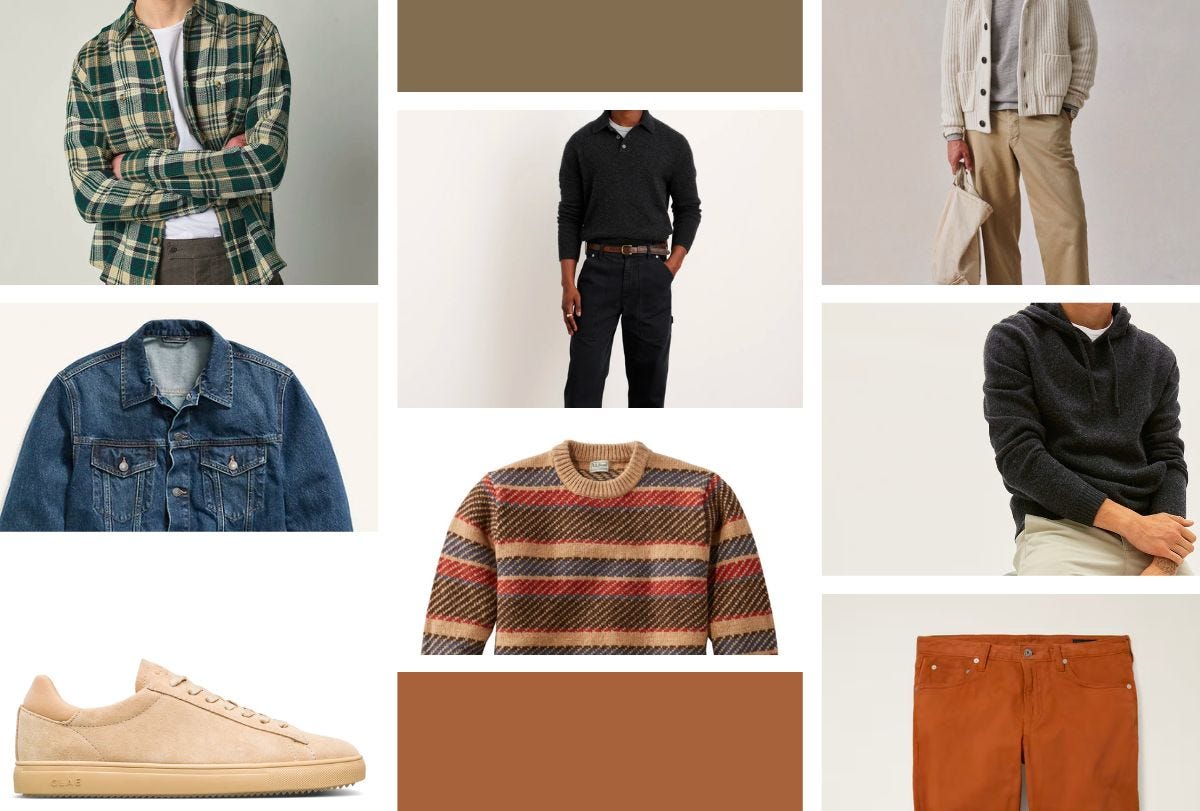 Looking for style tips for guys? You've come to the right place! Team SG's Taylor has you covered with a whole lotta ideas…
My mom worked in the fashion industry, so naturally, my style education started very young. I wore pink cowboy boots through most of preschool because she had black ones. In middle school, I wore clusters of eclectic pins on the pocket of my tiny denim jacket because she did. Today, I wear her cowboy boots (which still look great!) to clomp around New York City.
It's a lucky break, being the beneficiary of my mom's great taste and personal style (and, ahem, shoe size). At this point, I hardly know what I've cultivated on my own and what's seeped into my bloodstream through her. Her jewelry adorns my wrists and fingers. Her coats sit in my closet.
Because our style is so intertwined, the moments when I find something that feels truly mine always stand out.
For instance, a few years ago, I purchased a camel-colored wool coat from Club Monaco. It was a pivotal moment for me, and for my wardrobe.
As I was swanning around the dressing rooms, absolutely delighted with myself and how f*cking great I looked in this coat, I remembered something I'd overheard my mom say to a friend a few years ago. It went something like, "Coats and jackets are the one thing, other than shoes, that can completely transform an outfit. Anything you wear looks more polished and stylish with a really good coat over it. That's why I never feel bad about how many I have!"
This moment marked a pivot for my style.
The stuff that used to be hers was always "the best" I had. Now I had this gorgeous, classic, transformative coat that I had purchased all on my own, but could still track her influence as part of why I knew it would be a worthy investment.
This little anecdote illustrates why my clients' style plans always include a gentle push towards outerwear. Because it's a key element of my wardrobe that makes me feel like an absolute boss, and that's how I want my male styling clients to feel.
I spent the last couple weeks asking friends, industry experts, and my Instagram community to share their style tips. The result? Here on SG, I'm sharing all the knowledge and inspiration I could fit in one place.
As you'll see, the info really runs the gamut. There are big picture ideas about confidence and body neutrality… And also ultra-specific tips on replacing buttons or how to tailor a vintage find!
And that's the nature of personal style. It evolves. It improves. Changing your mindset translates to little actions that all come together to make you look and feel like the best version of yourself.
So! Without further ado…
Below, 21 style tips for guys:
1. Start with the basics.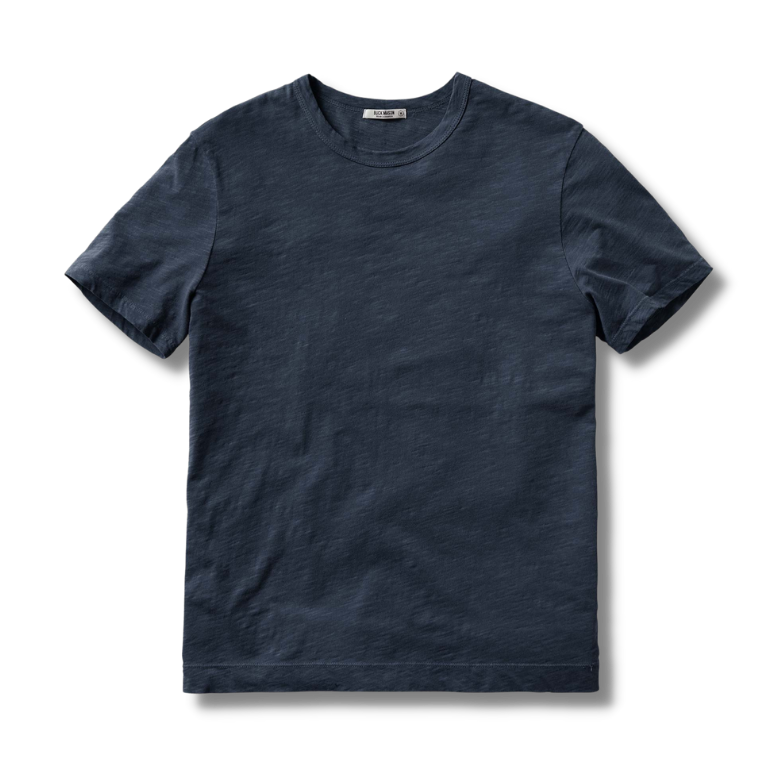 When it comes to fashion tips for men, it's smart to start with the essentials. Focusing on building blocks for a great wardrobe that fit within a guy's lifestyle.
So, if you work in a more casual office and find your need to still wear a nice collared shirt, focus on finding the best possible version of that shirt in terms of fit and fabric.
From there, focus on one great pair of jeans that you love, for instance. And so on. Before you know it, you'll have a wardrobe stocked with basic pieces that … really aren't so basic.
2. Know your measurements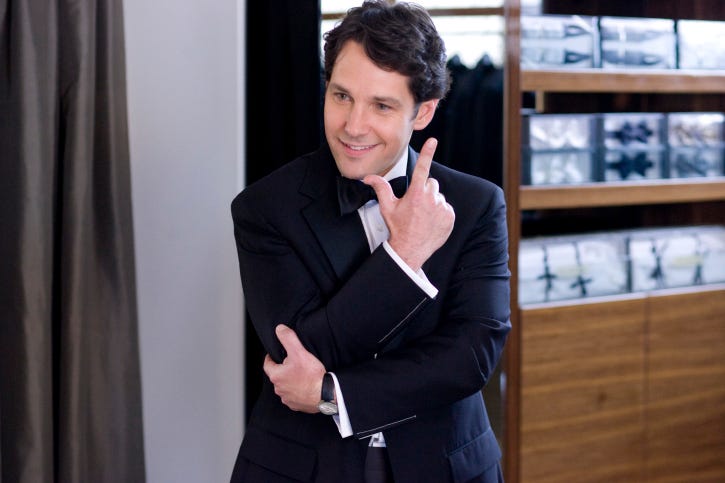 With a million brands—and their last minute, wild online sales—you should always have your measurements handy so you don't debate the hundred different sizing specs while shopping.  
Next time you are are dropping off clothes at your dry cleaner, see if they do alterations (most do), and, if you ask nicely, they will have no issue spending five minutes to measure you.
Jot each measurement down in the notes app on your phone. Then, you'll always have them on-hand to compare to apparel measurements and retailer size charts going forward. Do this every year or so, or when your weight fluctuates.
3. Don't buy anything you don't love
It may sound obvious, but don't buy anything you don't love.
Even if it's on sale. Even if the salesperson tells you it looks awesome. If you don't feel good in it, you won't wear it, and you'll actually end up with a closet full of clothes and nothing to wear.

4. Be an outfit repeater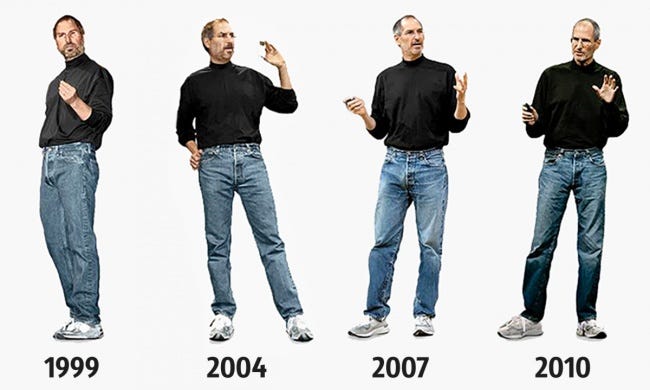 Find what is comfortable for you—and then buy it in multiples. I promise you won't look boring if you adopt a semi-regular uniform, so long as the outfit you wear on repeat is one you feel good in.
RELATED: The Benefits of Adopting a Personal Uniform
5. Small details make a big difference
Jeanne Yang, celebrity stylist, says:
"The one really quick, easy and inexpensive way to make a huge impact in your entire wardrobe is to change out the buttons. Besides tailoring a look to make sure it fits properly, if you replace the cheap plastic buttons on your clothing with horn or a higher quality fastener it will instantly elevate your fast fashion into a more luxurious look."
6. Consider sizing down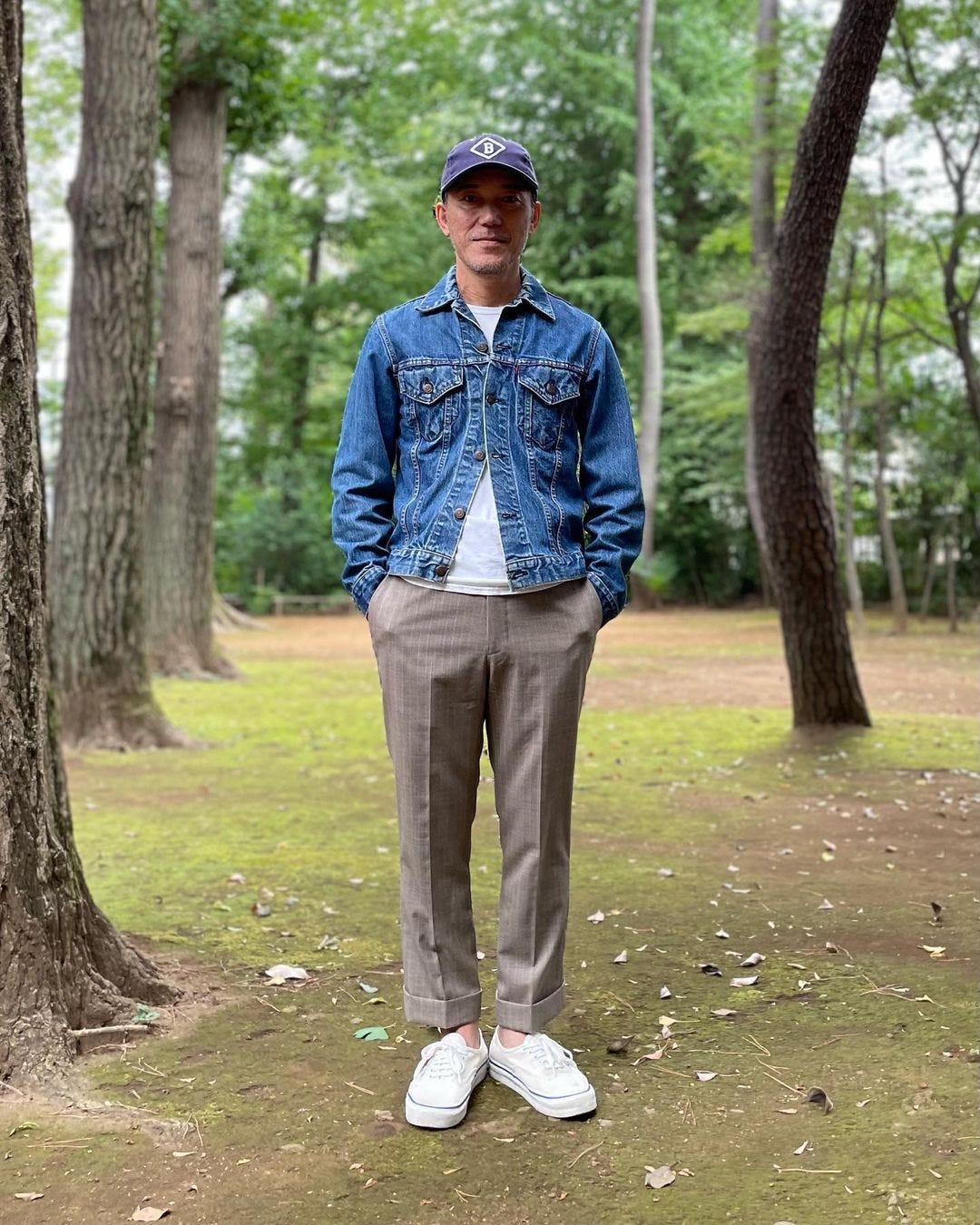 Especially with outerwear, try on a size smaller than usual because one, you may surprise yourself with the fit. With leather jackets and denim (both jackets and jeans), specifically, these garments will mold with you over time.
So what feels snug to start will eventually fit just right.
7. Be ruthless when cleaning out your closet
Cassandra Sethi, personal stylist, says:
"I get aggressive with cleaning out closets (even my own!), especially to start the New Year off right. For example, for a recent client I removed 55% of his wardrobe that didn't fit or was just old. That was eight huge bags full of clothing!"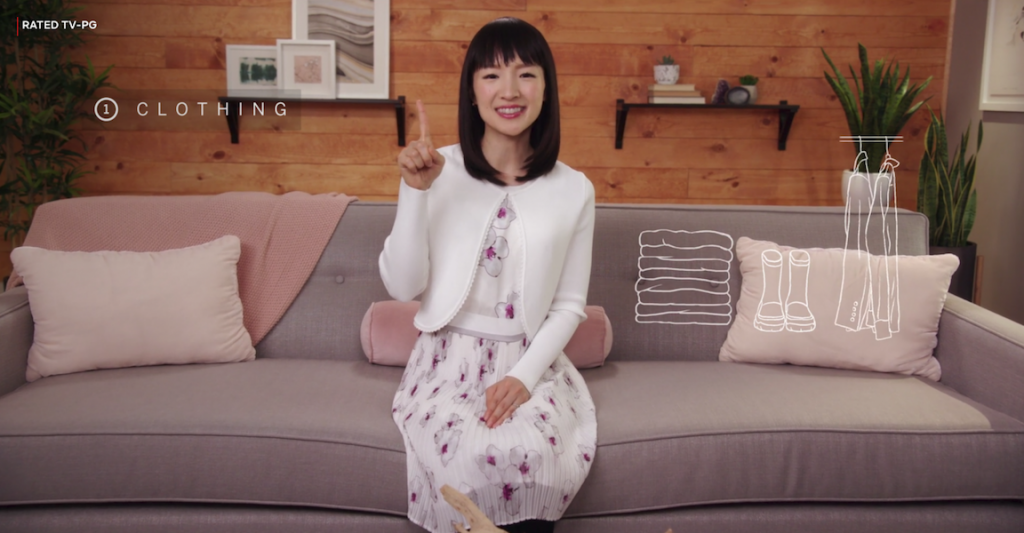 "Watch Marie Kondo [Tidying Up with Marie Kondo, on Netflix] and get rid of anything that doesn't 'spark joy' for you."
– @bonobian, via Instagram
8. Learn a new skill
"Learn how to sew and buy a sewing machine. Trousers are very easy to hem and surprisingly easy to taper. I've even shortened short sleeves myself because the cuff is only held in place with one seam."
– @Jammysod, via Twitter

9. Embrace neutrals as a wardrobe base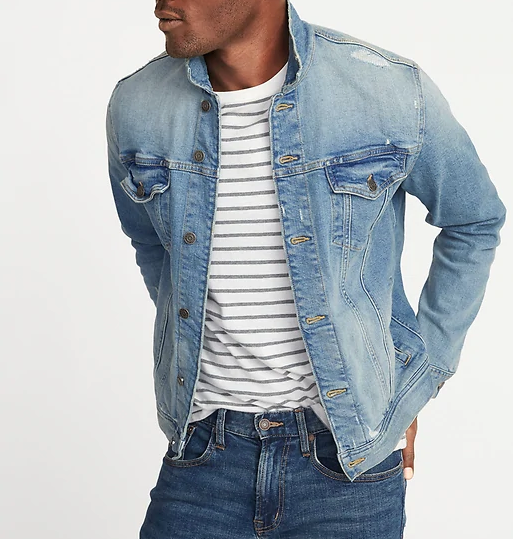 Barron Cuadro of The Effortless Gent, says:
"If you have a wardrobe filled with what I call "menswear neutrals"—black, grey, white, khaki, brown, light blue, navy, olive—you can wear them together without fear of clashing. These hues all work well together, which makes getting dressed easier.
And if you ever want to try a pop of color, you can layer it in with these neutrals and know you'll look great.
10. Let one item in your outfit "do the talking"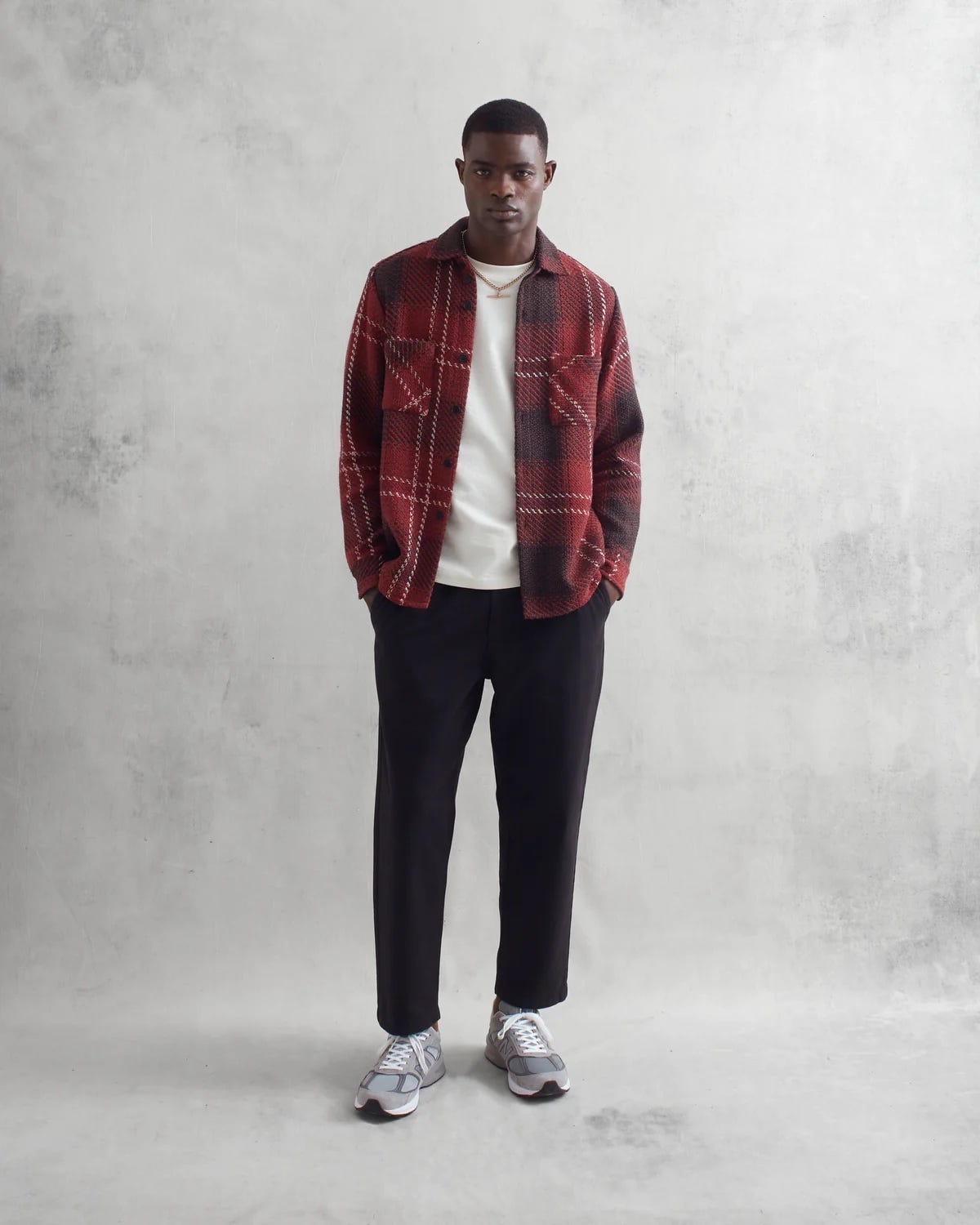 Aim to have just one part of your look do the "talking".
Whether that be mixing a bold print suit in with a textured solid tie and crisp white shirt, or going full tonal but adding in a cool statement jacket or shoe. Decide what part of your look you want people to notice most.
It's a good rule of thumb to follow when wanting to stand out for the right reasons.
11. Color is your friend.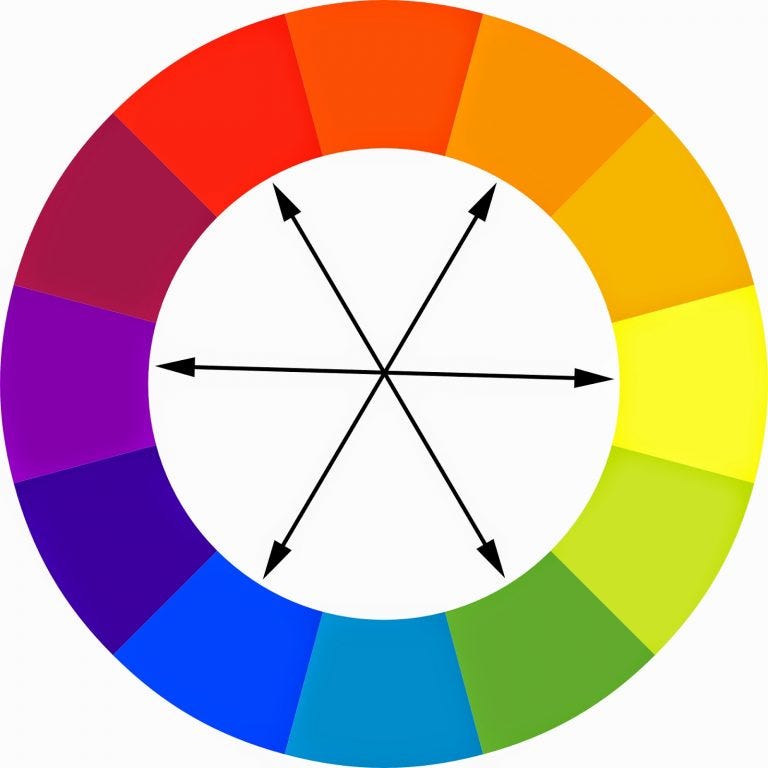 "Find your shade of yellow and wear it. Everyone will be impressed."
– Gabi Meyers, Queen of 5 Days 5 Ways
Or green. Or millennial pink! Whatever "your" color is, make sure to rotate it into your looks, at least once in awhile.
12. Step outside your comfort zone just to see how it feels
You'll never know how you feel trying a new trend or color or silhouette unless you, you know, try it.
I was recently at a 'black tie optional' wedding in Tennessee. And while there were cowboy hats and bolo ties aplenty—my favorite style moment came from a friend's boyfriend, a sweet guy from Seattle, who was wearing a rented tux.
But it wasn't just any ol' tux.
His girlfriend convinced him to try a black-and-white gingham jacket with classic tuxedo pants—and you should have see his smile! His swagger! I told him how much I loved the jacket, and he told me he'd never worn anything like it in his life, but he'd never received more compliments in his life, either. His eyes had been totally opened to a whole new (and playful) side of his taste he never even knew was there.

13. Emulate Goldilocks when shopping
You may find some brands too expensive, or too trendy. Others you'll find boring, or the fit is just plain off. Like Goldilocks, you may need to try a few wrong fits before finding the right fit.
I know it can feel like a lot of work, but finding a brand or retailer that feels like it was made just for you is huge. And hey, if you want to shortcut that process, consider enlisting the help of a Team SG stylist to help!
14. Go vintage
"I found a wonderful grey Yves St Laurent suit at an estate sale. Originally I bought it just as a potential suit to wear to costume parties—the intention was not that it would become an essential part of my dress wardrobe.
Anyway, the suit was squarely from the Mad Men era, and I could tell it was high quality, but I found it hanging next to ratty other suits at an estate sale. It had missing and chipped buttons. It was $15 for the jacket and matching pants. The pants were slightly flared but actually looked flattering when I first put on the suit. It needed some good TLC from a tailor, so I spent approximately $150 to have the it altered (small adjustments to sizing) and to replace the buttons (with advice for selection coming from the tailor). I've now worn the suit dozens of times , all year long, and always get compliments."
– Jason, 34, San Francisco
15. Be brave
"Be brave and take the chance on something you think you're not cool enough to wear!"
– Megan Kernan, via Instagram
You may feel silly and never wear it again, OR it may become your new favorite go-to outfit.
"Your style can and should be a walking museum of your life experiences. Each item you own, you live in, and most of the memories you make will be in the clothes you wear. Each crease and fade, water damage, coffee spill, or beer stain, rip or tear is an abstract expression of your story and the life you lived. The ever-evolving transformation of a nice pair of raw denim, leather jacket, or suede boots all tell a story. Your clothes are a story that is uniquely you, and they're a story that can never and will never be duplicated."
– Jordan Rosenacker, co-founder Atlas Coffee Club

16. Having  easy, go-to wardrobe pieces can make all the difference.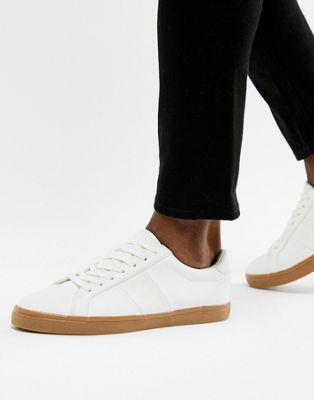 "A few years ago I started dressing in a manner that allowed me to effectively wear the same outfit to 80% of life. Dark blue but not navy trousers paired with Rancourt penny loafers (with natural color with rubber outsoles added) and a combination of white and blue button down and spread collar shirts from Kamakura and LL Bean. Nothing very precious.
You can go on a hike, play golf, go to your club without being rejected for jeans, and throw on a blazer or sport coat and attend any meeting in the city. All in the same outfit. Compared to 90% of people you are "dressed up" but with the right materials you can pretty much do anything and go anywhere.
This also aids and simplifies travel, as the number of "outfits" required is vastly reduced. Depending on the weather you can switch between heavier oxford cloth for chilly and intermediate weather and lighter pinpoint or more dressy finely woven shirts that do better in the heat. For warm trips I take a cotton sweater and a tropical weight blazer. For cold trips, a lightweight wool v neck and a regular weight blazer."
– Duncan, 32, Greenwich CT
17. Whatever fits best is best.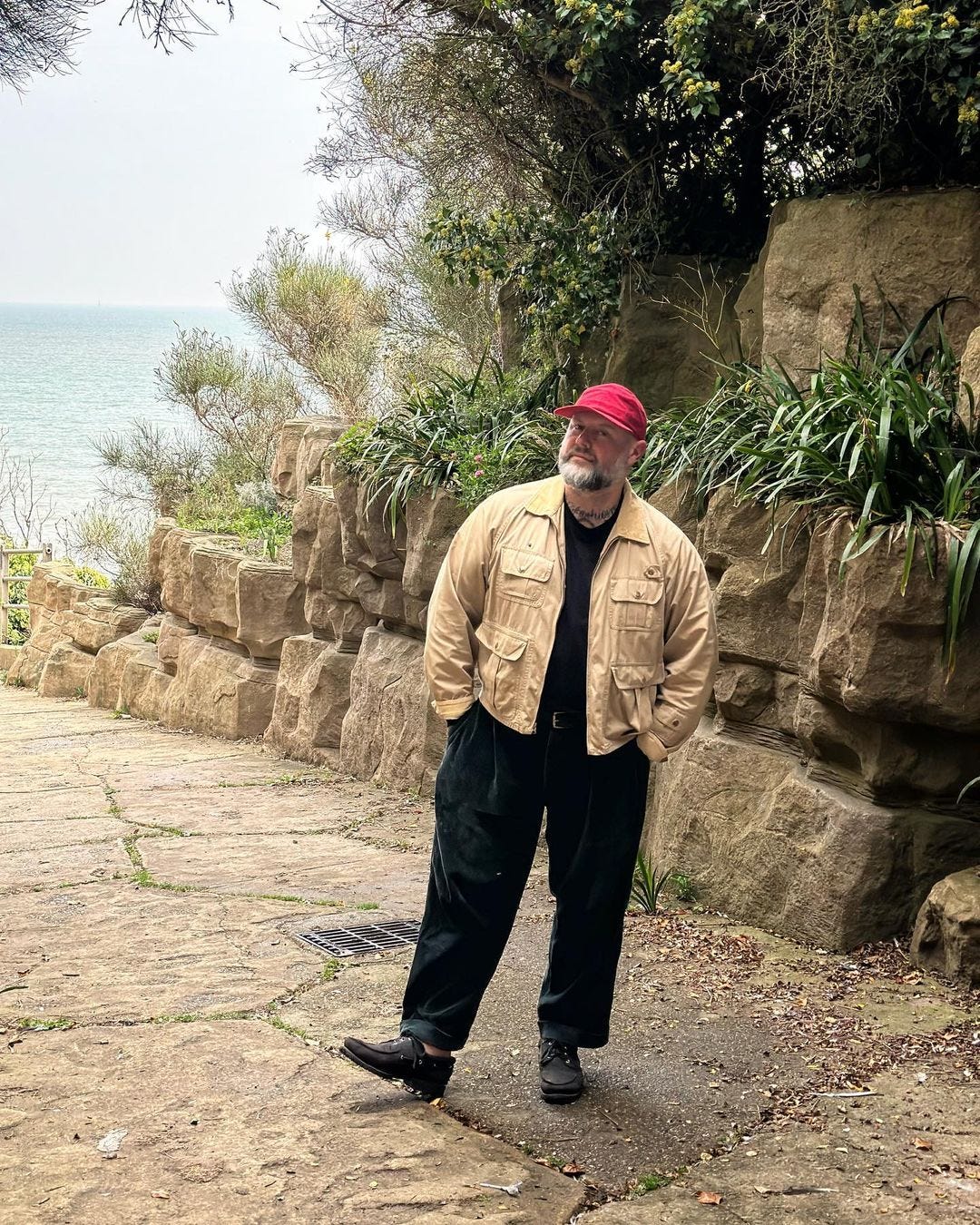 Emily Holmes Hahn, founder of LastFirst Matchmaking says:
"When it comes to first dates, a man's style is hugely important. You want to walk the line between looking like you tried, and looking like you tried too hard. So, if one of our clients asks for help improving his first date look and doesn't want to buy new clothes, my golden rule is: whatever fits best *is* best!
Even if it's not the trendiest item in your closet, your date will definitely notice the dapper, pulled-together look of sleeves and pants that hit just right. Jeans are the only pants I recommend for dates—then he can add a well-fitting button down or a t-shirt and blazer. Beyond that, a really easy upgrade—as basic as it sounds—is to pay great attention to hygiene. That means clipped nails, neat hair, groomed brows and a good deodorant. (Dates make people nervous, and nerves can make you sweat!)"

18. The inside always affects the outside.
Style is as much about psychology as it is aesthetics. Specifically, self-assurance. Confidence is always conveyed when you are wearing something that makes you feel and look like the best version of yourself. But it's different for everyone, and the trick is knowing how to create that magic.
Maybe it's wearing the color you know that brings out your eyes, the jeans that make you look ten pounds slimmer, the suit that fits you perfectly, the shoes that garner compliments, the haircut that catches second glances, or the coveted watch you bought after saving up. The common thread is that you feel special when you wear these things, and they always serve to bolster rather than undermine your spirit.
The subconscious spring in your step and the assured attitude you present can make any day your day.
19. Don't be afraid to ask someone where they got something
"The biggest leaps for me (outside of following SG, seriously!) was to simply talk to people about their style and where they shopped.
I have colleagues and friends who have great style and I almost view it like networking but with clothes. It's helped me grow my understanding of brands and shops and that's lead to an awesome selection of clothes in my closet."
– Brandon, 43, Cleveland, OH
20. Do You.
"Just do you. If that means buying fifteen different pairs of dad sneakers… fine, cool, whatever. Own it. I'd nudge you toward a less is more approach, being loyal to the brands that make you feel authentically yourself, and being as comfortable as possible, always and at all times. Also, when in doubt, you can never go wrong with a fire black hoodie from an emerging designer (shameless plug) you discovered on Style Girlfriend."
– Quincy Moore,  Founder and Creative Director, Knowlita

21. Ultimately? Wear what makes you happy.
My favorite piece of advice came from plus-size style influencer Kelvin Davis (you may know him online as Notoriously Dapper):
"Wear what makes you feel happy and comfortable. Style is beautiful because it speaks visually to our own personality. I've always viewed getting dress as a form of art making. So, your body is the blank canvas and the clothes are your medium.
We make masterpieces everyday when we get dressed. Clothing has sizes but style does not!! Be confident, be yourself."
Team SG could help you level up your wardrobe this year! Learn more here
Taylor Davies splits her time between NYC and Sun Valley. She loves writing about menswear, overpriced martinis in dimly lit hotel bars, and cross-country skiing. Not necessarily in that order.