How to Wear Merlot (aka Burgundy) in Your Wardrobe
Make room, rosé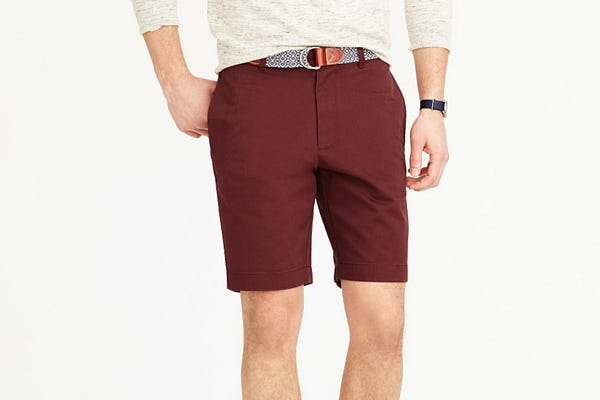 Prime your closet for more color with this series of guides for bold shades. SG HQ is breaking down how to wear different stylish hues (like how to wear merlot!) with easy color combinations and outfit ideas.
---
Catch up on bluebird blue, amber orange, lavender, army green, salmon, slate, blood orange, sharkskin, gold, teal, khaki, red, evergreen, white, cobalt blue, mint green, orange sorbet, yellow and navy.
---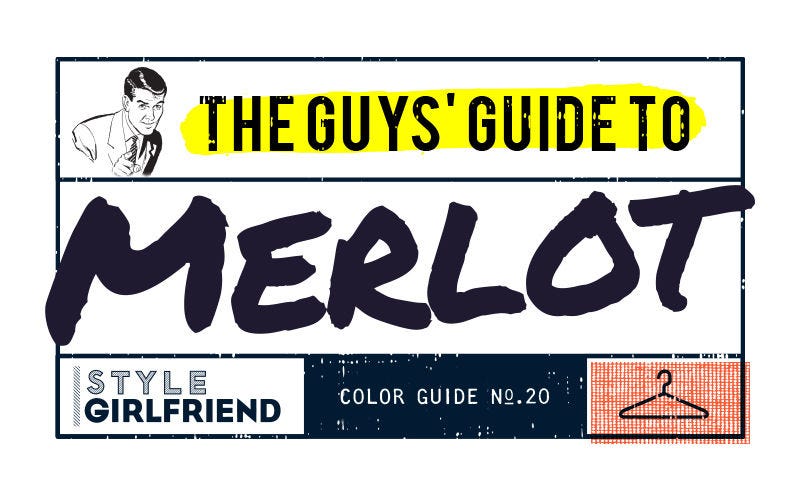 Merlot is a deep purplish red, with blue undertones.
While summer is usually reserved for a nice, never-ending glass of rosé, don't be fooled into thinking merlot isn't meant for all year enjoyment – think of it as the rich addition to any outfit (or dinner) during any season.
Named after the signature grapes, it's easy to categorize this color in the purple family. But in fact, merlot is a mix of very dark blue and purple. The word comes from merle: French for blackbird, an avian species which is more midnight than truly black.
Below, ideas on how to wear merlot in your wardrobe: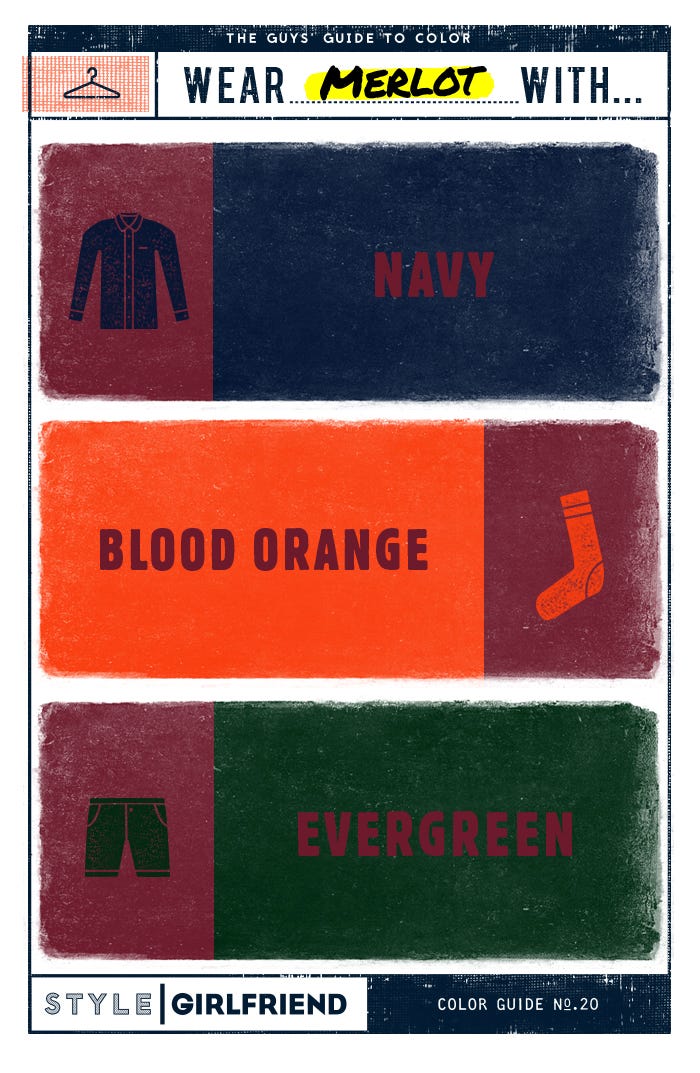 How to wear merlot
The good news is this shade is really a year-round color. Especially if you're not someone who loves pastels, wearing a color like merlot or burgundy means you still get to break out some color in the summer.
Of course, the wine-hued shade is probably most worn in the fall, as it's got that richness that makes you think of cornucopias and gourds and other fun autumnal accoutrement. And unlike brighter hues or bolder patterns, it doesn't feel so "Can I pull that off?"
In many ways, you can think of merlot or burgundy as a neutral. The rich, dynamic shade can often be subbed in when you were going to wear navy or grey—opening up your pairing options when you're picking out your clothes.
We love it in sports coats, chinos, tailored suiting (separates or together!) and of course in details like piping and prints. Bonus: Because of the tonal mix in the hue, it actually looks amazing on all skin types.
So what are you waiting for? Start shopping!
***
How to wear burgundy at the office
Suit: Suit Supply | Shirt: Calvin Klein | Pocket square: The Tie Bar
Belt: Allen Edmonds | Shoes: Hugo Boss | Watch: Daniel Wellington
Cologne: Atelier
SG Says: As always, that depends on where you're off to. For daytime, bring this color in by pairing it with a bright blood orange polo on top, or with evergreen shorts with a lightweight cotton merlot button up.
For evening, consider swapping out your suit accessories for a tie and pocket square in this shade, which will look especially amazing with navy. Grey is always a combo option as well: slate or sharkskin will do just fine.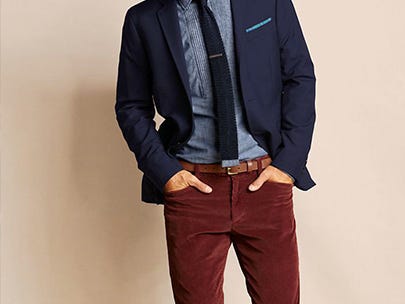 How to wear burgundy on the weekend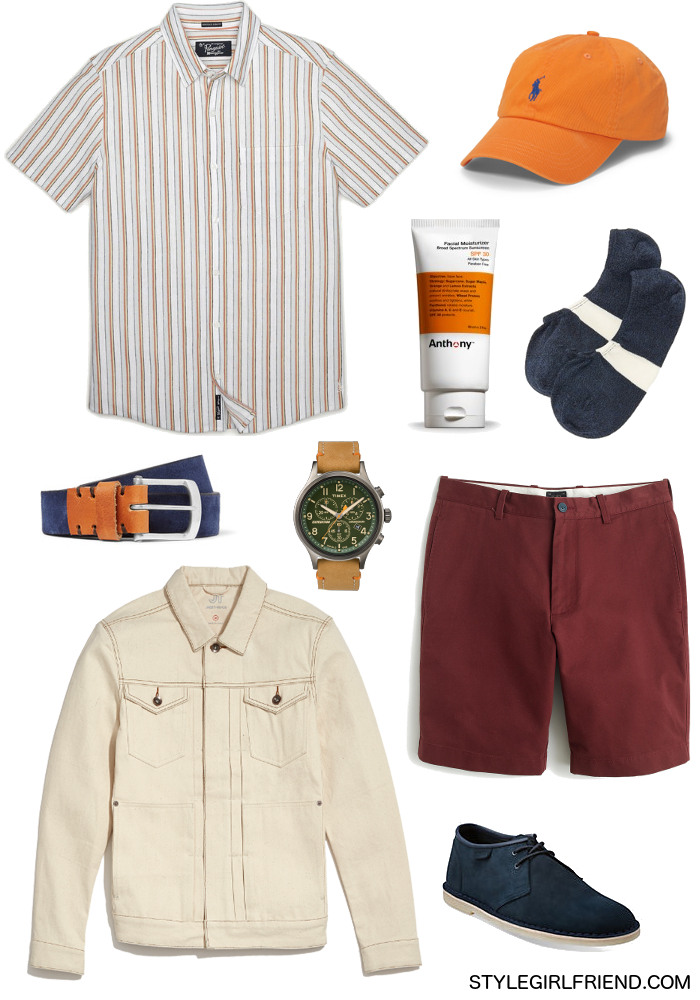 Shorts: J.Crew | Shirt: Original Pengquin | Jacket: Jack Threads
Shoes: Clarks | Socks: N/A | Watch: Timex
Belt: Oliver Spencer | Sunscreen: Anthony | Hat: Ralph Lauren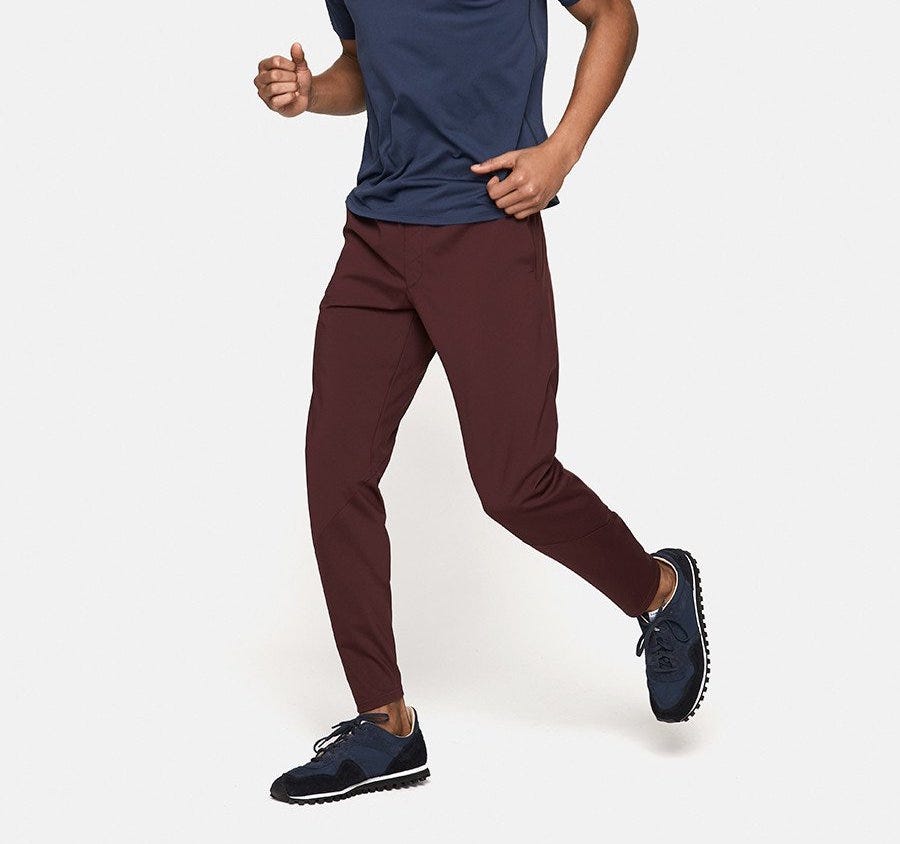 When to wear burgundy
Because it's like black but not quite black, this color can sub out for that shade when temperatures start to climb  in both casual and more formal gear. Don't be afraid to bust merlot out all year long though: From the office to a night out with the guys (or your favorite gal!), this shade is sure to attract all the best kinds of attention.
***
Ready to upgrade your closet's colors?
If you're ready to embrace more color in your wardrobe, but you dread the thought of shopping…why not let Team SG shop for you?
Let us rescue you from shopping fatigue and sartorial apathy.
With our online personal shopping service, we can promise the kind of dedicated attention that will make you feel like the best, most stylish version of the awesome guy you already are! We'll also help you figure out how to wear your new clothes with the things you already own.
If you're ready for a shopping plan that'll save you time, energy, and your sanity, give us a shout.
***
Want more men's style tips and tricks? Listen to Style Girlfriend's Undressed podcast (and subscribe!).