The Guy's Guide to Wearing Cool Khaki
Come around to khaki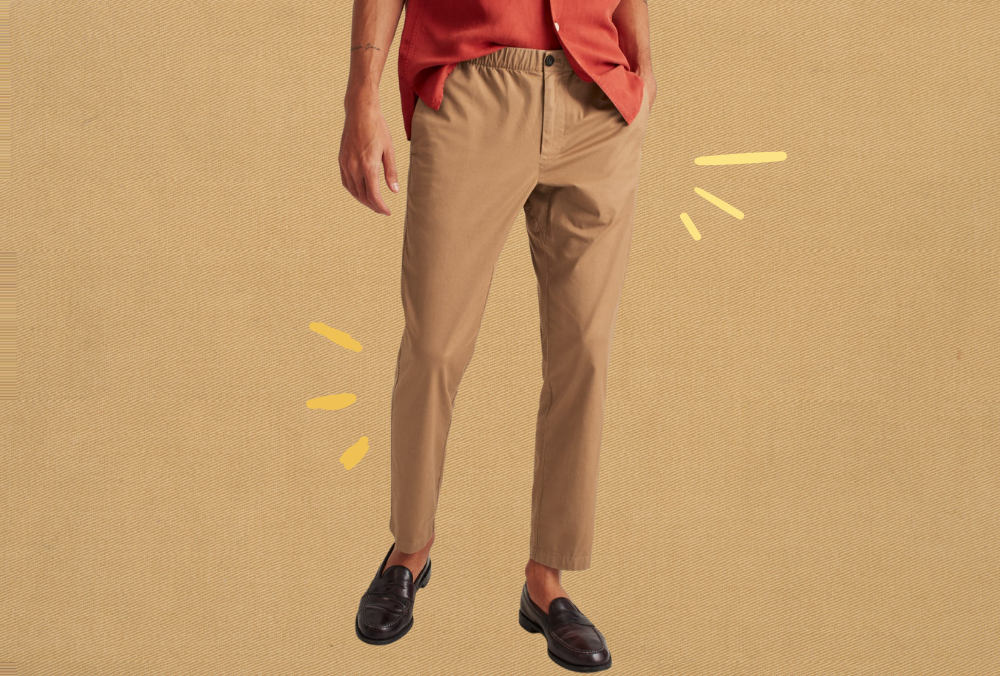 Prime your closet for more color with this series of guides for bold shades. SG HQ is breaking down how to wear stylish hues (like how to wear khaki!) with easy color combinations and outfit ideas for guys.
---
Catch up on bright blue, amber, lavender, army green, salmon, slate, orange, gold, teal, khaki, burgundy, red, cobalt blue, mint green, pale orange, yellow and navy.
---

Difference between khaki and chino
First, let's start with some terminology. "Khakis" aren't pants. Khaki is a color.
When someone says khakis, what they are probably talking about are chinos. A simple casual, cotton pant that exists in the middle ground between jeans and dress pants.
Think of chinos or chino pants (we'll use them interchangeably here) as the oxford shirt of pants—versatile enough to be dressed up or dressed down, and always in style.
So, khaki chinos are chino pants that come in a tan color. Burgundy chinos are chino pants that come in a burgundy color. And so on.
Chinos are dresser than five-pocket twill pants, which look pretty much exactly like jeans except for the material. But! They're not as dressy as dress pants, which usually have a tab waistband closure and are made of wool, or some other fancier material.
So, what color is khaki?
When we say cool khaki, we're talking about the pale shade of yellow-brown.
For a long time, khaki-the-color (and the iconic chino pants that often go by the shade's name) got an unfair "dorky dad zone" rap.
But these days, khaki has made a major comeback as a wardrobe staple—no puffy pleated slacks allowed.
Especially as temperatures start to rise, it's time for the this stone shade to work its way back into your everyday outfits.
Fun fact? Khaki can actually be traced back to the Persian word for dirt, and translates into "soil-colored" in Hindustani.
This earthy tone is a must-have for every man's closet, because it's 1) tremendously neutral (as in, it goes with everything and works for pretty much any occasion) and 2) somehow able to elevate what might otherwise be a pretty casual ensemble into something that feels classic and cool.
Below, what colors to wear with khaki: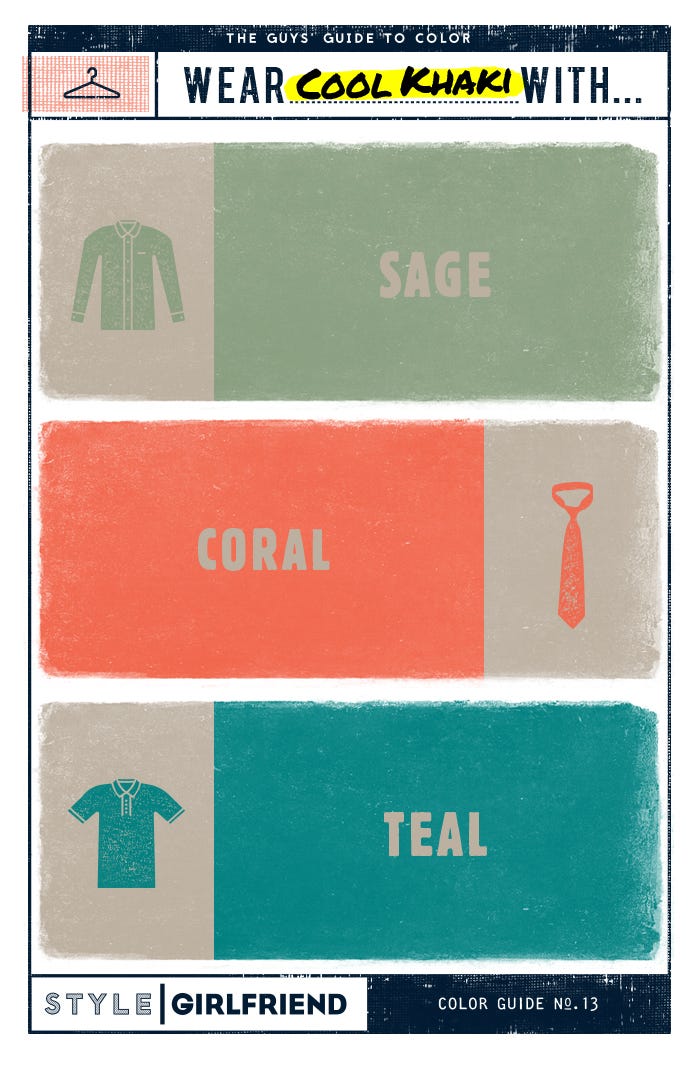 What colors go with khaki
Go bright! You can wear cool khaki with colors like sage, coral, and teal—but don't stop there! If you see a sweet printed button up shirt with a ton of other hues worked in, you can safely assume it will go great with a pair of casual flat-front chinos in cool khaki.
Conversely, don't be afraid to keep things simple and pair this shade with navy, a pop of amber, and white for a more elevated and pulled together vibe: This is ideal combination for suiting (khaki suit, navy tie, warm brown belt) as well as shorts and a khaki tee.
---
How to wear a white tee five different ways
---
Wear khaki at the office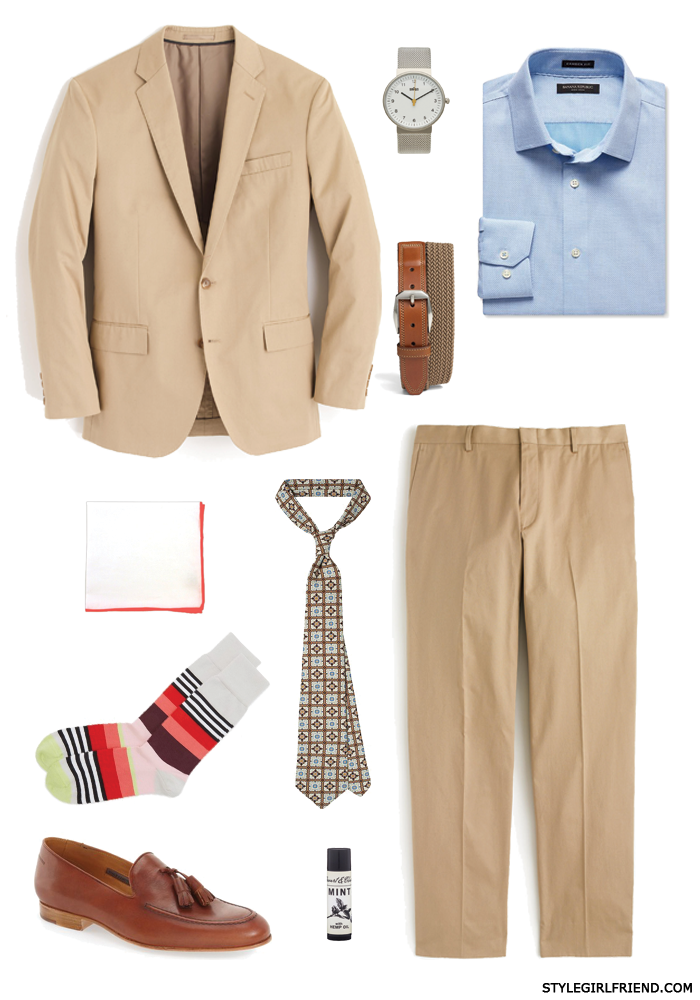 SG Says: Cool khaki doesn't have the warm tones of other hues in the family. Look for spring and summer wardrobe staples—like shorts, shackets, button ups, and tees—in this shade, and then combine it with pops of more vibrant color.
---
Where to save and invest on summer essentials
---
Wear khaki on the weekend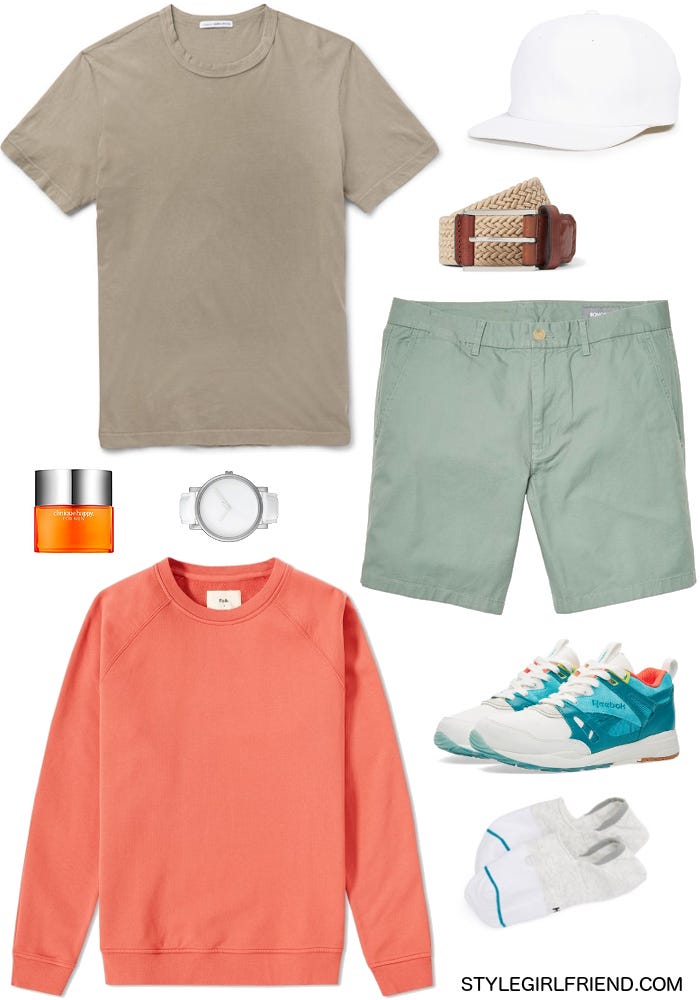 SG Says: Think of khaki as the dress up color that doesn't look too dressed up. It's great for work, weddings, and weekend mornings when you're feeling a bit more style forward than rolling out of bed and into jeans.
Khaki color outfit inspiration
Now, check out some real world style examples!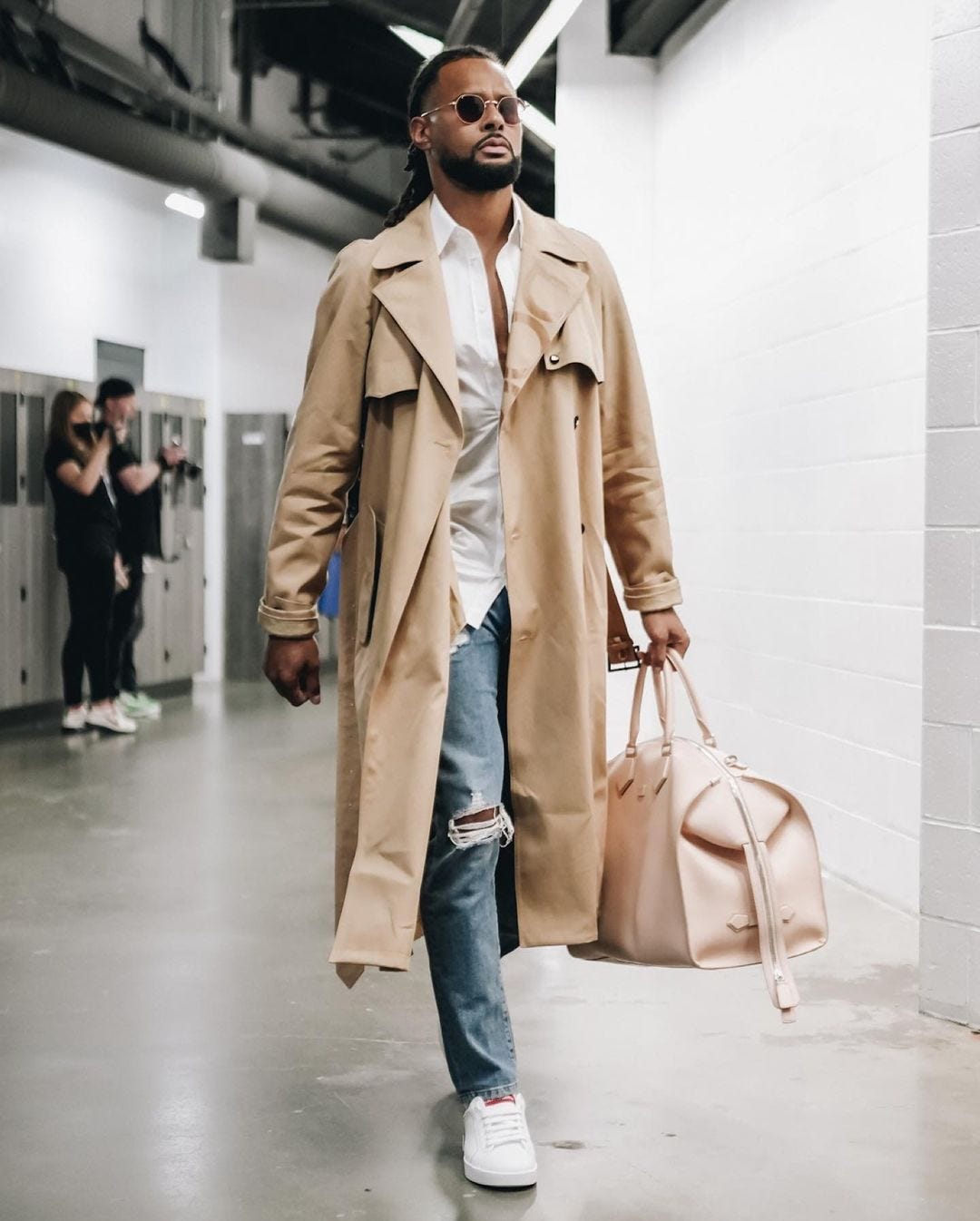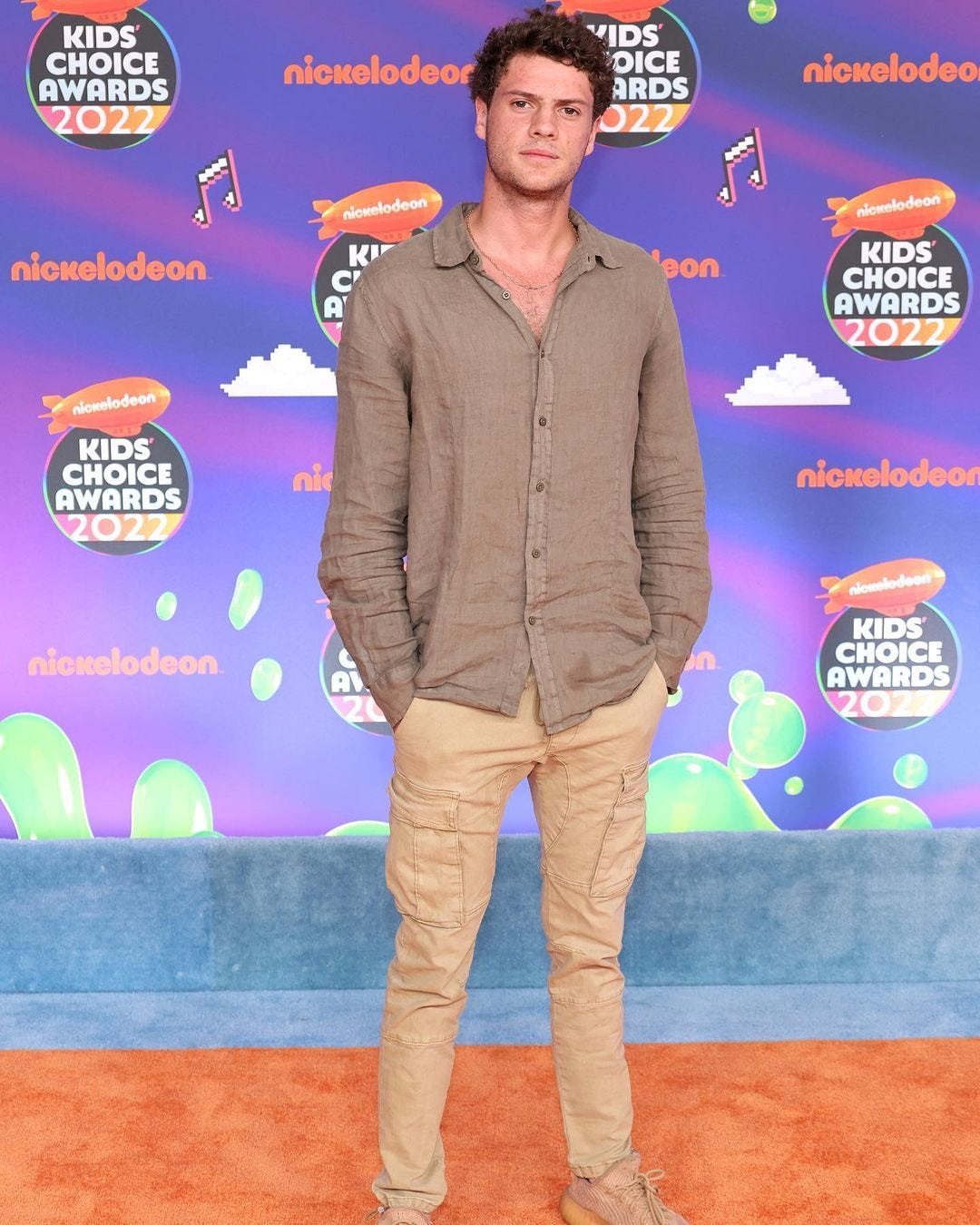 Shop #SGapproved khaki
***
Ready to add some color to your wardrobe?

If we've convinced you it's time to level up your color game, but you dread the thought of shopping for new clothes…why not let Team SG shop for you?
Let us rescue you from shopping fatigue and sartorial apathy.
With our online personal shopping service, we can promise the kind of dedicated attention that will make you feel like the best, most stylish version of the awesome guy you already are! We'll also help you figure out how to wear your new clothes with the things you already own.
If you're ready for a shopping plan that'll save you time, energy, and your sanity, give us a shout.
***
Follow Style Girlfriend on Pinterest to see our favorite stylish guys and wardrobe must-haves.