Date Idea: Go Lingerie Shopping Together
Treat her, and you, to a shopping trip to remember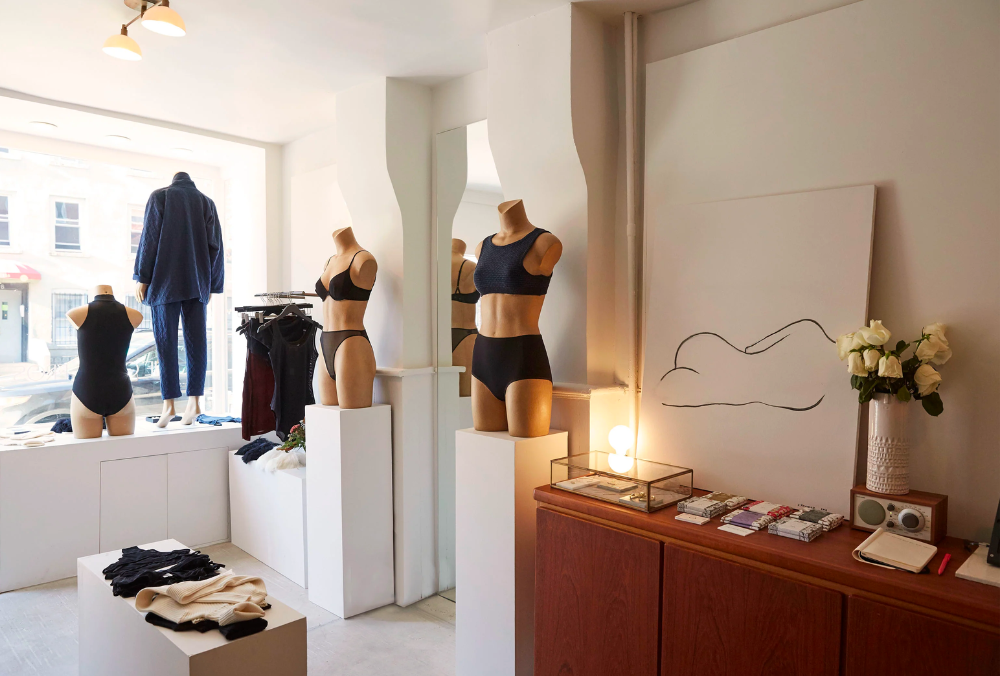 In continuing with our theme of "Team SG Pulls Together the Perfect Date So You Don't Have To" (see here and here), today we're tackling a slightly trickier date idea to pull off: the sexy date.
Specifically: going lingerie shopping together.
First thing's first, this is *not* an early-in-the-game date.
You do not suggest to a Hinge match that you meet up and browse the negligees at your local Victoria's Secret.
You also don't suggest Victoria's Secret, but we'll get to that later.
Going lingerie shopping together is an activity for you and a woman with whom you've already developed sexual intimacy.
Maybe you're in the honeymoon phase of a brand new relationship. Or you're regular sex partners in a modern arrangement that works for both parties.
Maybe you've been together for years and are looking to do something fun and sexy and even a little dangerous together to remind you why you got so hot and bothered for each other in the first place!
The tl;dr?
This is a date for those who've enjoyed one another's presence both naked and clothed.
Is lingerie shopping is a good date idea?
The short answer? It can be!
You probably think it is, right? Seeing your babe in sexy undergarments? 10/10.
The longer answer? Whether or not she thinks going lingerie shopping together is a good date idea depends on the strength of your connection.
If she expresses concern that you only want to take her lingerie shopping in order to put her in some strappy, lacy contraption that makes her feel like she's begrudgingly cosplaying a Frederick's of Hollywood 1980's-era catalogue model, then…no.
Meaning?
How she feels when you suggest this date is probably a good litmus test for how comfortable she feels with you.
So, how to get her onboard with lingerie shopping together?
One, don't shame her for "being a prude" if her initial reaction is negative.
Instead, take her side!
Acknowledge that we live in a patriarchal society where what has been deemed "sexy" on women is often not what women actually feel sexy wearing!
Then, tell her that you want to learn what lingerie she feels her best in.
Because, hopefully you are a good guy who really does want to know that, and not some gross pick-up artist-y dude who's just trying to get off on your own fantasies.
Tell your partner you want to take her to her favorite lingerie store (if she has one) so you can shop together, then pick your favorite things and bring them home for a spicy fashion show. 
If she's interested but needs more convincing, speak to her love language: whether that's quality time, words of affirmation, or gift giving.
Why lingerie shopping together is a good date idea
The anticipation of getting to peruse lingerie in public with your partner is super-hot.
The patience it will require to wait to see her at home in everything you've picked out? Also hot.
And sure, you've shopped together before, but probably for paper towels or paint samples, not panties, am I right?
Putting a lingerie shopping trip on the calendar as a special occasion gives you both the opportunity to prepare and to make it that much extra special. Maybe she'll wear her favorite perfume. Maybe you'll go commando to feel that much naughtier shopping with her.
And while I can't legally endorse fooling around in public of any kind, there is of course the possibility of sneaking a dressing room peek while she tries things on, depending on the layout of the store and the dynamic with the sales team.
Obviously you don't want to weird out a retail worker within earshot, but if you can discreetly join her in the dressing room even for a minute? Well, that'll make the experience all the more memorable.
Finally, this is one of those dates that keeps on giving.
She'll have a sexy little souvenir that she can wear over and over, each time reminding her of this special outing. 
Let's talk sexy logistics
1. Set the scene when asking her
Don't think just because this date idea is sexy and simple that it doesn't require some planning on your part.
Start the spiciness when you ask her – choose the lingerie store you want to visit together and buy something inexpensive from that store. Maybe they sell fragrance, or lavender sachets for her underwear drawer.
Have it gift wrapped and include a card with a date and time you'd like to go together, and ask if she'd like to shop for more there.
Pick a time in the mid-afternoon–early enough so you have time to shop and really take your time while still getting home early enough to let the evening take its course. 
Obviously–and I cannot believe I even have to stress this but, having dated my fair share of men, I know nothing is actually obvious: pick up the bill!
If you're on a budget, there's no shame in talking about that beforehand–just do so diplomatically.
Instead of saying, "Hey babe, let's keep it under $200," try saying "I'd love to treat you to a slip and robe," or "I'd love to buy you your favorite set in the store."
And if budget isn't an issue? You could always call ahead and see what's involved in having the store shut down for an hour for a private shopping experience.
2. How to pick a lingerie store to shop together
On that note, let's talk location.
Two key things to keep in mind when picking: her preferences and your budget.
You might already know what kind of underwear she likes. Maybe she's mentioned a favorite store in town, or a website she loves, or you've notices she often wears the same brand.
You can also inquire without giving up your whole plan, by simply asking her if she has a lingerie brand she likes… for no reason in particular.
Chances are she'll just think you're planning to buy her something.
If you live in a larger city (or even a smaller one with a thriving downtown!), then you've got options when it comes to lingerie stores.
Ideally, you're not heading to the local mall or department store, as those overhead florescent lights really kill the mood.
You'll also feel less like a creepo shopping for lingerie together in a store environment devoted to providing a more intimate feel.
Not sure where to start? I've got you covered.
Below are some #SGapproved lingerie brands:
La Perla
The holy grail of lingerie, La Perla is an Italian brand that specializes in the most exquisite pieces available. Expect to spend at least $500 at La Perla – bras run upwards of $300, and underwear at least $150.
Silk sleepwear starts in the $300 range and goes up to over $1000. Also keep in mind that La Perla lingerie – bras in particular – don't have a large size range, so if your significant other has a larger chest, it might not be the best choice.
On the other hand, if you're looking for something like a silk slip or lace nightie, these will be a little more size inclusive.
Fleur de Mal
This newer brand makes beautiful vibrant and deeply hot lingerie whether you're looking for a silk bralette or a full set complete with a garter belt.
I love FDM because they also have size a fuller range of cup sizes. Their price point is slightly lower than La Perla, and you can get out the door with a great gift under $300. 
Kiki de Montparnasse
The naughty counterpart to Fleur de Mal, Kiki not only has a full range of lingerie, they also sell a variety of sex toys and other pleasure items that are perfect if you're looking to add a little kink to your date.
The price point is similar to FDM – you can definitely leave with a bill under $300, but there are plenty of pricier items if you really want to be indulgent.
Honey Birdette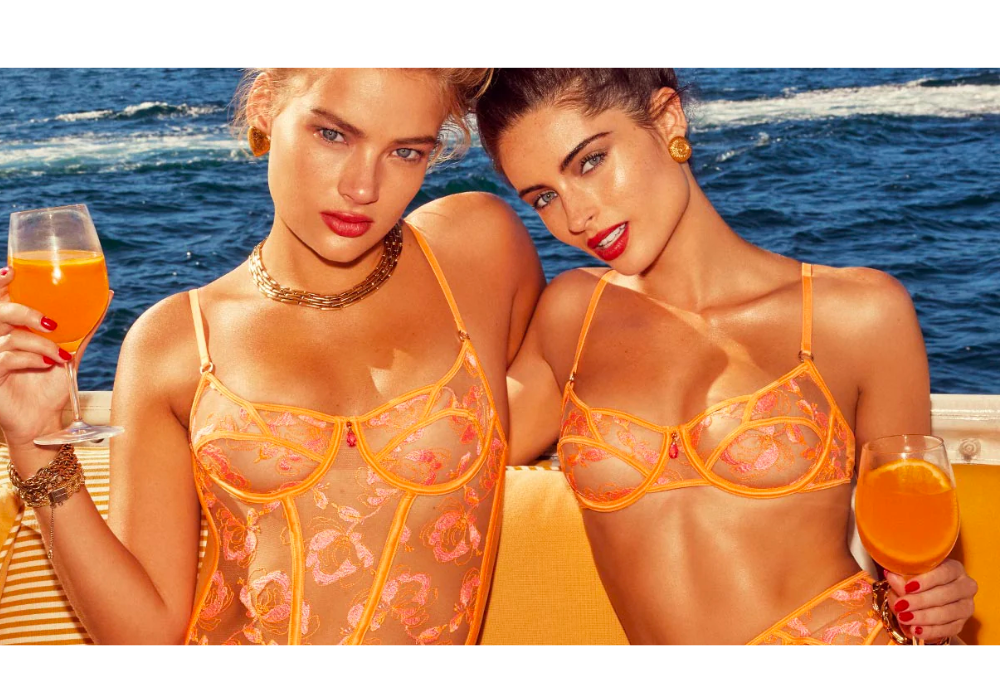 Speaking of kinky, Honey Birdette has some of the sexiest lingerie on the market. Even better? Its size range goes up to a G cup which means it's big-bust-friendly, a rarity in the luxury lingerie market.
You can walk out the door for under $300 but there are plenty of splurge friendly options too.
The Great Eros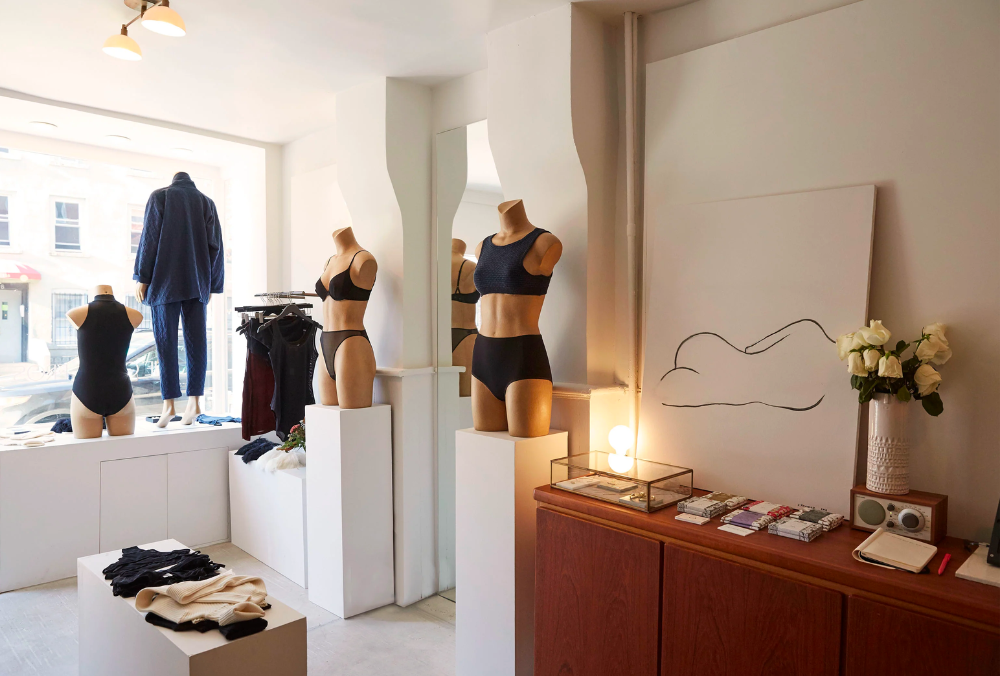 This small brand has simple, and beautiful pieces made with love.
They have two boutiques, one in New York and one in Michigan (the NYC of the Midwest!). You'll also find a full selection of jewelry and other lifestyle items to add to her haul.
Prices range from $70 up to a couple hundred dollars.
Shopping online for lingerie together
If you don't want to shop in person, or there's no good store near you, consider shopping online together.
You can buy your partner a gift card to one of the following online boutiques (or any of the above) and look forward to the sexy try on session home later.
Here's a few great retailers: 
What to wear on your lingerie shopping trip
When it comes to lingerie shopping together, you want to look simple, classy, and understated.
Repeat after me: I am a grown man doing something intimate yet appropriate with my partner.
It helps to dress your best not just because you don't want to look like a gross creepy man, but because it's a special date and you want to show your wife or girlfriend that you are honoring this time together.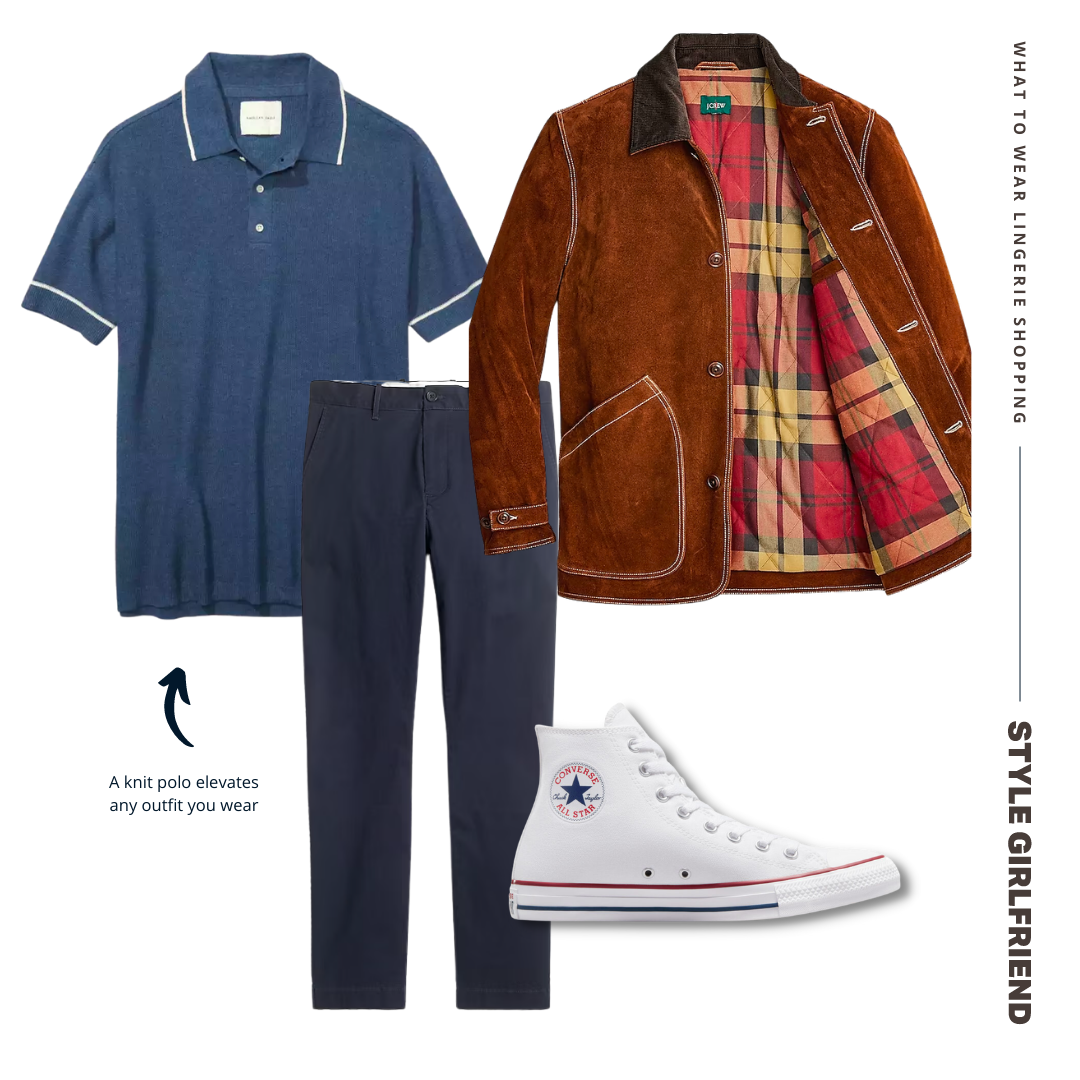 Shop the outfit: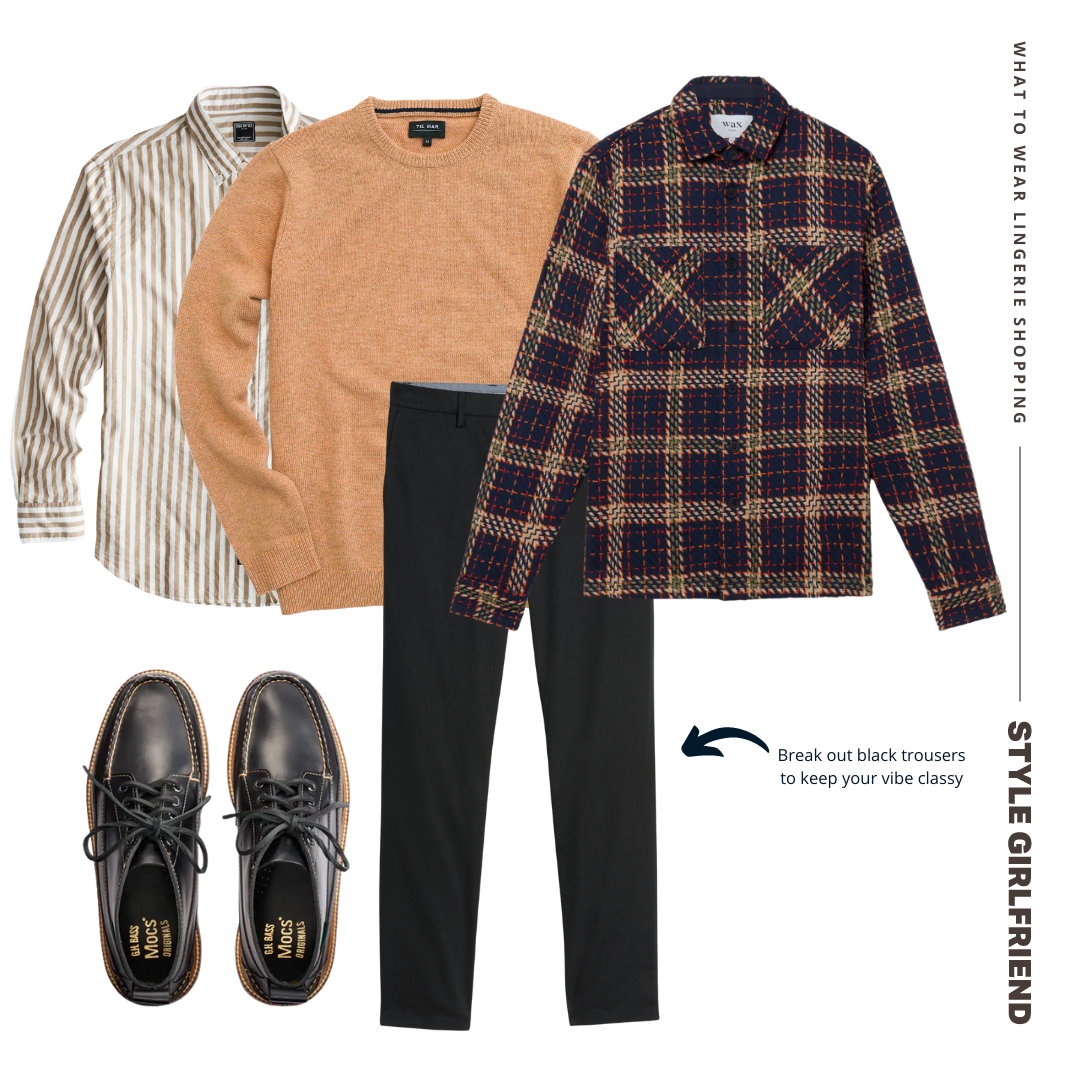 Shop the outfit
***
Looking for more #SGapproved dating and relationship resources?
Check out how to get more matches on dating apps, and how to talk about yourself on a date.