31 Outfit Ideas For Guys: When You Can't Wear Jeans
One month, no denim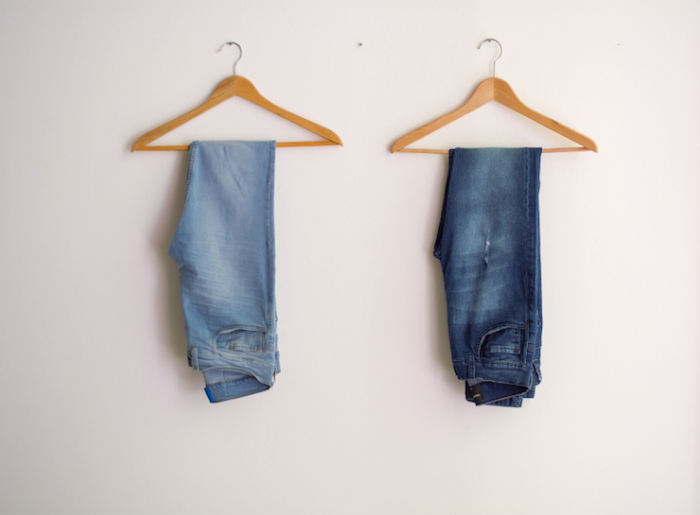 It's the most wonderful time of the year at SG HQ—No Jeans January! It's a longstanding tradition over here to kick off the year with a whole month of "Look Ma, no jeans!" outfit feats. Think of it as our own little sartorial take on Dry January, except this elimination diet doesn't make happy hour any less fun.
To help you along on your denim-free quest, I combed through a year's worth of "fit pics" (as the kids say) on Instagram from well-dressed celebrities, style bloggers, models, and various influencer-types. It was tough, but I narrowed down my findings to 31 outfit ideas that will (hopefully!) inspire you to put away your favorite jeans for the entire month and still find ways to look fly as hell.
Below, 31 outfit ideas for guys, when you can't wear jeans:
Day 1: Wear Cords, Suede Chelsea Boots & A Jewel-Toned Sweater
SG Says: This combination of warm, wintery tones is a look you can keep in your back pocket all month long because it's so freakin' easy to wear. (Pssst, check out five ways to wear corduroy here).
Day 2: Wear Camo Pants With A Denim Jacket

SG Says: Camouflage pants are deceptively easy to wear, they function in your wardrobe almost like a neutral. Keep 'em easy with a denim jacket and your favorite retro sneakers.
Day 3: Wear Statement Trousers & Leather Bomber Jacket

SG Says: This is a perfect example of how to mix dressy and casual elements with ease. White sneakers (with no-show socks) look so cool with dressy trousers, and a bomber jacket hits the sweet spot between polished and playful.
Day 4: Wear Olive Green Pants & A Crisp White Shirt With Chukka Boots

SG Says: Never underestimate the power of simplicity! A crisp white shirt paired with slim olive chinos and sandy-hued chukka boots is a no-fail look. Just throw on a badass wool coat if you live in a colder climate.
Day 5: Wear leather pants, white t-shirt & charcoal denim jacket

SG Says: I know, I know we can't all have as much swagger as 2017's SG Madness winner Jeff Goldblum—but we can try! Leather pants are "a lot of look" as my mom says, so keep everything else extremely casual with a crewneck white t-shirt and non-blue denim jacket.
Day 6: Wear Wool Trousers With A Bold Jacket

SG Says: The striking part of this look is the jacket (check out a similar style here). Remember that some unexpected color pairings can be the most stylish, like shades of grey and burnt almost-caramel orange.
Day 7: Wear A matching Tracksuit Set

SG Says: Did you think we forgot that there are weekends during #NoJeansJanuary? Take a cue from Armie Hammer's Call Me By Your Name press tour travel looks and sport a full track suit on your next coffee run.
Day 8: Wear Joggers, A Silky Bomber Jacket & Your Best Kicks

SG Says:We love Hasan Minhaj's style—and this is a perfect example of how he can make really casual pieces feel more grown up. His joggers are nice and slim, while his silky bomber jacket adds a a sleek finish to a cozy ensemble.
Day 9: Wear Green Chinos & A Navy Blazer

SG Says: This business-casual combo—complete with trousers socks and dressy brogues—is a great suit alternative for when you want to look professional but not too stuffy.
Day 10: Wear Charcoal Slacks, A Yellow Sweater & Cool Kid Sneaks

SG Says: Pops of color are especially effective during the cold winter months. We've been telling you since September how much we love a yellow sweater. So…why not try a canary-hued knit with dark grey pants, like breakout Netflix rom-com star Noah Centineo, above? If you're feeling especially coordinated, throw on a pair of novelty socks boasting a hint of yellow, too.
Day 11: Wear Layer Upon Layer of Green

SG Says: A monochrome look is easier to pull off than you might think, especially when you pick a rich, dark color like hunter green, navy, or charcoal grey. Want more on how to wear colors without looking like a walking box of Crayola? We've got you.
Day 12: Wear A Patchwork Denim Jacket & Cargos

SG Says: I've always found Nick Wooster's irreverent sense of style inspiring, though I get that it's not for everyone. If you're looking for a playful way to wear denim that's not a pair of jeans, try a cool patchwork jacket—it doesn't have to be denim—and some cargo pants.
Day 13: Wear Slacks, A Turtleneck & A Camel Topcoat

SG Says: We've said it before and we'll say it again—get yourself a turtleneck! We love how friend of SG Justin Livingston dressed his white knit up a bit with a gorgeous camel coat and charcoal trousers.
Day 14: Wear Stone-color Cords & A Chambray Shirt

SG Says: David Beckham looks quite at home in his cords and striped denim shirt. Cords are perhaps the coziest alternative to denim, and a light, washed out color like this is super-wearable.
Beckham's jaunty hat not required, but certainly encouraged…
Day 15: Wear Cropped Brown Pants, A Printed Shirt & Cardigan

SG Says: Channel your inner "cool grandpa" like our style blogger pal Anthony Urbano. Pair a cozy camel cardigan with brown pants and fun sneakers on the weekend.
And don't be afraid to add a printed shirt for extra "I'm retiring to Florida soon" vibes.
Day 16: Wear Navy Chinos & A White Polo

SG Says: If you live somewhere warmer, like California or Arizona, January is as good a season as any to roll the cuffs of your chinos up for a little #AnklesOut moment. Take things all the way and tuck in a crisp, tipped polo for a modern The Talented Mr. Ripley look.
Day 17: Wear Chinos, Nautical-Inspired Top & A Waxed Canvas Jacket

SG Says: Is Kevin Love the best player in the NBA? I have literally no idea. Is he the best-dressed? Honestly, I still don't know. Truly, I don't have a lot of points of reference. But he's gotta be up there, right?
What's not debatable is how great he looks in this casual-but-polished combination of chinos, a soft striped t-shirt and a pair of leather Nike sneakers (sans socks, of course).
Day 18: Wear Track Pants, A Hoodie & Denim Jacket

SG Says: I'm all for being comfortable on the weekends, but that doesn't mean looking like a slob. Throw on your track pants and hoodie, then add your denim jacket on top for some extra style points.
Day 19: Wear Navy Chinos, Brown boots, An Olive Polo & Trench Coat

SG Says: You'll be amazed how much more grown-up and elegant you'll feel in any outfit once you put a trench coat on over it. CNN Style host Derek Blasberg shows us how it's done with navy chinos and an olive polo, pulled together with brown leather boots and a coordinating belt.
Day 20: Wear Layers of Texture In White & Navy

SG Says: Similar to trying a monochromatic look, layering two different colors from head to toe is all about changing up the texture with each piece. Designer Prabal Gurung is rocking a textured cardigan, pinstripe trousers and a navy parka with white dots.
If the overall effect feels a little much for you, you can achieve the same effect by mixing a flannel, knit (like a sweater or henley) and trousers, no problem!
Day 21: Wear Chambray Pants & A Matching Navy Sweater

SG Says: Hey, chambray pants aren't jeans! These chino-adjacent pants are soft and comfortable, and when paired with a tonal navy cable-knit turtleneck, they look even more elevated.
Day 22: Wear Grey Wool Trousers, A Printed Blazer & Camel Coat

SG Says: Another amazing business casual option is to pair olive green chinos with a micro-houndstooth print blazer and your favorite blue OCBD. It's professional with a dash of irrelevant fun—just the way we like it.
Day 23: Wear Off-White Chinos, Layers Of Color & Tall Socks

SG Says: Okay, everyone at SG HQ is kind of obsessed with everything Tan France (of Netflix's Queer Eye, of course) but this look—off-white linen pants, white sneakers, a few colors on top and a great charcoal topcoat—is one of our favorites of the year.
Day 24: Wear Your Brightest, Flyest Suit

SG Says: A suit is not something we'd typically recommend as an alternative to your jeans on any ol' day. But if, say, you've got a destination wedding on the books this month, why not splash out in a colorful style? The printed shirt paired with sneakers counts as extra credit.
Day 25: Wear Cargos with "It" Sneakers & A Bright Bomber

SG Says: Like it or not, John Mayer has come to be sort of a style icon—if your style might be described as "Deadhead with a thing for streetwear and expensive watches." Let me reiterate: cargo pants work when they're slim or tapered. These ones look great with the singer's pink bomber jacket and cool guy sneakers.
Day 26: Wear Striped Pants & A Navy Button-Down Shirt

SG Says: If you aren't following musician Sam Smith on Instagram yet, you're missing out on some delightful #style content. What's not to love about this 'fit pic of the singer in some striped navy pants, a navy button-down and crisp white sneakers? (Nothing, that's what.)
Day 27: Wear Plaid Pants, A Simple Tee & Converse

SG Says: When your pants do the talking, keep the rest of your look simple. The yellow plaid pants that Daveed Diggs (of Hamilton fame) wears above make a statement, sure. They also go perfectly with a simple grey t-shirt and high-top Chucks.
Day 28: Wear Piped Trousers With A Striped Sweater

SG Says: I love a look that's coordinating but not matchy-matchy…like Will Taylor's piped navy trousers and striped cream sweater. He looks pulled together in an effortless, playful way.
While we're at it, can we all agree that "pulled together" should be the aim in 2019?
we're leaving the words sartorial and dapper behind in 2018. pls never use them again

— dieworkwear (@dieworkwear) December 29, 2018
Day 29: Wear Plaid Trousers, A Camel Turtleneck & A Wide-Brim Hat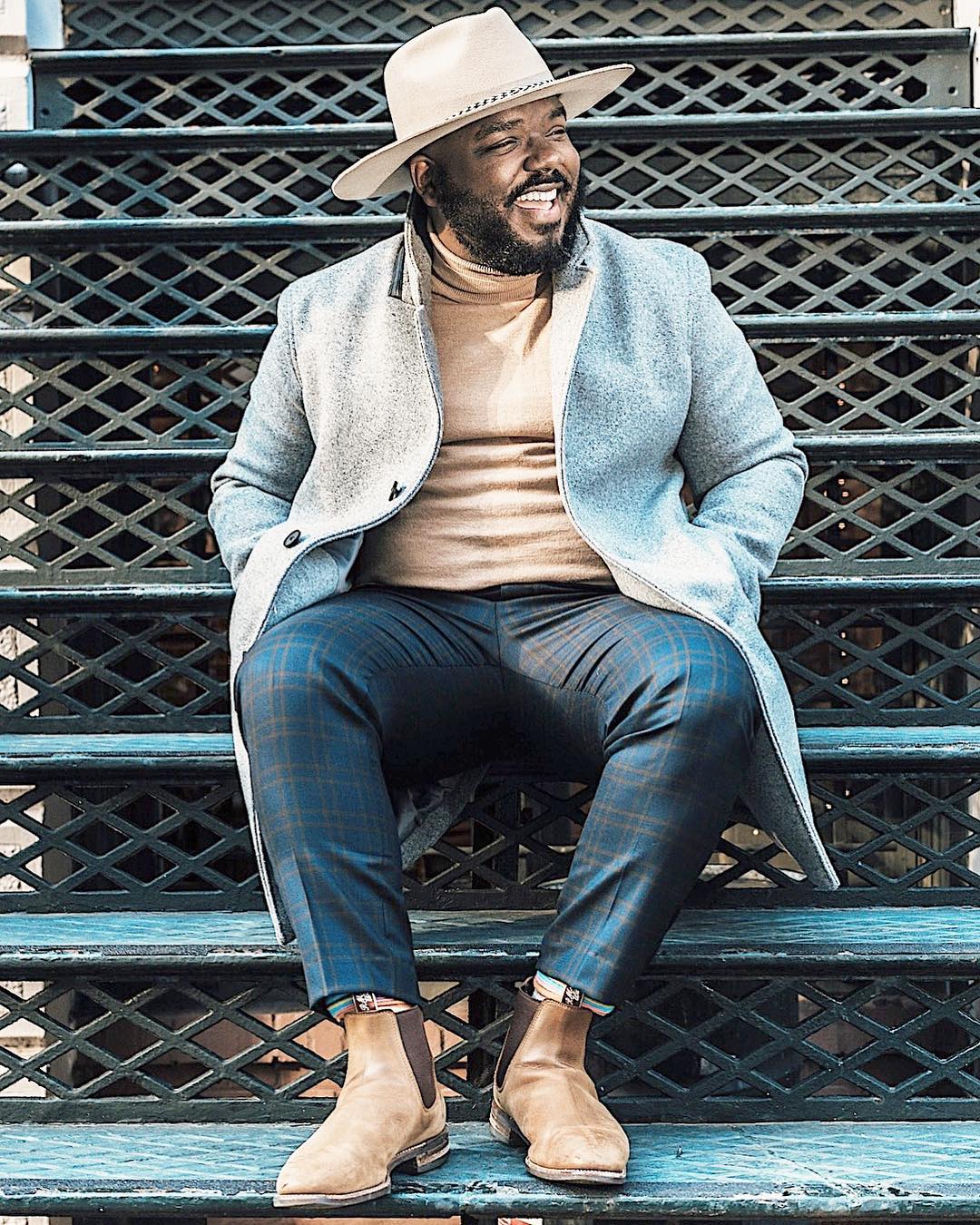 SG Says: Everything about this outfit is so good, literally from head to toe. I'm loving the somewhat Western wide-brim hat paired with city-ready Chelsea boots and plaid pants. It's an "urban cowboy" in the best way-kind of look.
Day 30: Wear Navy Chinos & A Teal Blazer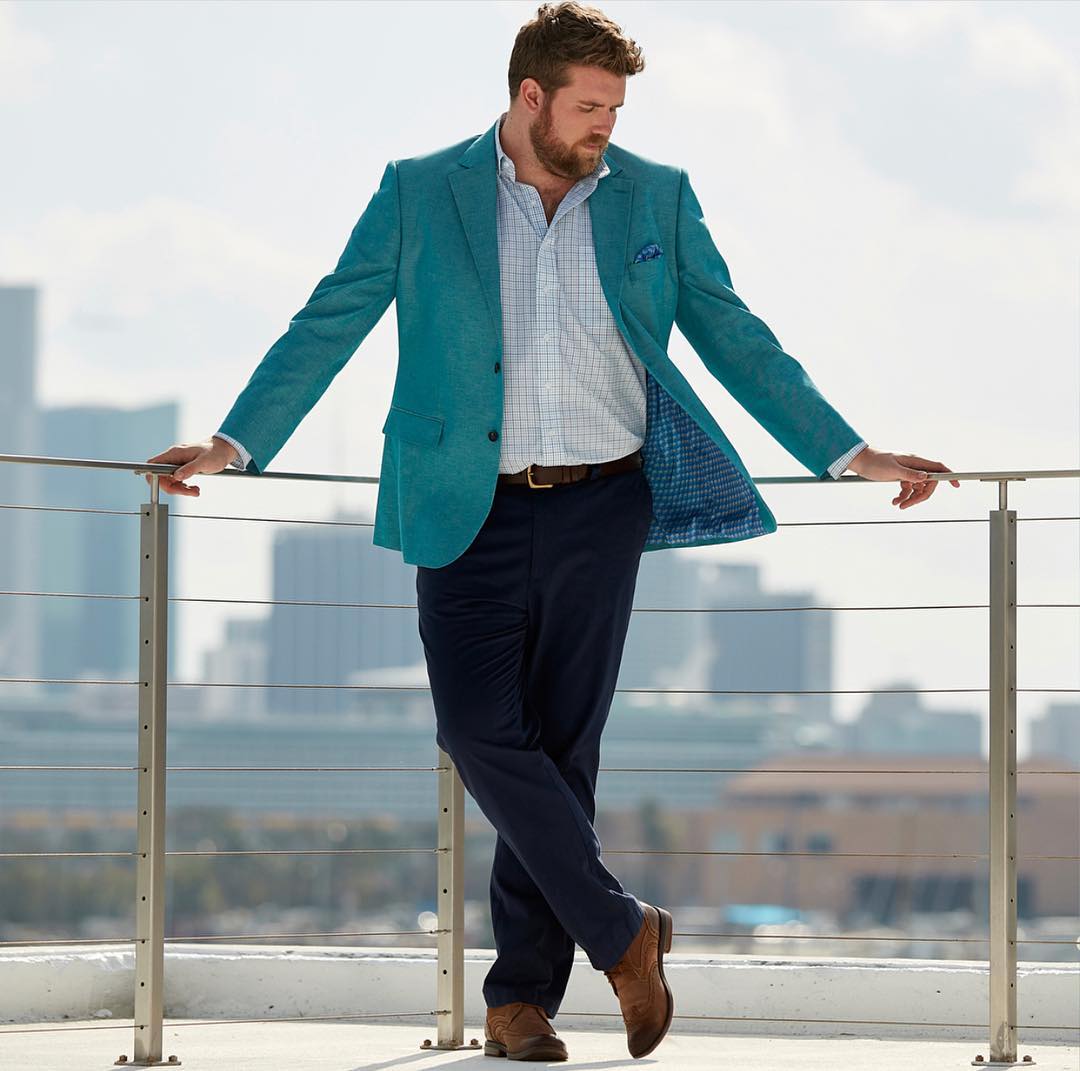 SG Says: Rather than go the expected grey or khaki route, next time you want to pair a blazer with your favorite navy chinos, try a sport coat in a fun color like teal or dark green.
Day 31: Wear Plaid On Plaid On Plaid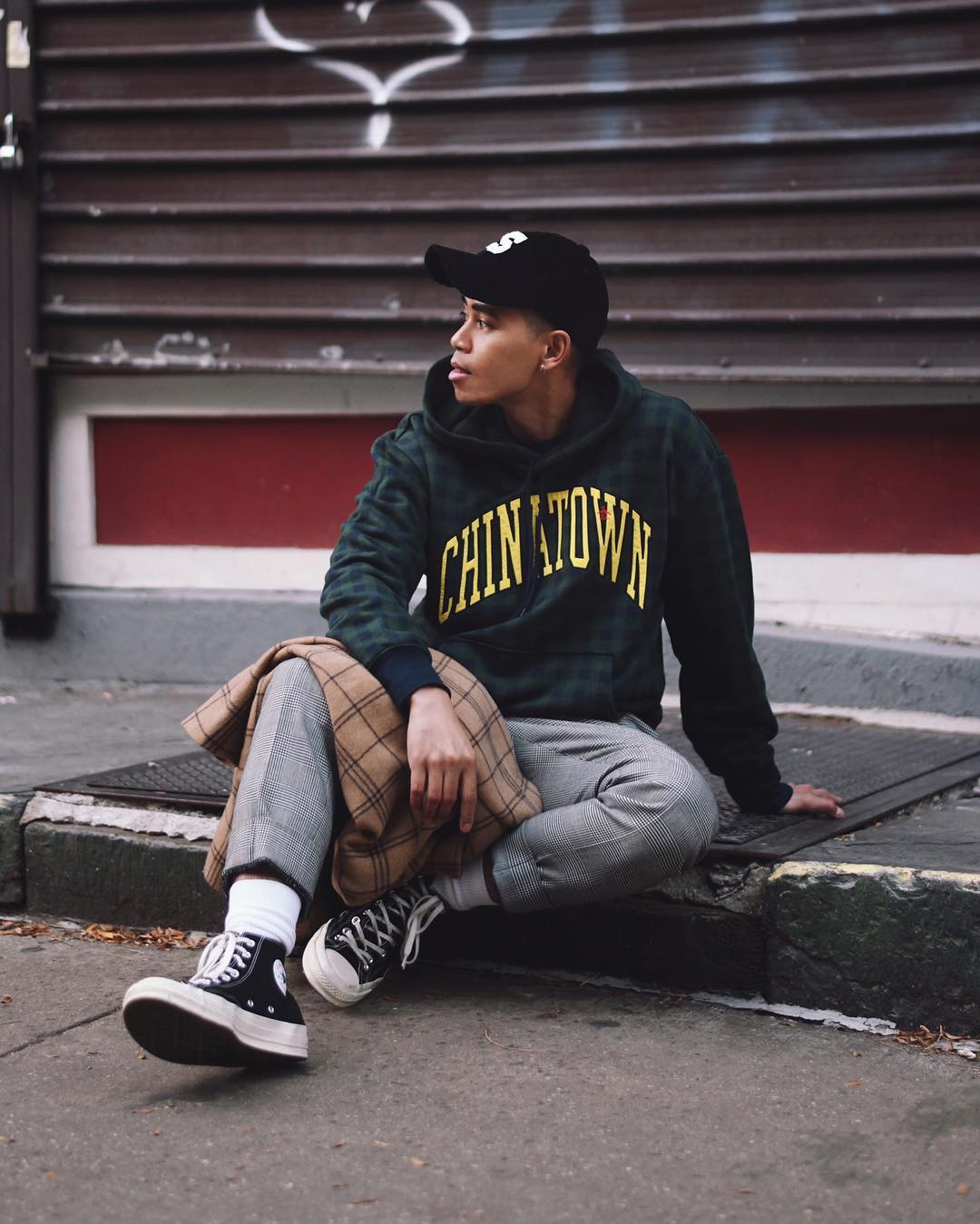 SG Says: Take note: mixing different plaids together can totally work! You can achieve the same stylish results; just make sure none of the prints are too bright. Windowpane and Black Watch plaid are a great place to start.
***

Ready to upgrade your wardrobe without the work? Let Team SG shop for you! We'll create a customized shopping plan that fits your personal style, your budget, and your body type.
Taylor Davies splits her time between NYC and Sun Valley. She loves writing about menswear, overpriced martinis in dimly lit hotel bars, and cross-country skiing. Not necessarily in that order.