Men's Wardrobe Essentials For Your 20s
Look like an adult, feel like an adult
Look your best at every age. In this guide, find men's wardrobe essentials for your 20s. And check out the wardrobe must-haves for your 30s, 40s, and 50s.
Why it's time to upgrade your style in your twenties
If your college experience was anything like ours, you left school with a questionably useful diploma (shout out liberal arts degrees!) and a wardrobe comprised almost exclusively of free t-shirts and sweatpants rapidly losing their stretch.
We can at least help address that second part!
Look, your twenties are an exciting time. You're setting out on your own, beginning your career, and finally experiencing life as an honest-to-goodness adult.
And part of being an adult is dressing like one. Why? Because feeling comfortable in "grown-up clothes" means you're on your way to actually feeling like one.
Trust us.
In this guide, then, Team SG breaks down the essential pieces for guys to invest in as you begin your journey to adulthood in your twenties.
In your twenties (and really, through your whole life), you ought to consider how your clothes reflect on you in the professional world or otherwise. It takes a lot of people far too long to figure out that dressing well helps you:
Project the confidence of someone who deserves the corner office, and…
At least keeps your co-workers from thinking you're the new intern.
While you might be used to rolling out of bed and into sweats every day, in your twenties it's time to start incorporating "grown-up" clothes into your wardrobe.
We've got you covered on what you need.
Below, check out 6 men's wardrobe essentials for your 20s:
1.
White Oxford Cloth Shirt
When you're first starting to build a wardrobe, look for pieces that can be dressed up or down. They'll keep your closet from getting too unruly and help you save some money. A good oxford cloth button down shirt (OCBD) goes with literally everything.
Yes, literally.
An OCBD with chinos or jeans is a classic look that every guy looks great – and feels even better – wearing. Toss a sweater or sweatshirt over top for a dressed down look in cooler temps or a under a blazer to dress the look up.
>>MORE: The Guys' Grooming Guide in your 20s
Oxford cloth is an extremely durable and versatile material. In addition to being able to stand up to everyday wear and tear, it looks just as great with a blazer and slacks as it does with jeans. You can even class up your relaxed Saturday brunch look by pairing one with a pair of jogger pants.
Aside from fit, pay close attention to the collar.
Look for OCBD's with a button down collar tall enough to accommodate a tie when needed. Again, the idea is to get the most versatility out of your building wardrobe.
// Shop white oxford shirts //
2. flat-front chinos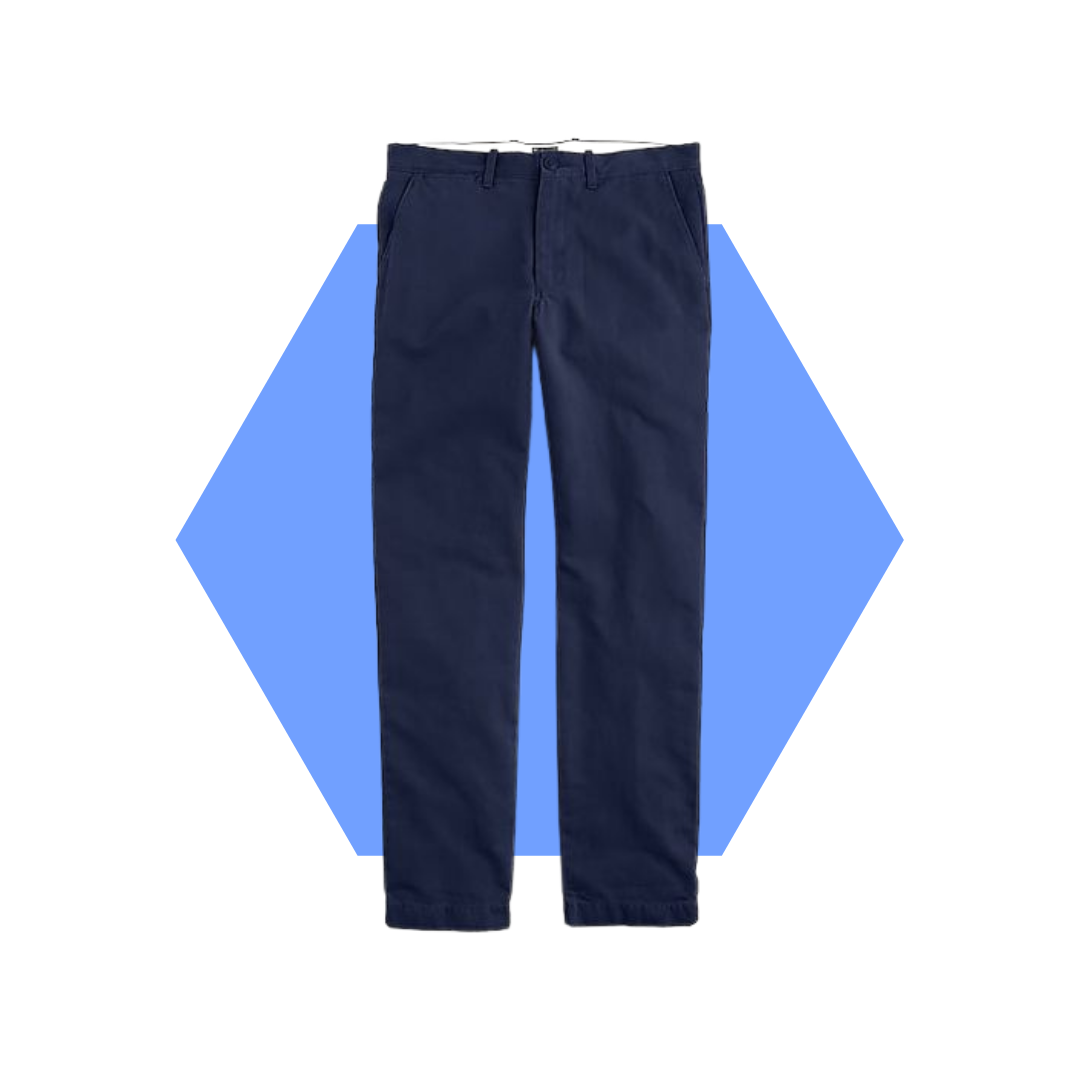 A good pair of flat-front chinos is a guys' wardrobe essentials. Just like a pair of broken-in jeans was an essential in your teen years.
There are 5-pocket chinos that look and feel just like jeans, and you can (and should!) invest in a pair of those, too. But consider the more traditional flat-front chino a must-have right now.
Sometimes, the secret to being a grown-up is simply acting like one. And pulling on a pair of chinos…instead of jeans…can be enough to make you feel like an adult.
// Shop flat-front chinos //
3.
Navy Blazer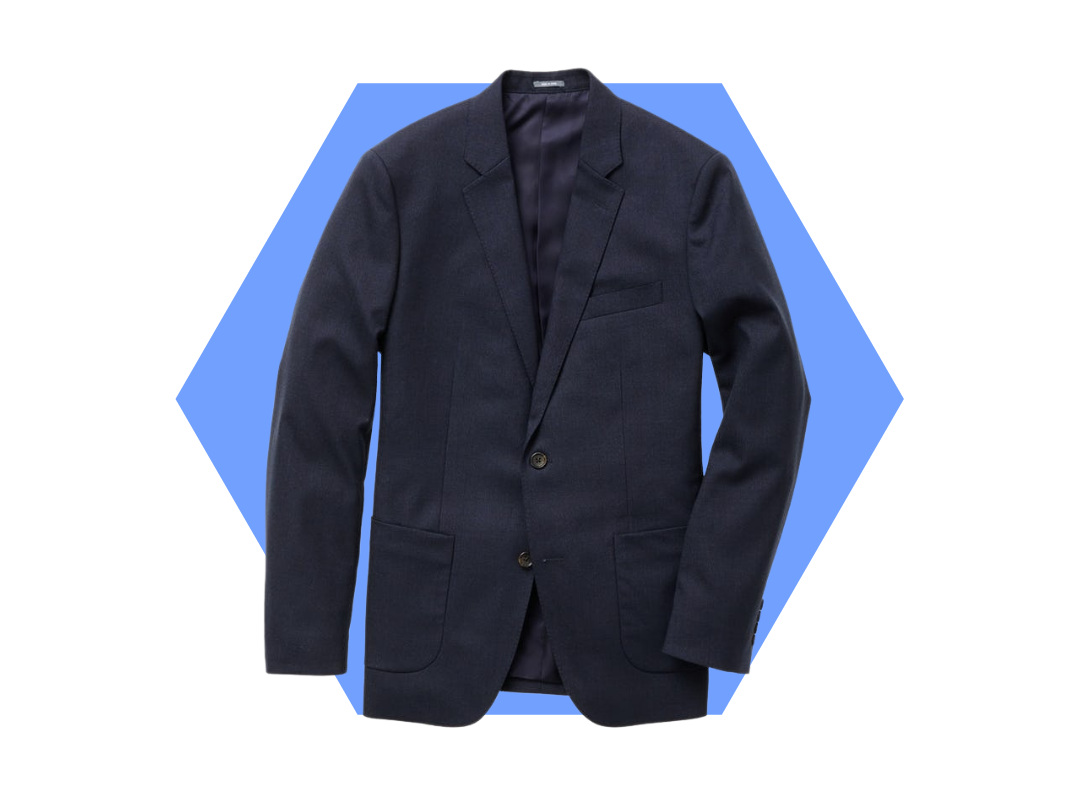 If there's one thing you'll be doing quite a bit of in your twenties it's interviewing. Whether it be for a job or for grad school, the interview is your chance to sell yourself and dressing the part is half of the battle. Having a classic navy wool blazer in your closet takes a lot of guesswork out of figuring out what to wear to an interview.
The most versatile blazer is also the most classic, boasting a notch lapel, with a 2-button front. Look for a soft shoulder, which gives you the ability to easily dress it down.
The body should fit close, but comfortable. Be sure the back of the jacket lays smooth – and that it covers your butt. A good blazer pairs well with virtually any shirt/tie combination, though a white oxford (more on that below) is always a good choice.
With a pair of grey wool slacks and a pair of brown dress shoes, you're sure to get hired on the spot.
…Well, maybe not, but you'll certainly make a great first impression.
In addition to being perfect for job interviews, a navy blazer is also a solid option for dates. There's nothing a woman likes more than showing up for a first date and noticing the guy has clearly put effort into how he looks.
And a navy blazer with a crisp shirt, well fitting jeans, and clean lace up boots are pretty perfect for a night out on the town, no matter what your plans are.
// Shop navy blazers //
4.
Lace-Up Boots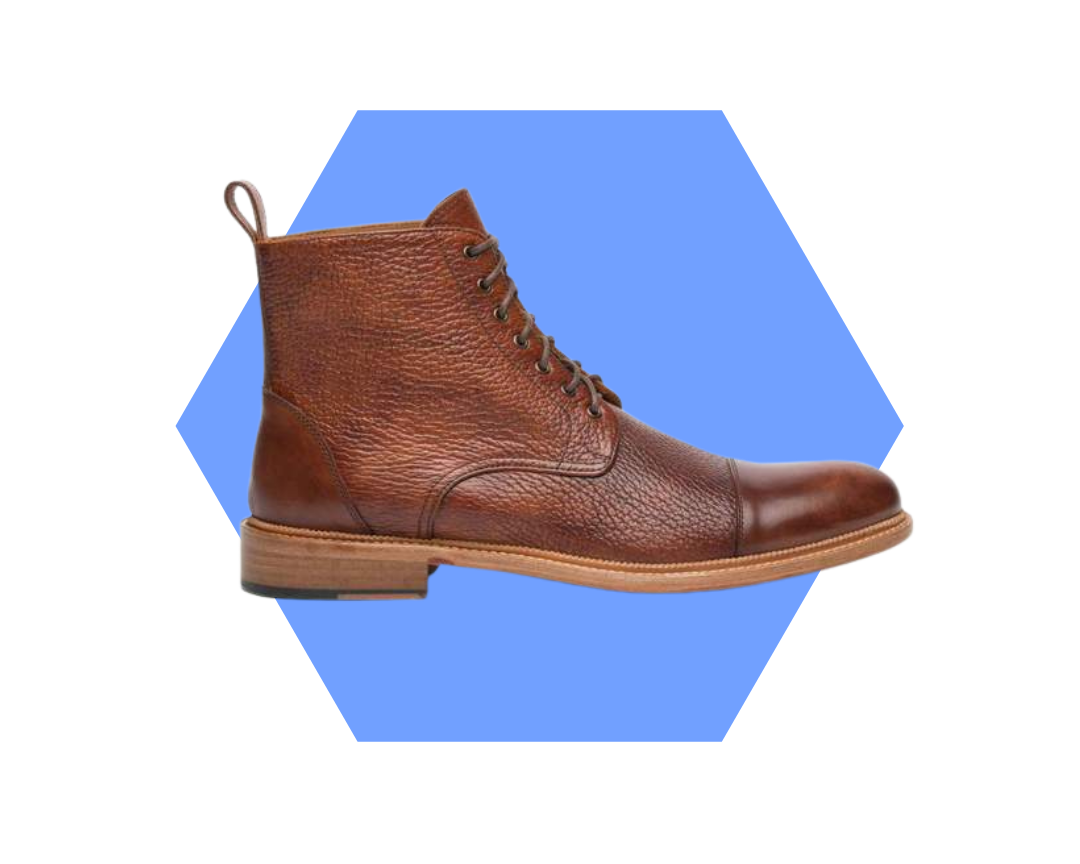 Footwear is the foundation of any great outfit. While bad shoes may not necessarily be a deal breaker, they will have you playing from behind the rest of the night.
While fashion matters when it comes to footwear, function and durability are right up there, too.
Think about it. In college, you could get by with a few pairs of sneakers and some flip-flops for the shower, but those won't fly in the real world.
A good pair of sophisticated leather boots will not only look sharp, they'll be able to withstand those nights in your twenties that get a little crazy.
When we talk about boots, we aren't talking about work boots with chunky soles and reinforced toes. In your twenties, less is more. The toe of the boot shouldn't be too bulky. It should look more like a dress shoe than a work boot.
A nice rounded toe is going to dress down better than a chiseled toe, while pointy or square toes are just a no-no. A plain or capped toe is always a good option. For a bit more flair, go for a wingtip boot. It dresses up as well as it dresses down.
A good boot will become your go-to shoe. If you want to go even more sophisticated, a wingtip boot is a good option that can be worn with jeans or slacks. The boot should come just above the ankle. 5-6 inches in height is a good range for how tall the boot should be.
The most important part of the shoe, though, is the sole.
Look for Goodyear welted soles. They will cost a bit more but over the years will allow you to replace the sole, rather than buying a brand new boot. Leather soles are more sophisticated than rubber, but if you're worried about inclement weather, your local shoe repair person can easily put a thin piece of rubber over a leather sole.
For a smart casual Friday look, pair it with chinos, and oxford and blazer. When your college buddies are in town for a weekend, boots class up your standard jeans and t-shirt look.
// Shop lace-up boots //
5.
Slim Sweats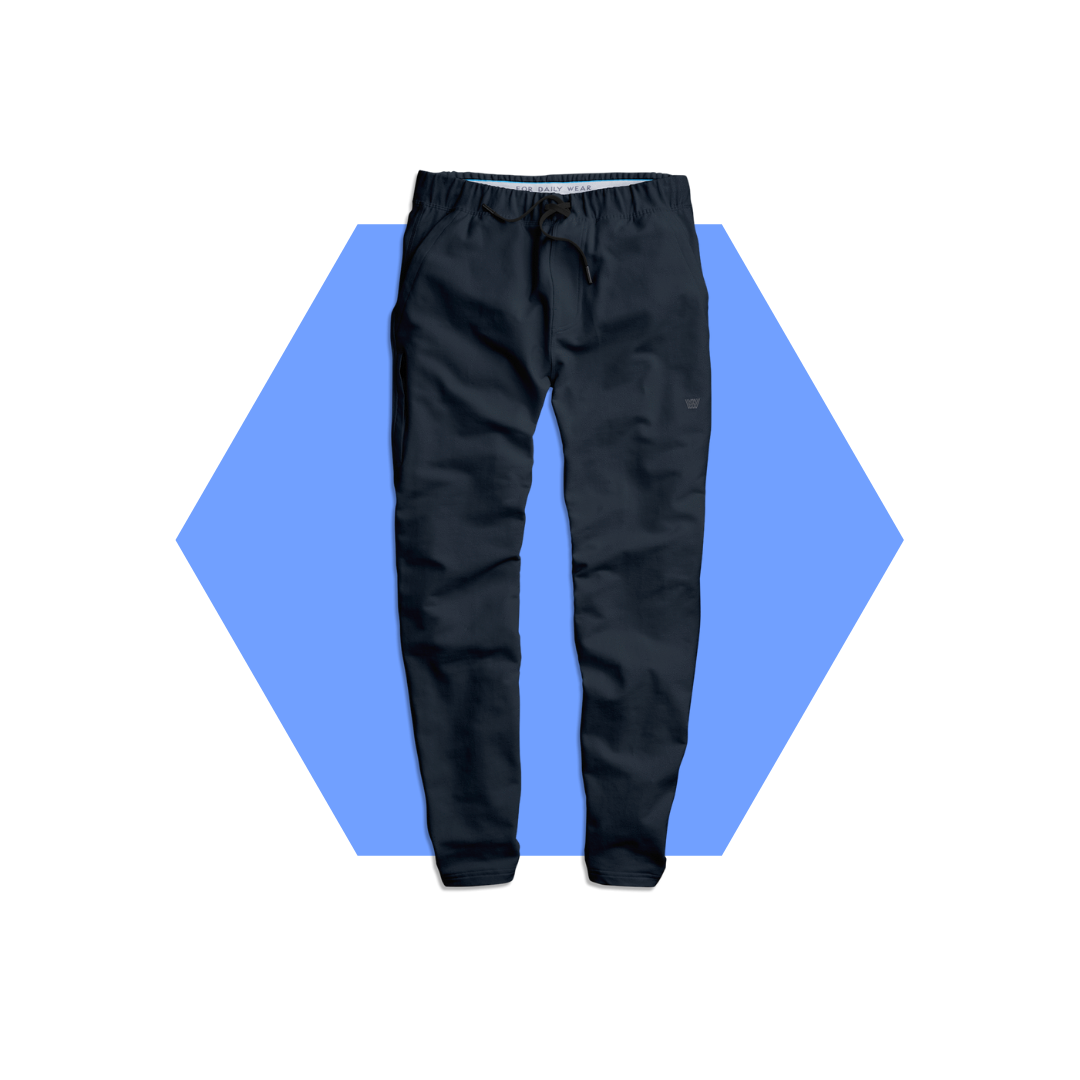 Just because you're out in the real world doesn't mean you have to be totally buttoned up at all times.
There's nothing wrong with looking more adventurous, especially in your twenties. And a great pair of slim fitting sweatpants helps you look youthful, stylish, and comfortable all at the same time.
Unlike the sweats you had in college that you wore over shorts on your way to your intramural football game, these sweats should be much more fitted.
Look for pants with…let's call it "ease" at the top – no need to put on a show for the world – with a leg opening that becomes more fitted and narrow. Look for sweats with clean lines and no embellishments. Less is more when you're trying to class up sweatpants.
A nice pair of trim sweatpants with a white oxford and clean white sneakers is a great boozy brunch look.
The great part about slim sweats is they are still appropriate to wear to workout, and they have the added bonus of telling the ladies that frequent your gym you've got a bit more style than the rest.
// Shop slim sweats //
6. A
leather wallet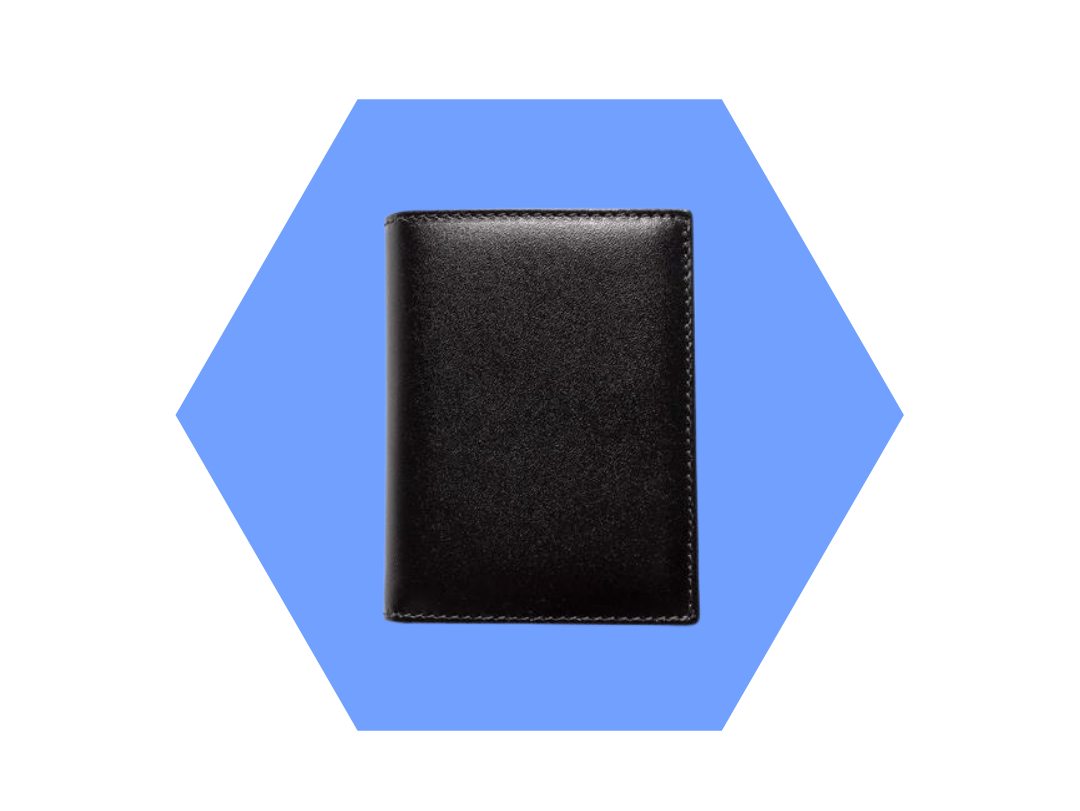 So you've got your degree, you've got a job, and for the first time you've got money coming in on a regular basis. It's time to get a nice place to put that money. No, we're not talking about a checking and savings account (though you should get those, too!).
We're talking about wallets.
Sometimes it's the little things that make all the difference. It's time to retire that duct tape wallet you made in high school and upgrade to something more sophisticated.
---
>>MORE: The Guys' Home Guide in your 20s
---
Stay away from bulky billfold wallets; they are a slippery slope to the dreaded Costanza wallet, overstuffed with receipts, cash, and loyalty cards spilling everywhere.
For most guys, a simple cardholder is all you need. A few slots for your ID, a couple credit cards and a small slot for cash. If you live in a big city like New York, you may find yourself needing cash a bit more for your favorite coffee shop or bar that's cash-only. Thankfully, a number of brands make simple wallets with a zip closure, giving you more room for cash than a card holder.
Leather is a great choice for material. It's durable and will age well over time.
As for color, black is standard, but medium brown is a great option if you want something subtle but will show a bit more wear and character.
If you want a bit more personality, don't be afraid of some color.
There are great blue, green, even orange or red leather wallets that are masculine as well as interesting. They can make for great conversation pieces when you go to buy a young lady a drink at the bar *wink wink, nudge nudge*
// Shop leather wallets //
How to upgrade your wardrobe in your 20s
The most important thing to remember is: Don't go shopping for everything all at once.
Instead, phase in clothes made in higher-end materials and a slim cut. You've got to give up the casual hoodies that were a staple in your teen years eventually (there's not many jobs where they're encouraged in the dress code), so start experimenting with more interesting textures and clothes that fit closer to the body now.
Make these wardrobe updates in a way that feels gradual, rather than abrupt (which will be easier on your bank account anyway).
You don't want to all of a sudden go from faded bootcut jeans to a three-piece suit. You can, however, go from faded bootcut jeans to dark-rinse, straight-leg denim without causing too much whiplash for the friends who see you every day.
From there, the jump from jeans to cords or khakis doesn't feel so scary. Later, graduating from the khaki pants to a pair of wool trousers (or that suit) will be even easier.
This move works across your whole wardrobe. Maybe next you'll swap out your dirty old sneakers for a pair that's fresh and clean (and clearly not meant for the gym, track, or court). The hoodie for a v-neck sweater.
You get the picture.
Do this with all your clothes, and you'll slowly amass a closet full of great-looking, quality clothes, without anyone accusing you of going all Zoolander on them.

Not into shopping?
Team SG can help!
If you're ready to upgrade the men's wardrobe essentials for your 40s but dread the thought of shopping…consider having Team SG shop for you!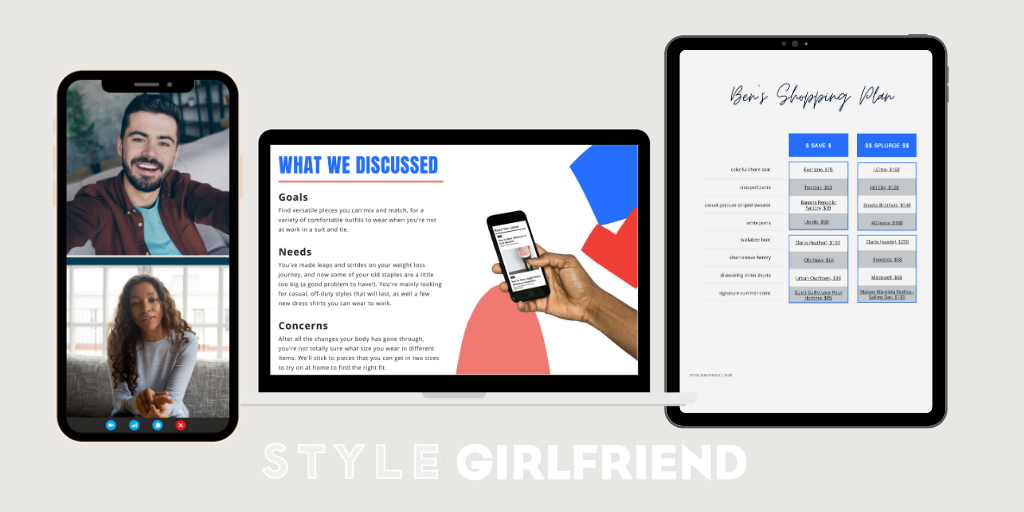 We'll create a personalized shopping plan for you that will save you time and energy!
Let us rescue you from shopping fatigue and sartorial apathy. Expect the personal attention and care that will make you feel like the best version of the awesome guy you already are!
Ready to seriously improve your closet and your confidence? Give us a shout.